Recipes first courses cucumber pickle
To save cucumber pickle for a long time, it can be frozen in the freezer, as ordinary water in the form of cubes. And if you need to thaw the right amount.
For cooking is not suitable isotonic solution of table salt in cooking, use cucumber brine produced in pickling and pickling cucumbers. It usually added a variety of spices, the brine and giving the dish a special flavor and zest.
To cook a traditional dish of Russian cuisine "is a Hodgepodge of bass", will need:
1 kilo sea bass;
- 8-10 white mushrooms;
- 1 Cup sauerkraut;
- 1 pickled cucumber;
- 100 milliliters of cucumber pickle;
- 1 onion;
- 100 grams of flour;
- pepper;
- Bay leaf;
- olives;
- lemon;
- parsley and dill.
Carefully wipe mushrooms with a damp cloth and clean. Then cut them in slices and boil until soft. Onions clean, finely slice and sauté in vegetable oil.
On a dry pan fry the flour and mix it with a small amount of water.
Pickled cucumber cut into slices, and sea bass – slices. Put in the mushroom broth, fish, cook over medium heat for 5-7 minutes, then add sauerkraut, fried onion, sauteed and dissolved with water in the flour, spices (Bay leaf and pepper). Continue to cook soup on, and for 5 minutes until cooked pour in a cucumber pickle.
Before serving put in each plate a slice of lemon and a few olives. Don't forget to sprinkle the soup with chopped greens.
To prepare the pickle with chicken, it is necessary to take:
800 grams of chicken;
- 2 pickled cucumbers;
- 2 carrots;
- 2 bulbs;
- parsley root;
- celery;
- 6 potatoes;
- 1 Cup cucumber pickle;
- Bay leaf;
- pepper;
- a bunch of lettuce;
- 1 ½ tablespoon of melted butter;
- 4 tablespoons of sour cream;
Sol.
First of all, wash, dry on paper towel, cut into portions the chicken and boil.
Onions, carrots, celery root and parsley wash, peel and slice into strips. In a separate pan sauté the prepared ingredients in melted butter.
15 minutes before the chicken is cooked put in broth, finely chopped salted
cucumber
, peeled, sliced potatoes and roasted roots. Add the Bay leaf, pepper peas, pour in the brine and simmer another 10-15 minutes.
When serving put in each plate a piece of chicken, shredded lettuce, pour soup and season with sour cream.
Cakes on cucumber pickle
Cucumber pickle is used not only for savory first and second courses, but also for delicious desserts. If you want to treat yourself crumbly cakes during lent, you can prepare tea biscuits on cucumber pickle. For it will need:
- 1 Cup cucumber pickle;
- 1 Cup of sugar;
- ½ Cup of vegetable oil;
- 1 teaspoon of baking soda;
- 4 cups of flour.
Cookies this recipe can also be cooked in the brine from sauerkraut or used tea leaves.
Knead all of the dough ingredients. Mix cucumber brine with vegetable oil sift flour, mix with sugar and soda, pour the mixture of brine and oil. Should be soft and elastic dough. Then roll it in a layer on floured surface and using special moulds, cups or glasses shape cookies.
Grease a baking sheet with vegetable oil and place on prepared cookie. Bake in the oven for 15-20 minutes at a temperature of 200oC.
Advice 2: How to make isotonic solution
If the human body to enter a large amount of hypertonic
solution
, due to the significant difference in the values of osmotic pressure on opposite sides of the cell membranes of cells will dehydrate. In the case of introducing a large amount of hypotonic
solution
the opposite will happen: the cells begin to swell and can rupture. Therefore, injected into the body isotonic solution, an osmotic pressure equal to osmotic pressure of blood, lymph and intercellular juice. How to prepare an isotonic solution?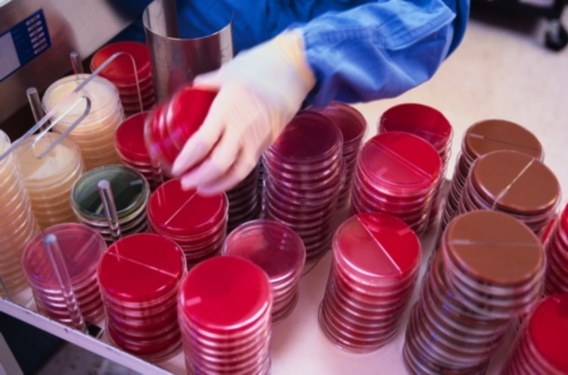 Instruction
For example, to you the task: to prepare an isotonic solution of glucose. This substance is very often used for intravenous injection. Start with, let's recall the formula of glucose: is c6h12o6. Using it, calculate it molecular weight: 180. Therefore, the molar mass of glucose must be equal to 180 g/mol. Also remember that glucose is not an electrolyte.
Next you will help the rule you want to remember. Upon dissolution of 1 mol of any nonelectrolyte in 22.4 liters of a liquid having a temperature of 0 degrees, there is a pressure equal to 1 ATM. Accordingly, as is easy to understand, to create pressure equal to 7.4 ATM, the volume of liquid in which is dissolved 1 mol of a nonelectrolyte, must also be at 7.4 times less. That is to 22.4/7.4 V = 3,03 liters (or approximately 3 liters).
Be aware that these calculations are valid for temperatures equal to 0. Because the human body temperature normally is around 36,6–36,7 degrees, should be amended. Let the temperature of the person (to ease calculations) will be accepted as 37 degrees, then take the solute on a share 37/273 less (approximately by 13.55% less, given that 273 degrees Kelvin correspond to 0 degrees Celsius). In other words, it is necessary to take 0,8645 of the estimated amount of the substance.
So long as you need mol of any nonelectrolyte, to get 1 liter of isotonic solution with the above amendments? Calculate: 1*0,8645/3,03 = 0,2853. Rounded accept this value for a is 0.29.
So, how much glucose you need to prepare 1 liter of isotonic solution? Perform elementary calculations: 0,29* 180 = 52.2 grams. Or, if you consider to use the concept of mass fraction, the concentration of glucose will be of 5.22%.
Useful advice
The increased osmotic pressure under normal conditions is equal to 7.4 ATM.
Advice 3: How to cook a pickle with chicken
Modern
pickle
is a direct descendant of the traditional dishes of Russian cuisine, called brine. One of the components in them was a spicy brine. Currently, the pickle soup cooked on vegetables, meat, fish or chicken broth. It is often cooked with the giblets and add not only brine, but pickles.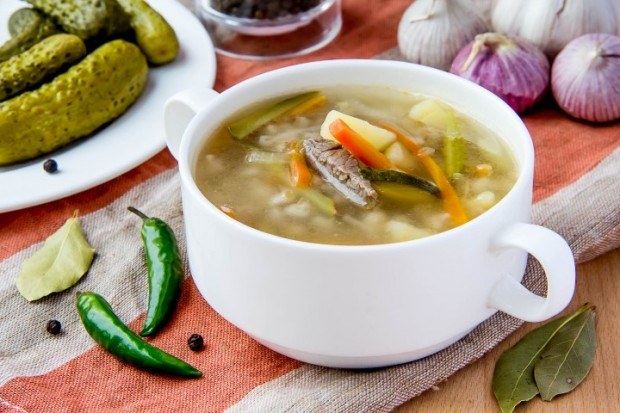 Recipe of chicken with pickle


The classic pickle is prepared with chicken giblets. Although today often, the soup cook on meat, fish or chicken broth. If you cook the broth for chicken breast or leg, it is recommended that before cooking the soup to get them to separate the flesh from the bones, cut the meat birds small chunks and add to the soup at the very end of cooking.

Traditionally, the stewed vegetables cooked with barley. But the rump for soup you should choose depending on the type of meat. Pickle with chicken it is recommended to cook with the rice, which is placed in the soup at the same time with root vegetables. Croup can be pre-boiled.

In rassolnik with chicken should add a variety of spicy roots and herbs that gives the dish a special flavor.

A mandatory component of the pickle – pickles, which are cleaned from skin and seeds, cut small cubes and perepuskajutsja until softened with water or broth. In addition, often add pickle cucumber pickle (1-2 cups per liter of broth). Pickle soup is not worth it, better if necessary, pour in more brine.

To prepare the pickle with chicken it is necessary to take:
- 800 g chicken;
- 4-5 potatoes;
- 2 carrots;
- celery;
- parsley root;
- 2 pickled cucumbers;
- 2 heads of onions;
- 1-2 tbsp. l. ghee;
- 4-5 tbsp sour cream;
- 200 ml cucumber brine;
- greens;
- 2-3 peas of allspice;
- Bay leaf;
Sol.

Chicken cut into serving pieces, wash, dry cloth, cover with cold water and boil until soft. Onions, carrots, parsley roots and celery wash, peel, finely chop and sauté in oil. Pickles peel, chop and simmered. To do this, pour the skins of cucumbers Cup of boiling water and simmer for 10-15 minutes. Then vavrischuka remove the skin, and in the broth put the cucumber pulp and simmered another 10 minutes. Potatoes wash, peel and cut into small cubes.

In the boiling broth with the chicken put the potatoes and cook for 10 minutes. Then add the browned vegetables and poached cucumbers, Bay leaf, salt, fragrant pepper, pour 200 milliliters of strained cucumber pickle and cook the pickle until tender. To the table serve, loaded with sour cream and chopped herbs.


Recipe for chicken soup with rice


To cook chicken pickle with giblets and rice, you will need:
- 2 chickens;
- 4 pickled cucumbers;
- 1 carrot;
- 1 turnip;
- 3 tbsp of rice;
- 1 leek;
- 1 onions;
- parsley (root and greens);
- 2 tbsp chopped dill;
- 1 tbsp chopped tarragon;
- 1 tablespoon of herbs of savory;
- 7 - 8 peas of black pepper;
- 2 Bay leaves;
- 2 cloves of garlic;
- 30 g of butter;
Sol.

In half a liter of boiling water put the cleaned and sliced small pieces of chicken meat and giblets (hearts, liver, gizzards) and boil for about an hour, then season with chopped vegetables (carrots, turnips, parsley), washed several times stir in rice and cook until it is soft, skimming off the foam.

Onions clean from the husk and finely chop with leeks. Then add the pickle, put the peppercorns, Bay leaf and simmer until the rice is tender, then add the finely chopped and stewed pickles. Cook all together for 5-7 minutes.

Dill, tarragon and savory wash, dry on a paper towel, then finely chop and add pickle. Cook for another 3 minutes, then remove the pan from heat and add soup, mashed with butter and garlic salt.