You will need
For pies:
Kefir 1 Cup;
Flour 2 - 2.5 cups (depending on the quality of the yogurt and flour);
Salt a pinch;
Soda 3/4 tsp.
Any toppings (fried cabbage with onions and eggs, thick jam, apples, raisins).
For pizza:
Kefir 1 Cup;
Flour 1 Cup;
Egg 2 PCs;
Salt a pinch
Soda 1/2 tsp
Oil. for smearing 1 tsp.
Toppings: ketchup, steamed and smoked sausage, black olives, pickles, cheese.
For Radosav banana:
Kefir 1 Cup;
Flour 1 Cup;
Egg 1 PC;
Sugar 2 tbsp;
Soda 1/4 tsp
Ripe banana-1 piece
Oil. for frying
Instruction
Cakes.
Mix the ingredients for the dough(flour, yogurt, baking soda, salt), knead everything into a soft tender dough. Roll out a layer of 1 cm, fold in four, roll out again, and so repeat a couple more times. Shape dough into "sausage", put into the refrigerator for half an hour.
To get, to cut off pieces of dough to form the cakes. Fry or bake until Golden brown.

Especially good from this dough fried pies with cabbage , with meat.
Pizza.
To turn on the heating the oven, putting 200oC.
Mix thoroughly the ingredients for the dough (flour, yogurt, eggs, salt, baking soda), pour into prepared pan.
Grease top with ketchup, put the plate of sausage, pickles, olives, sprinkle with half of the cheese.
Bake 30-35 min. until almost cooked, 5 minutes before switching off sprinkle pizza with remaining piece of cheese.

It is possible to change a little technology and at first only bake pizza crust until soft, and then spread on top of sauce and toppings, sprinkle with cheese.
Pancakes with banana.
Mix dough ingredients (yogurt, egg, sugar, soda), it should have the consistency of thick cream.
Mash the banana with a fork, add a little cinnamon.
Preheat the frying pan and pour batter in pan, forming pancakes. On each put a teaspoon of banana mass. Once the pancake is browned, flip it with a spatula to the other side. We got the pancakes with banana "pripek".
Note
Using stale yogurt for baking, make sure that he is not so wicked to harm you and after heat treatment (no mold, bitter taste, bad smell).
Pour and throw away without regret of any product in which you doubted - health is more expensive.
Useful advice
To the banana Aladushkin you can apply sour cream sauce, mixed with fresh thick sour cream with mashed to a pulp with a banana or pear.
Instead of yogurt in all of these recipes you can use yogurt and whey.
Advice 2: How to make kefir cottage cheese
Cottage cheese – is a real storehouse of calcium and other nutrients. Therefore, this product should be present in the diet of each person, and especially expectant mothers and young children. To make cottage cheese can at home.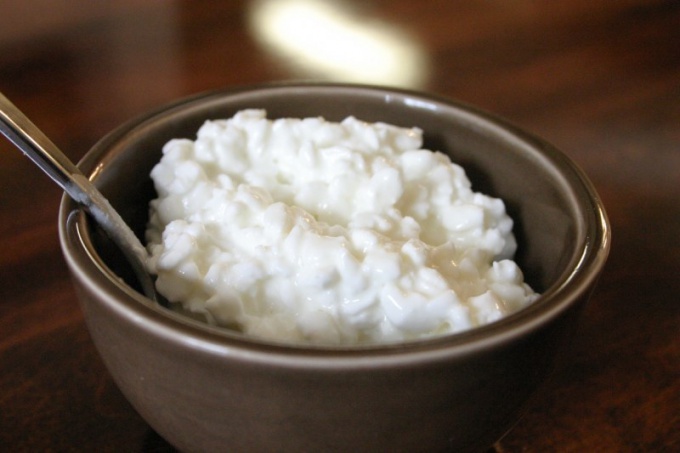 You will need
- yogurt;
- sieve;
the colander;
- gauze;
- pots;
water;
- wooden shovel;
- cooking thermometer.
Instruction
Place the package of kefir (better to use baby) in the freezer and keep it there for as long as the yogurt is completely frozen. Remove the packaging from the frozen yogurt, open it and turn the contents into a fine sieve. After several hours (the yogurt should be completely thawed) in the sieve will remain tender and quite tasty cottage cheese.
There is another way. Pour the yogurt into a small pan. You can also use for making cottage cheese sour milk – sour milk, which, incidentally, is also often popularly referred to as "yogurt." In a pan pour a little more water and put it on the fire.
When water in large pot boils, place in a saucepan with the yogurt, i.e. do a "water bath". Turn down the heat to low. After a few minutes, the yogurt will begin to curl.
Carefully slide the curled up lump
of yogurt
from the center of the pot to one of its edges. This needs
to be done
to ensure that all "kefir" the ground is well warmed.
After about ten minutes the temperature of the yogurt should be 60 degrees (you can check this using a cooking thermometer), so it's time to remove the pan from the heat. The water is hot, you won't need, it is possible to pour, but the pot of "kefir" ground place for half an hour in a cool place.
Lay in a colander cheesecloth and pour it into the cooled "kefir" weight, pre-substituting a colander some capacity (for example, it could be the pot in which it has been water).
The edges of the cheesecloth tie together: the result is a bag, which hang over the container of serum. After a couple of hours , the curd will be ready.
Note
Remember: cheese is made from sour natural way of milk, to give to young children is not recommended. This cheese may contain harmful flora.
Useful advice
Do not heat the yogurt more than 60 degrees, because, firstly, it will die beneficial bacteria, and second, the curds from such a yogurt will work hard.