Instruction
The most common use of celery is finely chop the leaves and sprinkle the finished dish. Green, this well set off the taste of meat broths and soups, both fresh and dried. Fresh celery leaves add to sauces, salads, omelets, casseroles. They can be sprinkled on any dish, where appropriate spicy slightly bitter taste. For example, baked beans or eggplant, potatoes, carrots and tomatoes.
Celery seeds are good to add to meat soups, vegetable and meat stews. Put them together with other spices in the jars with the pickling cucumbers, zucchini, squash and eggplant before pouring the marinade. Some hostesses sprinkle them cabbage when pickling, use in savory baked goods, cheese sauces and fish pastes.
Celery you can cut into slices and add to vegetable salads. In some cases, it goes well with fruit - a famous salad of apples and celery, celery and kiwi. Also stem (nenarushennym) adorn the famous Bloody Mary cocktail. And if you finely grate the stems on a grater or chop in a blender, it becomes a component of mixtures of vegetable juices or smoothies on the basis of unsweetened yogurt. Even celery is complementary to seafood soups and fish. He is irreplaceable in many cold soups.
Celery root is also used in salads and soups. If its boil, bake or fry, you can add in vegetable puree. Also
celery
stuffed with different fillings and baked. Mousse of celery root offer with birds. They can replace potatoes in many recipes, if there is no desire to eat a lot of starch. Also celery root is dried and added to sauces and soups during cooking.
Celery juice mixed with ginger, honey and lemon, and then dilute with water. It helps to improve metabolism and lose weight.
Advice 2: How to sow celery
Celery has a pleasant taste and amazing aroma. But many gardeners complain that seeds do not germinate, or the fruits of celeriac are not ripe. The problem lies in the incorrect seeding. If you follow the simple rules, in the fall you'll be happy to use a fragrant spice.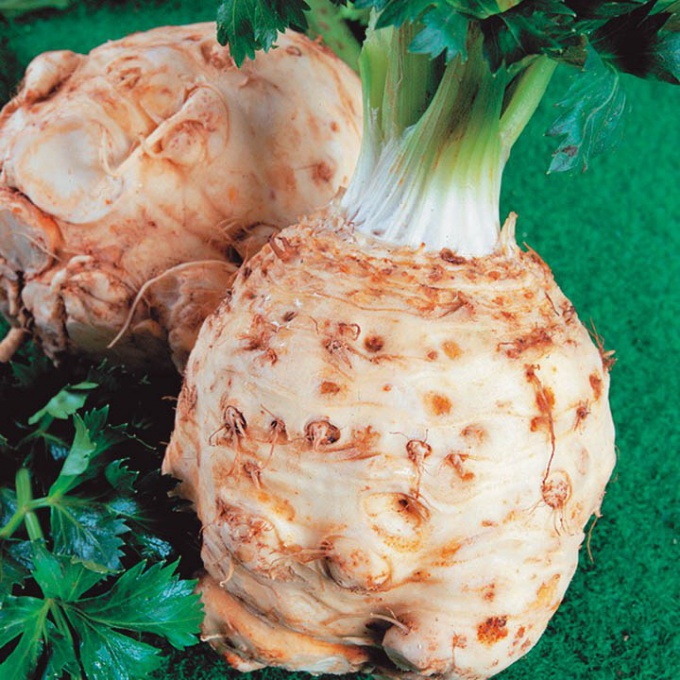 You will need
- boxes of seedlings;
- the ground;
- celery seeds;
- spray bottle.
Instruction
Buy seeds at the gardening store. Celery is leaf, petiolar and root. Sheet can not sow in advance, as the greens time to grow and in a short period of time of around 3 months. And other types of plants are best grown at home in boxes or peat pots and then planted in the open ground.
Fill the box is light, but fertile land about a third of the total. Liberally pour water. Let the capacity of a little stand that in the presence of weeds they sprouted first, and you were able to snatch them. Even a small weed can cause no germination of seeds, as celery the first time is very weak.
Wrap seeds in cheesecloth and dampen with water – this will reduce the germination period. As a fairly small seeds, sow them wet is very difficult. A few days later put them on a dry cloth and wait until the moisture evaporates. It will take not more than an hour.
Make shallow furrows and moisten the earth again. Gently sow the seeds, so the distance between them was about 1-2 cm do Not fill the earth. Orosite landing from a spray bottle until then, until the green shoots. Try not to fill the soil, otherwise the seeds will go deep and will not germinate. Work on planting spices spend in early February. Later possible, but not desirable, because it is impossible to predict in advance which month will start the first frost.
Place the container with planted celery at the window. Arasites landing daily to the earth does not dry up. Approximately 10-15 days appear shoots. During this period they are very weak, but gradually begin to gain momentum. Gently sprinkle the roots with a thin layer of the earth.
Replant the celery in the open ground as soon as will decrease the threat of frost. Further care is regular watering, loosening the soil and removing weeds. Harvest spend the end of September or early October.