Instruction
In order
to prepare
the roasted turbot on the classic recipe, take one kilogram of fresh fish. Clean it from scales, remove the gills and fins, gut. Rinse under cold running water. Cut halibut into serving pieces. On a flat plate pour fifty grams of wheat flour, add your favorite spices for the fish and one teaspoonful of salt. Roll each piece of halibut in flour on both sides. Place frying pan on a high heat and carefully heat it. Pour on the bottom fifty grams of vegetable oil and place the halibut pieces in the pan. Turn down the heat to minimum and fry the fish for about ten minutes - until Golden brown. Do not hold the halibut in the pan longer than the specified time, otherwise it will be too dry. Serve the grilled halibut to the table on lettuce leaves.
In order to prepare a roasted halibut in a more exotic form, take two hundred grams halibut fillets. RUB it with salt on both sides and good pepper. Lay the fillet on the bottom of the pan with a thick bottom. Pour the juice of one grapefruit and leave to marinate for fifteen minutes. At this time, prepare the sauce. To do this, chop one bunch of watercress and mix it with two tablespoons of sour cream, same amount of mayonnaise 1/2 teaspoon of Dijon mustard. Add salt and pepper to taste. Shred as fine as possible one head shallots and add to the sauce. Place pan with halibut on high heat and fry one minute on each side. Turn off the pan and pour prepared sauce.
In order to give the halibut original view, use the following recipe. To prepare the marinade, take a bowl and pour in it 4 tablespoons of olive oil, add to it two tablespoons lemon juice, salt and pepper to taste. Squeeze into a bowl one medium clove of garlic. Take 700 grams of fish fillet and cut it into 4 pieces. Marinate the fillets in the prepared mixture for fifteen minutes. At this time, preheat a small frying pan and fry in it two tablespoons of sesame seeds. As soon as you feel the characteristic aroma, remove the pan from the heat. Chilled sesame seeds add two teaspoons of dried thyme. Each piece of fillet, sprinkle with salt and sesame mixture on both sides. On a heated pan pour two tablespoons of vegetable oil and place the pieces of fish. Fry for seven minutes on each side. The finished dish garnish with lemon wedges.
Advice 2 : Grilled halibut with sauce
Halibut with a sauce of bell peppers – a delicious dish suitable for a celebratory dinner. This dish is not only delicious, but also has elegant appearance. The halibut with pepper sauce is perfect dry white or slightly chilled red wine.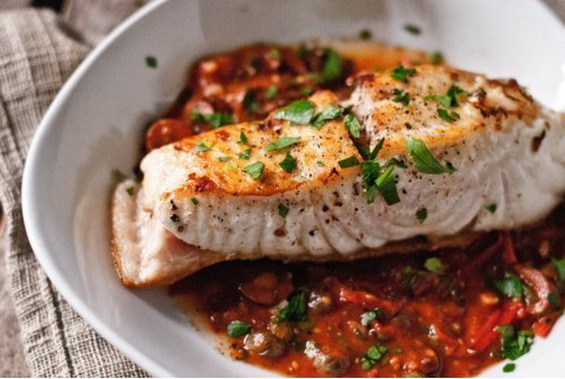 Main ingredients:
halibut fillets (you can substitute other fish) – 800 g;
ground black pepper;
salt – 1 tsp;
flour – 2 tbsp;
butter – 2 tbsp
Ingredients for sauce:
red pepper (large) – 2 PCs;
onions – 2 pieces (use shallots);
white wine – 50 g;
thick cream – 200 g;
salt;
Cayenne pepper;
bell pepper for decoration.
Preparation:
First make sauce. For this you need to cut the red pepper lengthwise and remove the seeds. Chop the pepper into thin slices. Onions clean and finely chop.
Place the cream in a small saucepan, bring to a boil. Then in the boiled cream to put prepared peppers and onions. Keep on heat for 20 minutes. Wait until the peppers are soft and browned.
In the next stage of cooking the sauce you need to mix in a blender or food processor boiled with onions and peppers, sour cream. Mixed blend again pour into a saucepan, add the white wine, sprinkle with salt and Cayenne (chili) pepper to taste. Keep the cooked sauce in a warm place, so it has not cooled down completely.
Next you need to prepare halibut fillets. To do this check: if there are any bones in the fillet and the skin, as if those were found to remove them. Cut fish fillets into portions of equal size. Then season the fish fillets with salt and pepper, then roll in flour.
Then melt in a pan the oil and fry the fish over moderate heat on both sides. It is important not to overcook the fish, it should be slightly Golden.
Now we need to serve the dish. To do this, cut into thin strips prepared for decoration colored bell pepper. Fry them in oil and dry.
Ready to put the halibut on a warm serving dish. Decorate fish fried with strips of pepper.
The sauce served in gravy boats, and also you could pour it in the bowl and put the halibut and strips of pepper.
A great addition to halibut with pepper sauce will be a rice or boiled potatoes.