Instruction

As you know, pasta, a variety of different types and forms, and what to choose for cooking, it depends on you. But no matter what pasta you choose, the method of cooking remains unchanged.


Take a large enough saucepan on the basis of per 100 g of pasta at least 1000 ml of water. For serving, as a rule, sufficient 100 g of pasta, and let it not seem a little, because when cooked, they will double. Pour in a pan of water, bring to the boil, cover with a lid and wait until the water boils.



Once the water is boiling, add a pinch of salt and put the pasta in the water. If you're cooking long pasta, and wish to maintain their length, immerse them in water gradually when immersed in water they will become soft and will bend. Stir pasta until water boils again – it won't take a couple of minutes. Make a fire easy, and let the pasta cook. For cooking pasta it usually takes 8 to 15 minutes, depending on the variety and your taste preferences – all love different pasta: someone more solid, someone softer. But in any case not to overcook the pasta – they turn to mush.


To properly cook pasta, often try them on readiness, starting as early as 7-8 minutes – so you don't allow them to digest. Ready pasta should be rigid and have a mealy taste. After you make sure the pasta is ready, remove the pan from the heat and pour its contents into the prepared colander to drain unnecessary water now.


Drain all the water, put the pasta back in the pot and add 20-60 grams of butter, so they don't stick together in the pan. Oil can be replaced with a previously prepared sauce all depends on your taste and what you're going to eat cooked pasta.

Advice 2: How to cook pasta, to separate them?
Pasta is a favourite side dish for adults and children. But, really tasty there are only those the noodles don't stick together in the cooking process and turned into mush. How to cook them?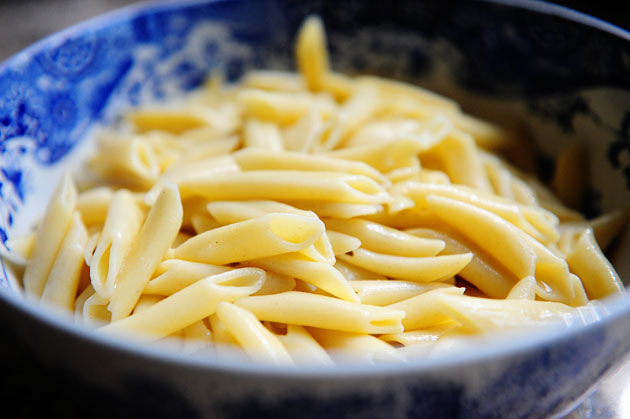 1. Water should not be enough. At the rate of about 1 liter of water per 100 grams of pasta.
2. Pasta should only pour in a pot of boiling water. Water with salt before it would be pasta.
3. After the pasta was dumped into a pot of water - mix them well so that the pasta does not stick to the bottom of the pan. You should not cover it with a lid.
4. Once the pasta water is boiling again, again gently stir.
5. The cooking time is usually indicated on the package and depends on the type of pasta. The smaller the pasta, the less time to prepare you need. On average, 5-10 minutes. It is important not to overdo the pasta, so they do not seethe. In the case of pasta it is better not to think than to digest.
6. Cooked pasta, quickly and carefully drain in a colander.
There are two possible options:
Option 1 (classic) rinse the pasta water and stir, gently heat in a pan with a knob of butter.
Option 2 (simplified) - pasta drain in a colander, wait until the water drips off again to put the pasta into the pan and add a knob of butter or teaspoon of vegetable oil. Mix gently.
Tip: choose a pasta from durum wheat, they are healthy and will not be soft after boiling in the cooking process.
Advice 3: How to cook pasta nautically
Pasta is prepared in almost all families. Each house has their own variations of this simple recipe. The most delicious pasta nautically derived from roasted pork or beef mince.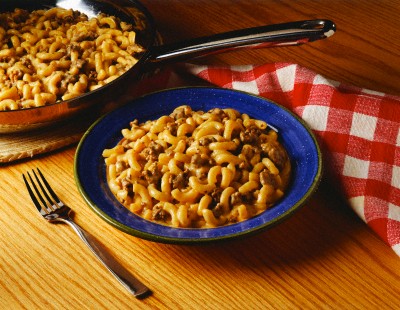 You will need
200 g ready-minced
1 medium onion
vegetable oil
pepper
salt
Instruction
Pasta for making nautically better to take small and hollow. Perfect for this dish fit the shells, the stuffing is mixed with them, clogging in the inner cavity. But you can use any other pasta, for example, of those that remained unused from yesterday's lunch or dinner.
Boil the pasta
in the usual way within the time specified on the package.
Chop the onion in small cubes and simmered in the pan until Golden brown. Send roasting the onions ground beef, constantly stir it, breaking up large clumps into smaller ones. Season the beef with salt and pepper.
Put the pasta in the pan and cook them together with meat for 3-4 minutes. Serve pasta can of tomato sauce, or sprinkle them with grated cheese.
Useful advice
If you fried the meat add tomato sauce and stew them together, you get the famous Bolognese sauce.