You will need
500 g frozen "seafood mix";

a slice of lemon;
1 tbsp soy sauce;
1 clove of garlic;
1 small onion;
2 tbsp dry white wine;
½ red chilli;
20 g of butter;
1 tbsp vegetable oil;
greens and green onions.
Instruction
1. Defrost mixture of seafood (squid, shrimp, mussels, cuttlefish and the tentacles of an octopus), drain them in a colander and allow to drain water. Chop all ingredients to the size of the mussels or the shrimp, so that all components of the cocktail were the same size.
2. Make a marinade for seafood cocktail: mix soy sauce and lemon juice. The resulting mixture pour the seafood and leave in the refrigerator for 15 minutes.
3. In that time, as the
seafood
is marinating, chop the onion and garlic, and chilli, cleaned of seeds and partitions, cut into half rings. All cooked in a small amount of vegetable oil.
4. Add to the pan the butter and let it "go away" and then put the seafood together with the marinade. Pour in the white wine and salt to taste. During cooking of seafood is not necessary to use spices, as they can easily drown out the delicate flavor of seafood. Simmer for 3 minutes. Once the dish is ready, take the time to remove it from the stove and let for 5 minutes to infuse, to seafood soaked marinade. Liberally sprinkle the seafood with herbs according to your taste, you can add finely chopped green onions.
Note
Do not buy fresh seafood and try to cook them a seafood mix on their own – in this case, there is a risk of Contracting parasites living inside marine life. The safest option is buying seafood instant freeze. Before you purchase a package of frozen seafood knead it in your hands. If you feel under your fingers ice crystals, so the product has been defrosted. In this case, buying it is not worth it.
Useful advice
Marinated seafood can serve as the basis for different salads to serve as a main dish. The perfect complement to the bounty of the sea is boiled white rice. Possessing a neutral flavor, it allows the seafood to reach its full taste.

In addition, this dish is an excellent snack to beer. In this case, after frying drain the seafood in a colander to glass excess fluid, and then sauté them for 3-4 minutes.
Advice 2 : How to marinate seafood
Shrimp, scallops, octopus, mussels can be prepared in dozens of ways. Recipes of seafood dishes can be simple or quite complex. But often they are based on the pre-marinating. The marinade adds a special touch of delicate seafood dishes and makes them even tastier.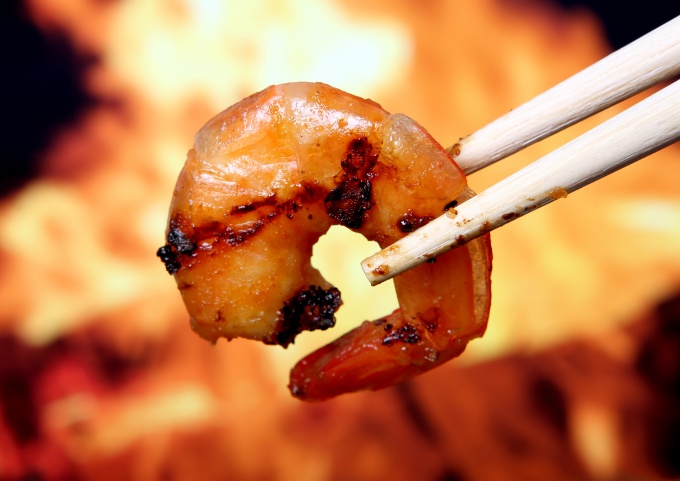 You will need
Seafood cocktail in spicy marinade:

1 package (500 g) seafood cocktail;
1 lemon;
a bunch of parsley;
1 Bay leaf;
2 tomatoes of medium size;
a pinch of nutmeg;
freshly ground black pepper;
salt;
olive oil for frying.
Mussels in white wine:
500 g mussels;
a glass of dry white wine;
salt;
pepper;
10 feathers green onions.
Shrimp in soy sauce:
12 prawns;
4 tablespoons soy sauce;
4 tablespoons of dry white wine;
2 cloves of garlic;
salt;
freshly ground black pepper;
1,2 lime.
Instruction
Before cooking the seafood defrost, dropping for a few minutes in boiling water. So they are better soaked with juice and acquire a more distinct taste.

The principle of marinating shrimp, mussels or squid one – in a deep dish mix the liquid-based marinade (wine, oil, fruit juice, soy sauce) and spices. Seafood are placed in the mixture and exposed from 15 minutes to several hours, depending on the recipe. After this training they can fry, simmer or bake on the grill in more complex cooked marinated products do not need.
Seafood cocktail in a spicy marinade. Squeeze lemon juice, grate the zest on a fine grater. Chop the parsley, Bay leaves grind into a powder. Put 2 tomatoes in the blender, grind them. Packing defrost the seafood cocktail of shrimp, mussels, squid, scallops and octopus, place in a deep bowl.

Drizzle seafood with olive oil, sprinkle with the lemon zest, add the tomato puree, herbs, Bay leaf, salt, pepper and a pinch of nutmeg. Close up of a bowl with a lid and refrigerate for 4 hours. Remove seafood from marinade and fry in hot olive oil. Before serving place on lettuce leaves and drizzle with fresh lemon juice.
Mussels in white wine. 500 g cleaned mussels, rinse and place in a bowl. Add salt, pepper and pour a glass of dry white wine. Place the bowl in the cold for 15 minutes. Put the clams in a deep pan along with the marinade and simmer until evaporation of the wine. Ready mussels melkorublenym sprinkle with green onions.
Shrimp in soy sauce. 12 prawns defrost, clean, without removing the tails. Place in a deep bowl and pour marinade 4 tablespoons soy sauce 4 tablespoons dry white wine, 2 chopped cloves of garlic, salt and ground black pepper. Marinate for one hour. Prepared shrimp put on the grill and fry on both sides. Serve with a green salad and half a lime.