You will need
• Egg – 2 PCs.;
• Flour – 3 tbsp;
• Sunflower oil;
• Salt
pepper.
Instruction
Prepare chicken fillets. To do this, rinse it under cool water, allow to drain excess moisture and chop into small pieces.
Prepare the batter. To do this, break the eggs, stir the yolks to proteins, stir in the flour with constant stirring, bring to a uniform consistency. If in the process of preparing a batter has formed lumps, leave it for 10 minutes, during which time they swell. Then mash them with a fork on the edge of the dish. - Mix everything again. You can use a whisk when whisking. The consistency of the batter should be slightly thicker than pancake dough. If the batter is more liquid, it will drain from the fillets in the pan. Add the salt and pepper.
In a pan heat sunflower oil. Hook a piece of chicken on his fork, completely dip in the prepared batter and quickly place on pan. Preferably use a large pan so that all the fillets you can cook at one time.
Fry fillets 5 minutes on medium heat, until Golden brown. Then flip all the pieces to the other side and continue to cook for another 5 minutes. If you used chicken breast, this will be enough time to prepare. In any case, incise with a knife one piece, look to see if a blood. If you used thigh fillets, reduce heat, cover the pan with a lid and let it cook gently for a dish for another 10 minutes. Also check the readiness with a knife. In this case, the tempura will not be crispy, but if you roast without a lid, it can burn.
Serve chicken in batter with vegetables – boiled cauliflower, steamed zucchini, with sauteed eggplant. Also fillets in batter is a great snack hot or cold. Serve it with sauces based on cheese or mustard.
Advice 2: The secrets of cooking a juicy chicken breast
Chicken breast - diet product. However, prepare to love her not many - when roasting a breast is dry and tasteless. To avoid this, you need to follow some rules of cooking chicken breast. Then she stays incredibly juicy and flavorful.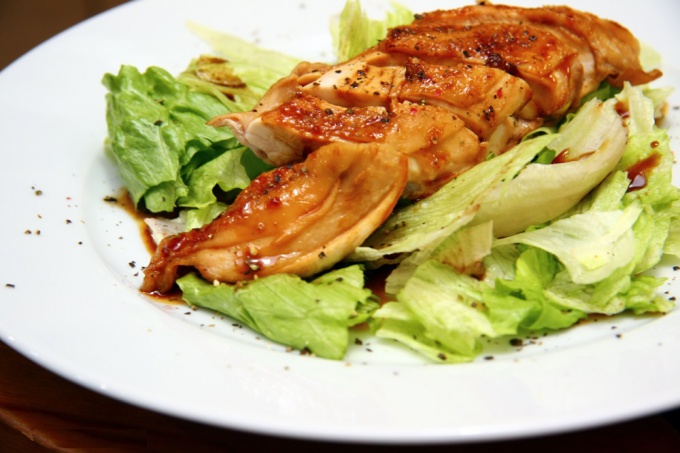 Recipe 1 - grilled chicken breast
If you really want to fry a chicken breast, let it be in the batter. The batter is prepared as follows: mix the bread crumbs with any seasoning and one egg yolk (1 kg smoky Breasts). Leave for 10 minutes to swell, then dip the breast in batter on both sides and fry. Fry without a lid - then it will be delicious crisp and the inside juicy flavorful chicken breast.
2 recipe - oven baked chicken breast
For cooking chicken breast in the oven you will need a bag for baking, 150 g sour cream, dill, garlic. Breast, cut into small (2-4 cm) pieces, put it into a bag for baking, pour sour cream, add chopped garlic and dill, salt - to taste. Tie the bag, puncture it in several places to get out excess steam, and place in a preheated 180 degree oven. Chicken breast is cooked quickly - after 20-25 minutes the dish can be removed. Chicken breast will retain all their juices, will be very soft.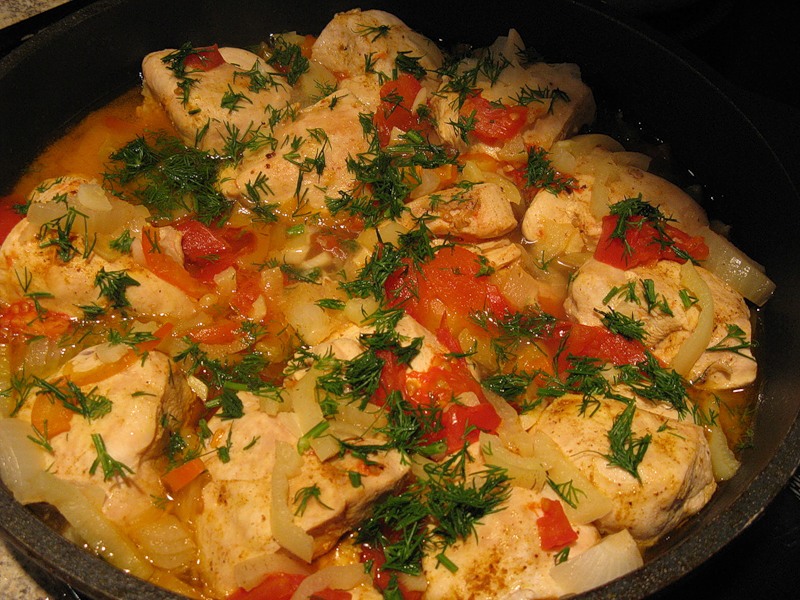 3 recipe - braised chicken breast with vegetables
Very tasty and healthy dish. In a large pot with thick walls lay a series - chicken breast (1 kg) 1 small zucchini, 1 eggplant, 1 tomato, 3 potatoes. The chicken should be diced, the vegetables round thin slices. Optionally, you can add a layer of sour cream and tomato sauce. Under a layer of vegetables chicken will be very juicy and soaked appetizing aromas.