Instruction
There are many variations of this dish. Someone bakes the ham in foil, someone cuts off the fat, and someone - no. To make the ham added flavor, marinate and create a beautiful glazed crust use different herbs and spices honey and brown sugar, cinnamon and cloves, ginger and allspice. The following
recipe
will allow even inexperienced Housewives to juicy meat with a thin crispy crust.
Two days before cooking the ham should marinate. You can use a simple classic way is to RUB the ham with salt and black pepper, cover the entire surface of rings of fresh onion, wrap in plastic wrap or foil and put into the refrigerator.
Around the same time, it should be put in the freezer a piece of bacon.
Before cooking the ham, you need to wash, clean and cut into long wedges smooth few medium-sized carrots. Bacon removed from the freezer and slice same as carrot. Some Housewives also bacon ham garlic, but not everyone likes that meat around it during baking may be a little green and purchase a light metallic aftertaste.
The meat is narrow and long knife make longitudinal incisions in these "pockets" put the carrots and bacon. Useful for spehovanie a special needle, but it is not at all. Lard ham need to quickly because the fat is rapidly thawed, and then becomes softer and it would be virtually impossible to put in "pockets".
Preheat the oven to 180 degrees Celsius. On a pre-greased pan put the ham, cover with foil and bake. The time required for roasting will determine the rate of one hour for every kilogram of meat. If you have a special thermometer for meat, then wait until it shows 140 degrees Fahrenheit or 60 Celsius.
For fifteen or twenty minutes to complete you need to remove the meat with foil and grease it. This is done to obtain a beautiful glossy crust. In principle, the smearing there are hundreds of options. Will fit any tart jam, plum, blackcurrant, cranberry and mustard, the same sour Apple juice and honey, honey and cinnamon, apricot jam and dried ginger. Choose, focusing on your taste, experiment and find your signature combination of spices.
Once the ham is ready, remove it from the oven and cover with foil again. In any case, do not rush to cut it! So you will achieve that it immediately drained all the juice and meat will become dry. Wait 20 minutes and then proceed. A ham is good as main dish and as a cold appetizer.
Useful advice
If your ham was from a bone, don't discard it after eat all the meat. You can make great broth.
Advice 2: How to cook barbecue at home
How pleasant a cool summer evening by the river to enjoy the taste of freshly cooked kebab! But what if there is no opportunity to leave the city? But if barbecue wanted in winter, in extreme cold? Of course to make it at home! Take a little time and a delicious meal, almost indistinguishable from the barbecue, fried in nature, ready.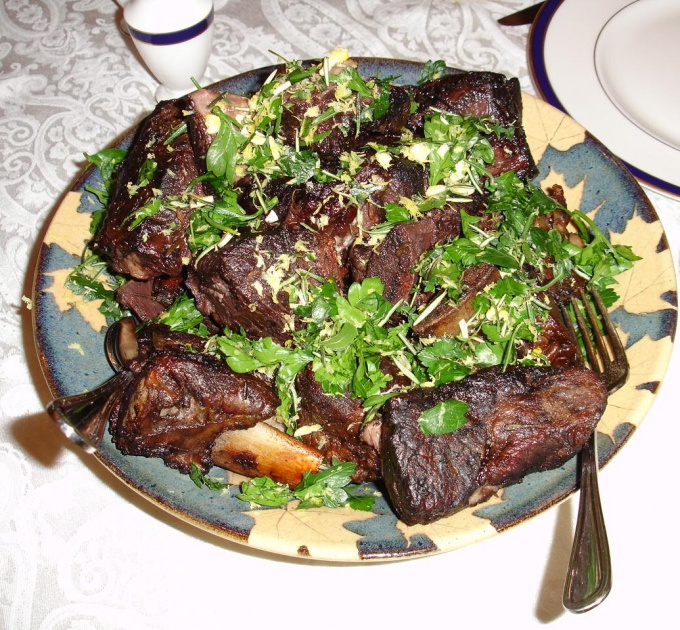 You will need
0.5 kg of onions;
spices for pork or barbecue;
500 g of mayonnaise;
ketchup;
greens;
liquid smoke;
garlic;
tomatoes (optional).
Instruction
Take a piece of pork flesh. For the preparation of barbecue is well-suited ham or pork neck without skin. Rinse the meat under cold running water. Slice it into small pieces.
Peel and chop onion rings. 1 large onion cut very finely or grate. Its juice will serve as an additional marinade.
Mix chopped meat with onions. Sprinkle spices for a kebab or pork dishes. Pour the meat with mayonnaise, stir again. The marinade should completely cover the meat. Put the dishes with the barbecue in a cool place for impregnation for several hours.
Remove the marinated meat from the fridge, salt it.
Put the meat and onions on a baking sheet. If desired, the meat alternately with onions and tomatoes, strung on skewers. Place baking sheet in a moderately heated oven. Fry skewers until done, about 45 minutes-1 hour. A ready shish kebab is easily pierced with a knife.
Prepare the sauce for the kebab. Equal amounts (100 grams) mix ketchup and mayonnaise. RUB this mixture 1-2 cloves of garlic. Mix all until smooth. The sauce is ready.
Remove the skewers from the oven. Put meat on plate, sprinkle it with chopped. Serve hot with the prepared sauce, ketchup, mayonnaise.Bon appetit!
Note
From time to time watering barbecue the separated juice and turn the pieces of meat, all roasted evenly.
Useful advice
For more similar kebabs, cooked in the oven, with meat, fried in the fire, add the marinade a little (about 1 tablespoon) liquid smoke.

If the shish kebab is cooked as a main dish, it can be to submit a side dish.