You will need
¼ Cup flour
100 g butter
¼ Cup brandy
¼ Teaspoon dried Basil
2 Bay leaves
1 tablespoon of Curry mixture
500 ml dry red wine
4 slices of pork fat or bacon
diced
2 large onions
12 large mushrooms.
Instruction
Fillet chicken Breasts wash, dry on paper towel, cut into not very small pieces – about the size of an apricot. Put the pieces in a pot or plastic bag, sprinkle them with flour, shake so that they are fully obvallaris in flour.
In a large nonstick frying pan or the island will melt the butter. There lay the pieces of chicken, lightly fry, stirring constantly with a wooden spoon. Add salt, pepper, add a tablespoon of powder "Curry".
Pour in the cognac and carefully ignite for 30 seconds. Add herbs, dry Basil and Bay leaf. Pour the chicken wine. Cover the pan tightly. Sauté the pieces of chicken on low heat for about 40 minutes.
Fat or bacon into small cubes. In another pan lightly fry the bacon, then add onion, simmered it until tender, but do not lead to roasted.
Mushrooms clean, wash, dry it with a towel, cut into large pieces. Add the mushrooms to the onions and cook them in a pan for 5-7 minutes. Remove from heat when fully cooked.
In dish put fried mushrooms with onions, on top lay the pieces of chicken.
Useful advice
If desired, baste the chicken with the juice resulting from quenching. This juice can be made more dense if to add a little starch and a few minutes to warm over low heat, without boiling.
Besides mushrooms, you can also fry the finely chopped zucchini and eggplant, peppers and tomatoes (pre-removing the tomato skin).
If you are using dried mushrooms, before cooking soak them in milk for 20-30 minutes to become soft. Rinse with boiled water, cut into large pieces. Then proceed according to recipe.
Instead of chicken Breasts you can use Turkey breast or other poultry.
Advice 2 : How long to roast a chicken
Chicken is considered a dietary product. Especially the breast, in which almost no fat. Preparing the chicken very quickly, especially if its pre-marinated.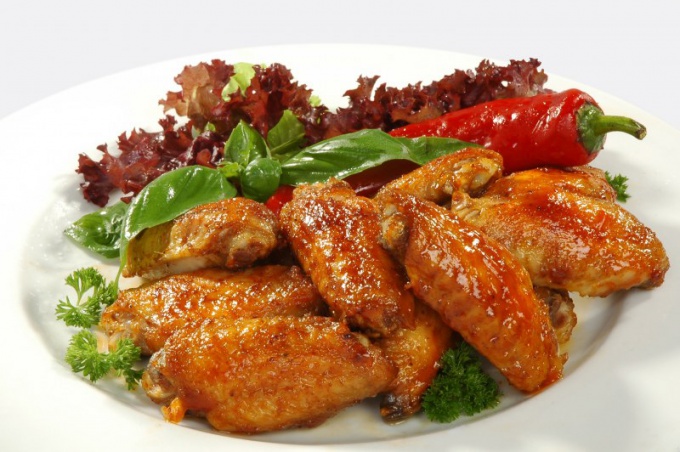 To the chicken dish was really diet, it must be fried with a minimum amount of oil. And it is better - on a special pan, which allows you to cook foods without adding fat. Below the breast is not burnt, you can add a little water.
When frying chicken you can use the breadcrumbs or batter. Then the juice evaporates, the pieces will be very delicate - soft and juicy. But the breading is pretty high in calories. This dish can not be called a diet.
Pre-marinated chicken breast is cooked for long. If you cut her pieces with a length of 3-5 inches and a width of not more than 2 centimeters, for frying only 10 minutes. About 5 minutes after the chicken is laid out on the pan, it must be reversed. For a couple of minutes until tender - stir the pieces.
A whole chicken breast is cooked longer. On each side it fried within 10 minutes. The willingness inside you can check with a toothpick. It is necessary to pierce a piece at the thickest point and see whether it is allocated a reddish juice. If not, and the toothpick remains dry, the chicken is ready.
If chicken is not pre-pickled, it will have to cook it longer. Small pieces are fried for about 20 minutes, to half an hour. In the process of cooking the chicken several times to flip for uniform roasting.
Legs, drumsticks, chicken how to fry
The longest is preparing the grilled chicken. Especially if you got a large carcass. On each side it is roasted at least an hour. The best way to cook chicken under the hood, putting on her oppression. Turn the chicken once. Thus the skin is fried to a Golden crisp.
Fried chicken is best served with steamed vegetables and long grain or brown rice. Also as a side dish ideal simple vegetable salad of cucumbers and tomatoes, seasoned with herbs and olive oil.
Chicken legs and drumsticks are roasted for 35-40 minutes. If they have been previously pickled, the time can be shortened to 10 minutes. To get a delicious Golden crust, the chicken you can smear the soy sauce, adding a little honey. Below the chicken was not greasy in the pan you need to add quite a bit of oil. If suddenly the pieces started to burn, you can add a tablespoon of water or soy sauce.