Instruction
The easiest method to make skin smooth legs is shaving. This procedure can be performed with the help of razor and using an electric razor - it all depends on your preferences. Pros of shaving are quick procedures, the disadvantages include fast hair growth, and the possibility of irritation. To avoid this, use special creams before and after shaving - the first to facilitate razor glide, while the latter will moisturize the skin of the legs after the procedure.
The second way to make your legs smooth is to use a depilatory cream. With this method the hairs will grow back slower than shaving, but increases the risk of irritation and allergic reactions, as the cream contains fairly aggressive components. That is why this method is not suitable for people with sensitive skin. Before apply it to your feet try it on a small area of skin if irritation does not arise - proceed to waxing.
More long-term ways to maintain the smoothness of your legs will be hair removal using hot or cold wax and sugaring (hair removal with sugar). Disadvantage of these procedures are painful and the possibility of ingrown hairs under the skin. Therefore, the most effective and painless result you will get if you ask for a professional waxing in a beauty salon. After this procedure, the legs will stay smooth for 2-3 weeks.
A good way to maintain the smoothness of the legs is a electric epilator, which plucks the unwanted hairs. At first, this procedure is quite painful, but then the skin gets used to it. Over time, hair removal will require your legs less and less, as the epilator plucks the hair from bulbils that gradually depletes them. To avoid irritation, lubricate the skin after the procedure cosmetic oil or a nourishing cream.
If you want
to get rid of hair
forever, then you should pay attention to procedures such as electrolysis, laser hair removal or photoepilation. These procedures do in specialty stores after consulting a doctor.
Advice 2 : How to make your heels smooth and soft
Make your
heels
smooth and soft every woman dreams. Always a pleasure when the feet are well maintained, but not all feet fit the same tools. Try different ways and decide what you like your legs the most because
rough skin
, and each can have different causes.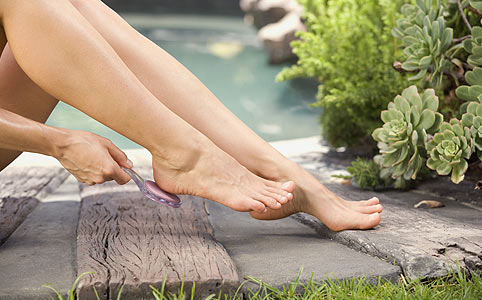 You will need
- pumice
- pedicure brush
- foot scrub
- olive oil
- moisturizer
- fresh onion
- potato starch
- yogurt
Instruction
At least three times in a month do foot baths. Try different types of trays: soap and soda, the salt, based on decoctions of herbs. Baths help to make your heels smooth and soft.
Regularly clean the skin of the heels off the dead top layer after steaming feet in the bath. Use a fine-grained pumice or pedicure brush with stiff bristles. Conduct this procedure as often as possible, taking off a small layer of dry skin. It will be much more effective than rare remove large layers of skin.
Every week clean your heels with a foot scrub. For this, apply on flat pumice small amount of the scrub in a circular motion and grind the heel for no more than 3 minutes, so as not to cause damage to the inner layers of the skin. After treatment with scrub brush be sure to heel softening and moisturizing cream.
Softening effect on the skin of the heels has a daily rubbing the pulp of olives or a small amount of warmed olive oil after bath steamed heel.
If the skin is destroyed by exposure to sunlight, before going out in the sun and lubricate the skin moisturizer.
Very rough skin on the heels can be mitigated with the help of a compress of fresh onion. Onion pre-scald several times in boiling water and cut it in half. After a foot bath attach to the soles of the onion halves and wrap it with tape. Leave the onion overnight and in the morning remove the residue, then clean your heels with a pumice stone and apply cream. After 2-3 procedures the heels will become soft and smooth.
To soften the skin of the heels make a bath of starch that quickly removed dead skin cells and then RUB the heel is not very hard brush.
Periodically, do a strong massage with a fat cream. For this pre-heat in the hands of a small amount of cream and massage heel massage, it will help increase blood circulation in the feet and improve health.
Massage the heel with a dry heated towels, rubbing them with the heels, fingers and feet.
For treatment of cracked skin, prepare a cream with essential oils. To a tablespoon of baby cream add 5 drops of lavender oil and chamomile and mix. Massage into heels this cream 3 times a day. Besides the chamomile and lavender will suit the oils of cedar and cypress, as well as lemon and pine.
Advice 3 : How to make a heel like a baby
Soft and beautiful heels - every woman's dream, but sometimes to achieve the desired result rather difficult. We offer you a fast and easy way to combat this problem. Just five days your heels will sparkle.
You will need
1. Cream for legs and feet. Preferably in bold.
2. Tarocca for grinding (not pumice and does not float with teeth).
3. 10 minutes of free time.
Instruction
Before you shower or bath oil heel cream, a little walk. Then lightly wet the trowel with water and shake off the excess water. This wet float start treating dry heels. In any case, do not wet the heel, otherwise the result will be. After a few seconds, the old skin starts to roll spools and fall. If the process is stopped, again lightly moisten the grater and continue the procedure. Repeat the whole process 2-3 times, it will take you no more than 10 minutes. Enough for today.

If the situation is not too launched, already after the first treatment, your heels will become desired tenderness.
Day second and subsequent. If feet haven't right, go on dry heels treated with a wet trowel before a shower or bath, while the old skin is not rolled. After a shower apply the cream. But starting from the second day, it is enough just once to walk on heels. After 4-5 days, your feet will be as "new".
Useful advice
- Never cut rough heels by using a razor. She will grow very fast and become even rougher.

- Use the cream for the heels no skin - a waste of the cream and time.

- Against all advice — do not remove the rough skin after a bath. Otherwise, along with the rough areas will be removed and the normal skin is steaming. From this it will grow faster. To remove dead skin particles need to water procedures.