You will need
Meatballs:
- 500 g of potatoes;
- 4 bulbs;
- 1 kg of mixed minced meat;
- parsley;
- 2 eggs;
- 200 ml cream;
- 100 g of breadcrumbs;
- flour;
- salt, pepper;
Sauce:
- 200 g of butter for frying;
- 200 ml cream;
- 2 tbsp flour;
400 ml beef broth;
- 1 tsp soy sauce;
- salt, white pepper.
Instruction
Recipe
meatballs
from IKEA, in the original Köttbullar, is not a mystery, it can be found in the furniture concern of culinary miscellany. However, not everyone has the opportunity to buy this book. To prepare Swedish meatballs you don't need any exotic ingredients, all sostavlyayuschie you can buy in the regular store.
Peel the potatoes, cut each tuber in half lengthwise, cover with water, add salt, put on fire, which need to be removed after boiling. Simmer 15-20 minutes until fully cooked, drain, leave to cool.
Meat for meatballs, in principle, possible to take any, but at IKEA they are made from a mixture of ground beef, pork in the proportion of 1:1. Oil for frying the original used butter at home you can substitute a good margarine or refined vegetable oil.
Peel the onion, cut into small cubes, fry in 3 tbsp oil until translucent state. Mash the cooled potatoes, bread crumbs, moisten with a little water. Ground beef, onion, potatoes, crackers, eggs, cream, salt and pepper stirred until a homogeneous plastic mass. Form from it meatballs with a diameter of about 3 cm Obvalivaya them in flour, in batches, fry in plenty of oil on low heat.
The next step will be the preparation of a creamy sauce. Sauté the flour on a dry pan until lightly yellowing. Boil in a saucepan of beef broth, thicken it with browned flour, stir well. Add the cream, soy sauce. Season with salt and pepper to taste.
Note
To meatballs gets the same tender consistency as supplied for IKEA, ready-made stuffing should still grind in a blender or food processor.
Useful advice
Serve Swedish meatballs should, as in "IKEA" - with hot mashed potatoes, drizzled with sauce. A bit of lingonberry jam, a green salad and a small pickled cucumber-gherkins fully reproduce the sights and cuisine of Sweden.
Advice 2 : How to make meatballs Swedish
Ah, those famous Swedish meatballs, which are immortalized in his books the famous Astrid Lindgren, attributing passion to him most charming and moderately well-fed man of all time! The ones for whom many are ready once again to go to IKEA. Neat, plump, with a delicate sauce and lingonberry jam. To prepare this delicacy at home too, because that's exactly what hundreds of thousands of Swedish women. And they do it much better than in the dining room, even one of the most popular shops in the world.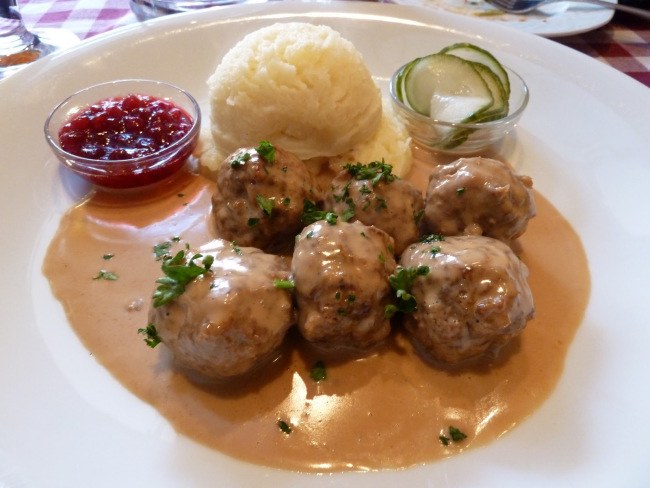 How to cook meatballs in Swedish


For the meatballs you will need the following products:
- 1 onions;
- 2 cloves of garlic;
- 2 cups chopped into cubes of white bread;
- ½ Cup milk 2.5% fat;
- 500 grams of ground beef (neck);
- 500 grams of ground pork (neck);
- ½ Cup of breadcrumbs;
- 12 teaspoon grated nutmeg pepper;
- ¾ Teaspoon powdered allspice;
- 2 chicken eggs;
- olive oil.

Head yellow onions peel, cut into small cubes. The cloves of garlic skip through the press. Over medium heat in a frying pan, heat the olive oil, saute the onions until transparent, season with pinch of salt and add the garlic. Fry for a further 2-3 minutes, then put the vegetables in a bowl and let cool.

While the onion is cooled, the cubes of white bread pour milk. Allow the liquid to soak in. Then wring out the milk and put the bread to the onions and garlic. Add ground meat, season with salt, pepper, nutmeg. Lightly beat the eggs and add them too into the bowl. Put the breadcrumbs. Start kneading the meat. If it seems dry, gradually add the milk. Knead smooth, homogeneous mass. For lightness repel her.

Preheat the oven to 200oC. Cover the pan with foil and lightly brush with oil. Shcherbinaite minced tablespoon and sculpt from this mass of neat balls. Lay meatballs on a baking sheet. Bake them for 20-25 minutes, until Golden brown.


Sauce for meatballs

For the sauce you will need:
- 3 tablespoons of butter;
- 1/3 Cup of wheat flour;
- 3 cups beef broth;
- ¼ Cup of sour cream;
- Worcestershire sauce.

Prepare the sauce while the meatballs baked. Heat a deep pan on medium heat. Gently melt the butter. When all the butter completely melts and begins to foam slightly, sift the flour. Stir, wait for a characteristic nutty flavor and pour in warm beef broth. Start whisking the sauce with a whisk. It is very important that any flour or sauce do not burn, because the real color of the gravy to meatballs in Swedish cream-white. Bring the sauce to a boil, reduce heat and simmer for about 20 minutes, stirring occasionally. In the finished gravy, pour the cream, season with salt, pepper, Worcester sauce.

Put the cooked meatballs into the hot sauce, stir and heat all together for 2-3 minutes. Serve along with the traditional lingonberry jam and mashed potatoes.
Advice 3 : Fried meatballs Swedish
Meatballs - small meatballs, which are included in the menu of medical, dietary and baby food. Fried breaded meatball is juicy meat with a crispy crust. They can decorate not only dozens of dishes, but also served as a separate dish.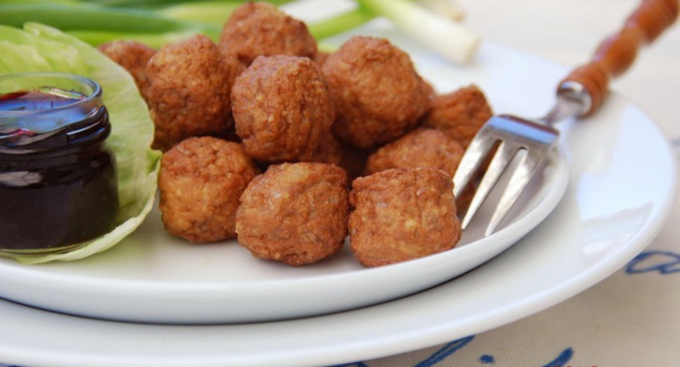 Main ingredients:
0,5 kg pork-beef minced meat;
3 potatoes;
1 egg;
1 onions;
200 g breadcrumbs;
30 g of 3,2% milk;
datirovannaja salt, mixture of peppers.
Additional ingredients:
250 g sour cream (20%);
15 g flour (top grade);
salt.
Preparation:
Boil the potatoes in their skins, mince defrosted.
Boiled potatoes cool, peel and mash into a puree, to break to him the egg, mix well.
Connect the minced meat with potato and egg mass, stir until smooth, set aside until.
Onion crumble as fine as possible and fry in butter in skillet until tender. After cooking allow to cool. Then add to the mince.
In a separate bowl pour in the milk and also add 2 tablespoons of breadcrumbs, stir to avoid lumps. The resulting mass to send to the bowl with the tomatoes, also add a mixture of peppers and salt. The mince should be well knead by hand to obtain a homogeneous and plastic.
To stick of all beef meat balls with a diameter of 3-5 cm. Each roll in breadcrumbs. Better to roll meatballs with wet hands so the meat will not stick on the palm.
Preheat the frying pan with plenty of butter and lay there rolled meatballs. Fry on medium heat on all sides until Golden brown. Next, pour a small amount of water in the pan and stew fried balls no more than 5 minutes. Then place all the meatballs on a platter.
The contents of the pan does not pour, it will need to prepare sour cream sauce. In the remaining meat juices in the pan add flour and fry 5-6 minutes, put the sour cream and salt, it is necessary to interfere immediately, to avoid lumps. The sauce will thicken up literally in 1-2 minutes. Fire you can turn off the pan cover.
When serving meatballs on the table not to forget to water them cream sauce, as a garnish will suit boiled potatoes with fresh greens.