You will need
100 g of fat;
80 g breadcrumbs;
1 bunch of parsley;
2 eggs;
salt and pepper to taste;
flour for breading;
2 bulbs;
1 carrot;
25 g butter;
200-250 ml of broth;
25 g of tomato paste;
1 Apple;
1 clove of garlic;
1 tbsp Apple juice;
water.
Instruction
Cut into small pieces of pork (or beef tenderloin and a piece of bacon. Scroll to the workpiece through a meat grinder together with purified onions and bread (80 g). Wheat crumb should be pre-soaked in boiled water.
Finely chop a bunch of parsley and add to meat mixture. Connect the crushed garlic (1 clove) and 2 eggs, lightly beaten with a mixer. All the ingredients add salt and pepper to your taste, then carefully stir.
Shape from the resulting mixture, meat balls about the size of a walnut and roll in flour. If you want to prepare the meatballs for future use, place them on a cutting Board and wrap in plastic wrap. Keep in the freezer for about an hour, then put the frozen balls in a clean plastic bag.
Try to cook the meatballs to vegetable or cereal garnish (mashed potatoes, rice, etc.). To do this, cut into thin half rings 2 onions and grate one peeled carrot. Put the chopped vegetables in a pot or deep pan and saute for 5-7 minutes in a tablespoon of butter until Golden.
Put in the roasted vegetable mixture, meatballs, pour a glass of hot meat or vegetable stock and add 1 tablespoon of tomato paste. All salt and pepper to taste. Simmer the dish until ready meat under the lid, subtract the heat to low.
Try to vary the recipe for the meatballs, adding to the classic ingredients sweet and sour Apple notes. Fry meatballs in olive or sunflower oil. In a separate pan prepare the sauce. Sauté until soft 1 chopped into small cubes of Apple and a crushed clove of garlic.
Pour into the pan with 250 ml of beef broth and 1 tablespoon of freshly squeezed Apple juice. Bring the liquid to a boil and thicken with a slurry of 2 tablespoons flour and a small amount of boiled water. Put in Apple sauce meatballs and sauté until soft.
Note
Raw egg – binder of meat, which allows the meat pieces to hold shape during heat treatment (frying, stewing, baking, steaming). However, when cooking soups with meatballs some cooks without eggs – they're the meat becomes tougher, and the broth is cloudy.
Advice 2: How to cook meatballs of chicken mince
Chicken is one of the most popular products, it is present in the menu of many people. Meatballs of chicken mince is ideal for those who are watching their diet, because they are more mild than dish of pork or beef meat.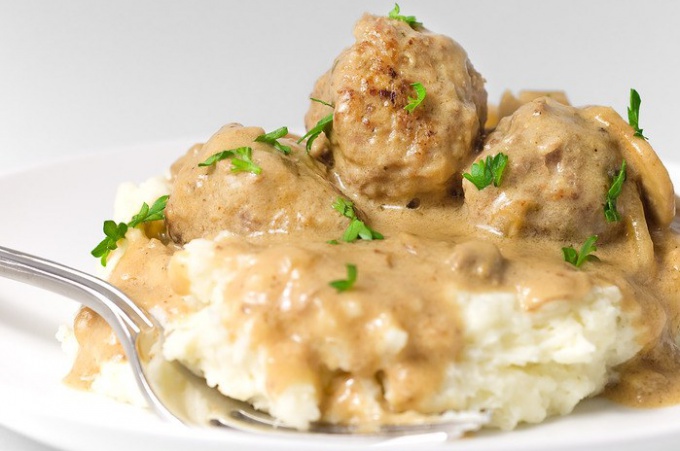 Meatballs of chicken in a creamy sauce


This recipe is very simple to cook chicken meatballs for the family dinner. They are baked in the oven.

Ingredients:
- 500 g chicken fillet;
- 200 ml cream;
- 150 g of hard cheese;
- 1 onion, 1 egg;
- 5 cloves of garlic;
- pepper, salt.

Wash the chicken fillet, slightly to beat off, then slice in small pieces and mix with chopped onions. Skip the mixture through a meat grinder, season with pepper and salt or any other spices to taste. Whisk the egg and mix with minced chicken.

Promazhte cream (20 ml) baking pan. Form of minced meat small balls, put in the form. Bake in the oven at 180 degrees for about 15 minutes.

While the meatballs baked, it's time to cook the sauce. To do this, RUB the cheese on a grater, chop peeled garlic cloves with chesnokodavilku, mix with cream.

Remove meatballs, pour cream sauce, return them to the oven for 15-20 minutes. Can be served as a separate dish or with any meal.


Meatballs chicken in tomato sauce


These chicken meatballs are cooking even simpler than the previous recipe, despite the larger number of ingredients. Tomato sauce perfectly complements the meat balls.

Ingredients:
- 500 g chicken fillet;
- 1/4 Cup of milk;
- 1 jar of tomatoes in own juice;
- 1 egg white;
- a piece of white bread;
- olive oil - 1 spoon;
- grated Parmesan, dried oregano, pepper, salt - to taste.

As in the previous recipe, skip the chicken fillet through a meat grinder, only this time not mix with onions and white bread. Mix the minced meat with milk, egg white, cheese, oregano. Add salt and pepper to taste.

From stuffing to form balls, fry in olive oil for 5 minutes, then add the mashed tomatoes with juice, cover, cook 15 minutes.

Prepared chicken meatballs serve with mashed potatoes or spaghetti.


Meatballs of chicken in the oven


Thanks ground paprika and pepper taste turns spicy meatballs.

Ingredients:
- 500 g chicken fillet;
- 2 slices of dry white bread;
- 1/3 Cup of milk;
- 1 onion, egg;
- 50 g green;
- ketchup, ground pepper, chili;
vegetable oil, salt.

Soak dry bread in milk, press. Chop the onions and chicken up small, mince together with the tomato ketchup, egg, herbs, paprika and pepper. Salt the meat.

RUB the pan with oil. Chicken mass with wet hands, shape meatballs, place on a baking sheet. Bake for 30 minutes at 180 degrees. Serve hot.