You will need
1 potato (2 slices of stale bread and 100 grams milk);
clove of garlic;
2 bulbs;
salt;
black pepper;
breadcrumbs;
vegetable oil;
greens;
boiled potatoes;
1 carrot;
1 tablespoon tomato paste;
25 g of flour.
Instruction
Wash and Eviscerate one large fresh herring. Cut her head, tail and fins, then put it on the table back over. Tap the carcass on top of a rolling pin and rasplatita, then with a force push range. You can then turn the fish belly and remove the spine from head to tail. You will only need to remove skin and small bones of fish remaining in the pulp.
Cut herring cut into pieces of small size, leave the meat also eggs or milt. Prepare the vegetables: wash and peel one large potato, onion and garlic. If desired, the potatoes can be replaced by two pieces of stale bread.
Scroll herring and vegetables through a meat grinder or chop in a blender. The resulting mixture pour ground black pepper and salt to taste, beat it raw egg and mix everything carefully. Ready-made stuffing, you must put it in the refrigerator for 1 hour.
Form patties from chilled meat, then roll them in breadcrumbs. Pour into the pan with sunflower oil and allow to warm herself properly. Try to throw in a fat piece of bread – if it Browns, you can start to fry the meatballs.
Put each portion into the hot oil using the spatula. First slightly tilt the pan and let the meatballs a little "drive" on the bottom of the pan, then they will not burn. Then fry each side for three minutes. Herring cutlets are ready, you can immediately serve with boiled potatoes and fresh greens.
Try to bake the fried meatballs, then they will become more tender and juicy to the taste. Place them in a baking dish, greased with vegetable oil.
Prepare the sauce: grate the carrots and slice the onion thin half-rings. Fry vegetables in vegetable oil, then add a tablespoon of tomato paste and a small amount of water.
In a separate pan calcinate 25 g of wheat flour, mix with cool boiled water and thicken the resulting slurry boiling sauce.
Cover the chicken and vegetable filling and bake in the oven at a temperature of 170-180 degrees for 20 minutes.
Useful advice
You can even make burgers from the salty herring. To do this, first soak the fish in milk, then peel and pass fillet through a meat grinder. Mix the minced meat with the soaked in milk bread and a couple of raw eggs, add 2 tablespoons of thick cream and chopped dill. All stir and cook the chicken further, according to the description in steps No. 4-5.
Advice 2: How to cook burgers cabbage
You or your family wanted
burgers
, and in the fridge, no meat, no fish? Prepare cutlets from cabbage! This is a very useful and very tasty dish that, in addition, it is not difficult to prepare.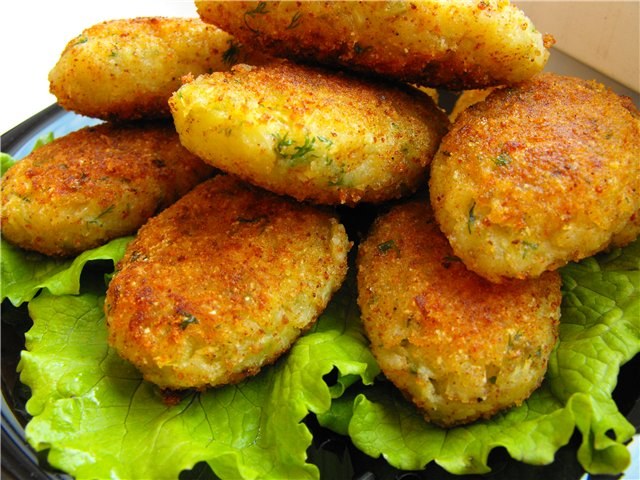 You will need
the half Cup semolina;
3 eggs;
medium onion,;
a piece of butter;
breadcrumbs;
vegetable oil;
salt
pepper.
Instruction
Prepare the cabbage. Wash the cabbage, a little dry. Finely chop the cabbage. You can use a food processor, choosing the appropriate knife, or an ordinary meat grinder. Fold the chopped cabbage in an enamel pan, add water, one tablespoon of vegetable oil, put on fire and cook until soft.
In the boiling mass of stir in gently a thin stream of semolina, while stirring continuously with a spoon. Make sure to avoid lumps. Start to cook on low heat, continuing to stir.
Later fifteen minutes you will see that the weight starts to easily come off from the walls. This means that you can turn off the fire. Then let the mixture cool, add salt and pepper at your discretion. Mix.
Very finely chop onions. Put on the stove a small pan, turn the fire. Melt in it a piece of butter and pour the chopped onions. Fry until pale Golden brown.
Go back to the bulk, break there egg, pour the fried onions. Mix everything carefully.
Next, use your hands to form small patties oval mass. To pieces the so-called "meat" was left on your hands, periodically wet them with cold water. In a separate bowl put the breadcrumbs. Zapaniruyte them each you have created a pulp.
Pour into a large frying pan vegetable oil, fry a pan and put there meatballs. Fry each until Golden brown.
Serve these burgers with your favorite side dish, or separately as independent and self-sufficient dish. In addition, you can serve with any sauce, for example, mayonnaise or ketchup, or simply put a dollop of sour cream.
Advice 3: How to cook cutlets of chicken minced meat
Chicken meat belongs to the category of diet, it is useful for adults and for children. Chicken make a lot of different dishes, but most favorite for many remain cutlets of chicken minced meat. It is better to prepare yourself by choosing to store heavy broiler chicken intended for frying.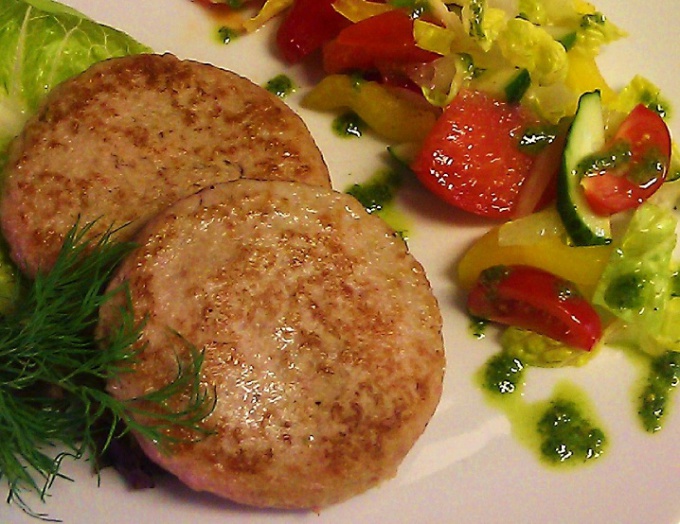 You will need
Onion medium size 2 pieces
Chicken egg – 1 piece
Garlic – 2-3 cloves
Oatmeal – half a Cup
Greens fresh
Vegetable oil
Flour
Salt
ground black pepper
Instruction
Chicken wash, dry carcass of kitchen paper, cut away the meat from it. If burgers are not diet, the inner skin and chicken fat can be left.
Onion, garlic and chicken mince, there you can add a few sprigs of dill. Beat in the minced egg, knead it well until a dense homogeneous mass.
Oatmeal, pour boiling water, wait until they swell, drain the water and add them to the stuffing. Salt and pepper it lightly. Again mix well, cover the bowl with clingfilm and put in some time to the ground "rested".
Heat the oil in a frying pan. Form small meatballs from minced meat. Flour pour on a saucer or plate and each cutlet gently roll it. Then lay out on a frying pan and fry each on both sides in oil.
Fried meatballs, put in pan, reduce heat to minimum and cook them under the lid for 5-7 minutes more. The fire shut down, but the lid do not lift. After 5 minutes, take out the cutlets and lay them on the plate, lightly sprinkle with finely chopped garlic and herbs
Useful advice
If the chicken diet, they can just raw, without roasting, saute in a pan with any sauce, closing the lid. In this case, one is better to form round meatballs.
Advice 4: How to cook cutlets of chicken
Extremely tasty burgers are obtained from chicken. However, diet is the meat itself is a little dry. If you know some of the subtleties in cooking chicken cutlets, the result can be a tender and juicy product. Chicken is easily digested, so we can safely prepare her not only for lunch but also for dinner.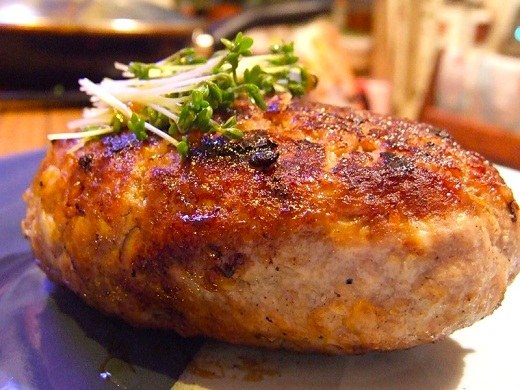 You will need
egg
white bread
milk
butter
salt
pepper
breadcrumbs
vegetable oil
Instruction
Rinse chicken breast under running water and separate the meat from the bones. Some Housewives do not use in cooking the chicken skin - remove it, if you do it too not to taste. Cut the fillet small cubes and mince.
Whisk together egg and milk. This mixture pour chopped into small pieces white bread. Leave it to soak for 10 minutes, and then mix with the prepared stuffing. Salt and pepper the meat and again thoroughly mix with your hands. Than closer you will get weight, the more tender your meatballs. Besides, with good stirring, the meat will be filled with a sufficient amount of oxygen that will give the finished cutlets with extra fluffiness.
Take another egg and whisk it in a small bowl. It is useful to breaded cutlets. Moisten hands in cold water and take a piece of meat on the palm. Give him a pellet form and place on the middle of a small piece of butter. Connect the edges of the meat and form a Patty. Formed chicken dip first in beaten egg and then in breadcrumbs.
Fry patties in hot oil, until obtaining a tasty, crunchy crust on both sides. Chicken meat cook faster than pork or beef. To determine the readiness can brake to a pulp. If inside the chicken changed its color from pink to white, we can safely start the meal.
As a side dish to burgers, you can submit mashed potatoes. Add in puree crushed in a mortar dill and onions. It will get an unforgettable aroma and good taste.
Useful advice
A tip for those who don't like the crispy crust on the cutlets. Instead of bread crumbs use regular flour. When the chicken is ready, pour into the pan a little water or chicken broth. On high heat evaporate liquid, not forgetting to flip burgers. The dish will turn out very soft and tender. Bon appetit!