You will need
5 medium onions
1.5 heads of garlic
1 carrot
3 potatoes
3 tomatoes
ground black pepper
coriander
Khmeli-suneli
salt
vegetable oil for frying
Instruction
Lamb rinse and have to pieces. Arrange the meat in the cauldron.
Onions and garlic peel. Half of the onion set aside and slice into half rings.
Meat salt, pepper, add to taste hops-suneli, coriander.
Stir and add the whole onion and cloves of garlic.
Close the lid and put on the minimum fire.
Simmer for 1.5 hours.
Potatoes peel and cut into cubes, about the size of pieces of meat.
With tomatoes remove the skin. For this release the fruit in boiling water for 1 second and then in cold water - the skins easily removable. Tomato cut into slices.
Saute the chopped onion until transparent. Add the tomatoes to the onions and sauté 5 minutes.
After 1.5 hours, you try the sauce, resulting in a stewing meat, if necessary - dosolit, then add to the meat a potatoes. If necessary, you can add water.
Simmer for another 15-20 minutes.
Then add the onion to the dish with the tomatoes.
To bring to readiness for 5-7 minutes.
The finished dish arrange a La carte and sprinkle with herbs.
Bon appetit!
Advice 2: How to put out the lamb with potatoes and oyster mushrooms
If you want to keep warm on a cold day while enjoying a delicious and fragrant dish out the lamb with potatoes and oyster mushrooms. The recipe is very simple, and the cooking time is 45 minutes.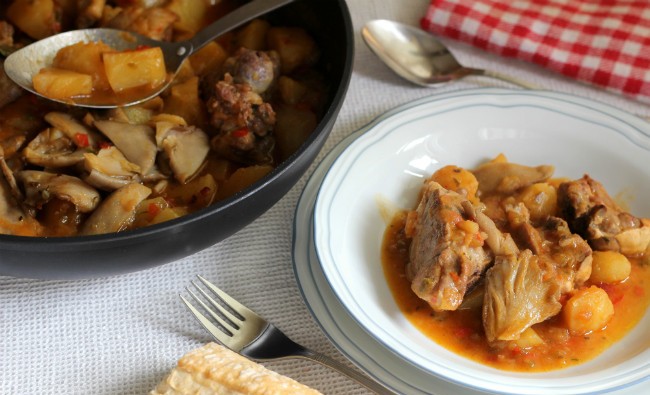 You will need
Ingredients for 4 persons:
- 4 potatoes medium size;
- leg of lamb medium size, chopped into small pieces;
- 8 oyster;
- 1 tomato;
- half red pepper;
onion;
- 600 ml meat or chicken stock;
- Bay leaf;
- 2 cloves of garlic;
- a few sprigs of parsley;
Sol;
- sweet pepper;
- olive oil.
Instruction
Onion, tomato and pepper crumble, fry in olive oil. In a mortar grind the garlic and parsley. Add them to the pan and sprinkle with salt. Fry all together for 2-3 minutes on low heat.
Increase the heat and spread in the pan the pieces of lamb. Fry for 10 minutes, so the meat is slightly browned. Put the lamb on a plate and into the pan sent chopped into small pieces mushrooms. As mutton, fry them a few minutes and then remove from the pan.
Cut into medium pieces potatoes put in a pan, fry for a few minutes, stir and season with a small amount of sweet red pepper. Fill the potatoes with the broth, add the Bay leaves. Once the broth boils, diminish the fire and simmer potatoes 10-12 minutes.
Spread in the pan the pieces of lamb, simmer all together for 15 minutes. In the center of the pan spread oyster mushrooms and served the dish to the table hot.