You will need
2 medium onions
1 carrot
3 tomatoes
2 Bay leaves
black pepper
salt
sugar
vegetable oil for frying
Instruction
Add to the skillet with a little oil and place
the cabbage
.
Close the saucepan with a lid and on low heat simmer the cabbage for 15-20 minutes.
Onion peel and cut into semi rings.
Carrot peel and grate on a coarse grater.
With tomatoes remove the skin. To do this, drop the tomatoes in boiling water for a second and then immediately into cold water.
Slice the tomatoes into wedges.
Sauté onions and carrots in hot oil for 3 minutes.
Add the tomatoes and saute the vegetables along with the tomatoes for another 2-3 minutes.
Connect the sauteed vegetables to the cabbage and simmer for another 7-10 minutes.
5 minutes until cooked sprinkle with salt dish, add a pinch of sugar, add a few peppercorns and Bay leaf.
Bring a dish to readiness.
If the cabbage is dry, then while fighting, you can add a little water or broth.
Useful advice
Uderjivaya cooking time that the cabbage was not too hard.
Advice 2 : How to braise cabbage
Stewed cabbage – dish flavorful and juicy, cooking it can take less than an hour if you do not prepare some special dish that is similar to the Polish Bigus. Recipes braised cabbage there are many, but they often have additional ingredients added to the dish, not the method of its preparation.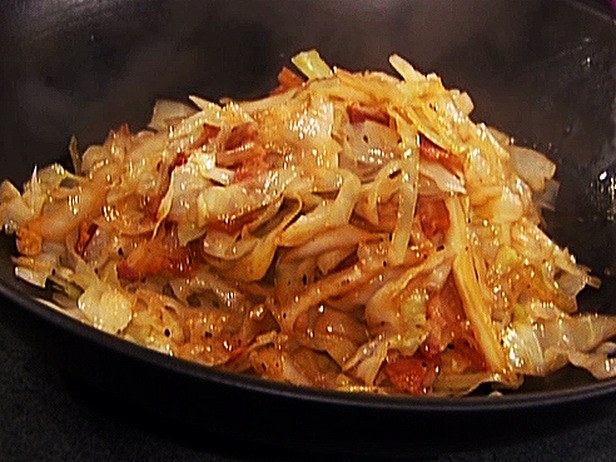 What kind of cabbage is suitable for stewing
Most often stewed cabbage, fresh or pickled, but it is not only suitable for this type of treatment. With certain reservations regarding the change color, you can
simmer
the red cabbage, the much less time it takes cooking braised Savoy or Chinese cabbage.
How to handle the cabbage to extinguish
If you cook cabbage, red, Savoy or Chinese cabbage, the preparation of the vegetable to extinguish the same. First you should remove all withered, tarnished, discoloured upper leaves, then wash and dry the head. Then cut it into quarters and remove the hard stalk. Each quarter should be cut as thin strips or squares.
If you are going to braise sauerkraut, you should rinse it, put in a colander, under running water, then squeeze well.
How to braise cabbage
In a large deep frying pan heat over medium heat a tablespoon of vegetable or melt the tablespoon of butter. Put the shredded cabbage and fry, stirring occasionally until light Golden brown. Pour ½ Cup of warm boiled water, bring to a boil, reduce heat, cover and simmer the cabbage for about 30-40 minutes. This recipe is suitable for cooking 1 - 1 ½ pounds of vegetables.
For additional aroma and flavour in the braised cabbage, you can add dried herbs such as dill and parsley, cumin, fried bacon, fried sausages, diced Apple.
How to stew red cabbage
Red cabbage stewed as well as white, but with one major caveat. Red cabbage contains anthocyanins, compounds that give it the rich color, but when in contact with hot water they will color the vegetables in an unappetizing pale lilac color. To avoid this, add 1 tablespoon vinegar to each Cup of raw cabbage before pouring into the pot or pan with water.
How to extinguish or Savoy cabbage
Or the more delicate Savoy cabbage stew as well as cabbage, but much less time. Try to cook laced Savoy cabbage. On 1 head you will need:
- 110 grams of bacon;
55 g butter;
- 90 ml dry white wine;
- 2 tablespoons chopped parsley;
- 2 teaspoons of fennel seeds;
- 2 tablespoons of sour cream;
- salt and freshly ground pepper.
Melt the butter in a frying pan, fry strips of bacon for 3-4 minutes. Add shredded cabbage, stir and pour in the wine, season with salt and pepper. Simmer over medium heat, covered, for 7-10 minutes. Add fennel seeds, parsley and sour cream. Stir and serve.