You will need
0,5 kg mascarpone cream cheese

1 Cup 35% cream
4 yolks from large eggs
1 Cup granulated sugar
3 tablespoons Amaretto liqueur (you can substitute the same amount of rum or brandy)
26 pieces Savoiardi biscuits (savoiardi)
½ Cup freshly brewed espresso
cocoa powder
30 grams of dark chocolate
Instruction
How to make tiramisu
at home
know any self-respecting Italian. However, the secret is simple: for starters, you will need to make another, no less famous Italian dessert, Sabayon (zabaglione, zabaione, sabayon).
In a heatproof bowl, whisk to a froth the egg yolks. Add half of the sugar and mix with a beater. Set bowl with yolks on the "water bath" and, continuing to whisk, until the mixture begins to thicken. It is important that the water in the bath was not boiling. The ideal temperature is 60 degrees Celsius. If you heat the yolks too much, they will curdle. Original Sabayon prepared with fortified dessert wine Marsala.
While the Sabayon is cooled, whip the cream until soft peaks form. The cream should not fall down after you turn off the mixer, but should not "stand". If they "are" this is the stiff peaks and you have too much whipping cream.
Now in another bowl, whisk the mascarpone with the remaining sugar and liqueur until obtaining a creamy homogeneous mass.
Add the cheese to the Sabayon and stir the mixture for future tiramisu cooking spatula. Put the cream. Gently move spatula the mixture from the bottom up, until you do not get the cream almost uniform pale yellow color.
It is, perhaps, the moment of making tiramisu at home – collect all the ingredients together.
Pour the cooled coffee into a wide bowl and dip biscuits in it so that it is soaked on both sides, but in any case not soaked. Lay the Savoiardi into the form so that you have enough for two layers. Gently cooking spatula apply the first layer of biscuits half of the cream. Flatten and place a second layer of Savoiardi. Again cover with cream and smooth the surface.
Take a strainer and garnish the surface of the tiramisu homemade cocoa powder. Make chocolate mug and lay on the surface of your dessert.
Put the finished tiramisu in the fridge not less than 4 hours.
Useful advice
Biscuits Savoiardi, also called Savoy or lady fingers, you can bake yourself from flour, eggs, sugar, starch and powdered sugar.
Advice 2 : Recipe tiramisu at home
When I make tiramisu, always collect a lot of compliments from those who have tried it. You can prepare tiramisu is very simple. Will handle even a beginner. You just have to properly mix the ingredients by following my recipe. Try it - you'll like it!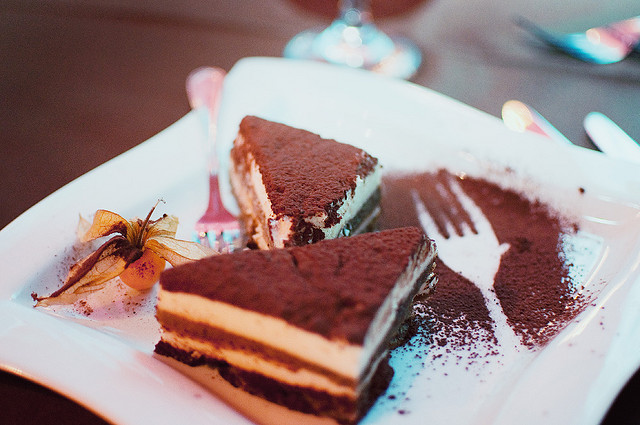 Tiramisu – classic Italian dessert, which combines delicate cream and light coffee flavors. Translated Tiramisu means "lift me up" from "tirare"- "to raise", mi - "my" and su - up. And it is the absolute truth – tiramisu is always uplifting.
Difficulty level - very easy (1 star)
All the cooking takes 40 minutes.
You will need the following products:
- 500 grams mascarpone cheese (this is the key ingredient, sold in many supermarkets);
package of Savoiardi cookies - it is elongated crunchy biscuits, it is also called "lady fingers" because of its elongated shape, you can buy them in supermarkets;
- 4 small cups of thick strong coffee (chilled)
- 4 tablespoons of sugar;
- 1 pinch of salt;
- 5 eggs;
- 2 tablespoons of bitter cocoa powder.
Preparation:
Proteins separated from the yolks.
Mix mascarpone (with a mixer but not a blender) with the egg yolks and 2 tablespoons of sugar.
In a separate bowl, whisk into a thick white foam with a pinch of salt and 2 tablespoons of sugar. Added to the mass with mascarpone.
Take a large oblong glass dish or several smaller containers for individual portions, you put one layer of biscuits soaked in cold strong coffee.
Important!!! Biscuits to moisten it, fast dipping (literally a fraction of a second) in my coffee, so not much softened. Layer cookies, moist coffee/ distribute half of the cream with mascarpone, then another layer of cookies (soaked in coffee) and again cream.
The top layer of cream sprinkle with cocoa powder. You can make a stencil and decorate the top layer pattern of the cocoa powder.
All this miracle put in the fridge for 3-4 hours (the cookie should have a good soak, even overnight.
Advice 3 : Is it possible to tiramisu to use cocoa
Tiramisu is one of the most popular desserts of Italian cuisine. Its name translates literally as pull (tira) me (mi) up (su) or lift me up. Preparing a multi-layered dish of mascarpone cheese, cookies Savoiardi, coffee, esperesso, Amaretto liqueur. Part of the classical tiramisu certainly includes cocoa powder, which powder oneself the dessert is ready.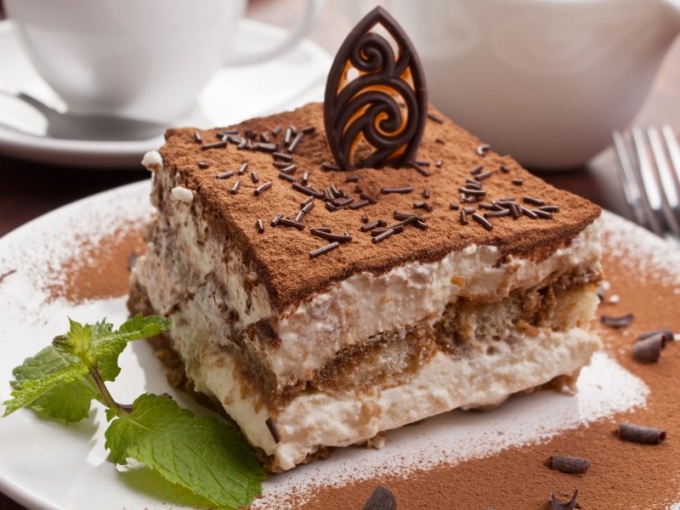 You will need
For the classic tiramisu:
- 80 g icing sugar;
- 3 egg yolks;
- 250 g mascarpone cheese;
- 120 grams of biscuits Savoiardi;
- 3 tsp instant coffee;
- 1 tbsp of cocoa powder;
- 4 tbsp of Amaretto liqueur.
For tiramisu with cream cheese:
300 g fat cottage cheese;
- 150 g of sponge biscuits;
- 2 tbsp sour cream;
- 3 tbsp of powdered sugar;
- 1 tsp instant coffee;
- 1 tsp cocoa;
- 1 sachet of vanilla sugar.
For tiramisu with raspberries:
- 500 g mascarpone cheese;
- 250 g of raspberries;
18 cans of biscuits Savoiardi;
- 5 eggs of the Guinea fowl;
- 100 g icing sugar;
- 30 g of vanilla sugar;
- 4 tbsp of instant coffee;
- 2 cinnamon sticks;
- 60 ml Amaretto liqueur;
10 g of cocoa powder;
- 6 stalks of mint.
Instruction
Classic tiramisu

Pour instant coffee Cup of boiling water. Cool and pour into a deep bowl. Add Amaretto to the coffee. Whisk the egg yolks with the icing sugar until it dissolves completely. Then gently, stirring constantly, enter into the egg mass of creamy mascarpone cheese and whisk all until smooth. Dip Savoiardi biscuits in the coffee mixture and generously cover the cheese filling. Then lay the biscuits close to each other and each other in a portion bowl or deep dish. Cover with the remaining tiramisu cream cheese frosting, leveling the remains of the top layer. Then cover the dessert with cling film and place in the refrigerator for at least 5 hours. Then, freeing tiramisu from the film, sprinkle them with cocoa powder and serve.
Tiramisu with cream cheese

Wipe the curd through a sieve, then whisk in a blender along with the sour cream, powdered sugar and vanilla until smooth. A teaspoon of instant coffee, pour 5 tablespoons of boiling water, stir and refrigerate. Very fast to not soaked, dip sponge biscuits into the cooled coffee and lay close to each other in shape. Top evenly put the cheese cream, then another layer of biscuits, which abundantly cover the cream. Then cover the tiramisu with cling film and put in 5 hours in the fridge or for 20 minutes in the freezer. Then remove the foil, sprinkle dessert cocoa powder and serve.
Tiramisu with raspberries

Separate the yolks from the whites and beat separately the whites in a cool foam, and the egg yolks together with the sugar until white. Put creamy mascarpone cheese in a deep bowl, add vanilla and mix well. Then gently add in the cheese mass beaten egg whites and yolks. Again whisk all components until smooth. Ground coffee and cinnamon sticks pour the boiling water. Give me the coffee to brew and cool down. Cookies Savoiardi we're going to crack in half and spread onto 6 portions kremanki. Each portion pour 10 milliliters of Amaretto and 40-50 ml of coffee with cinnamon. Then grease a cookie cheese cream and put the tiramisu in the fridge for 3-4 hours. After this time the dessert is ready, sprinkle with cocoa powder, garnish with raspberries and sprigs of mint.
Note
If the tiramisu is made in portion bowls or cups, then at the bottom put a layer of cream on top of which is placed biscuits.
Useful advice
Tiramisu Savoiardi in, you can replace the biscuits "Lady's fingers" or plain biscuits, which should be cut into rectangles.