Instruction
Exit from citizenship of the Russian Federation – is the legitimate right of any citizen of Russia to terminate the mutual obligations with the state. This act on the basis of voluntary will of a citizen. The decision to petition for release from citizenship of Russia made by the President of the Russian Federation.
And there is a simplified procedure of an exit from citizenship. So, if you have one or both of the parents, spouse or children have another nationality, the problem is solved without the intervention of the President. This same order provides, if you go to another country for permanent residence, or are already living abroad.
Exit from citizenship of Russia child if one of his parents is a citizen of the Russian Federation, and the other a foreign citizen, is also performed in a simplified manner on the basis of the joint statement of both parents. If you are a single parent and a citizen of a foreign state, grounds for withdrawal of citizenship of the child will serve your application as a single parent.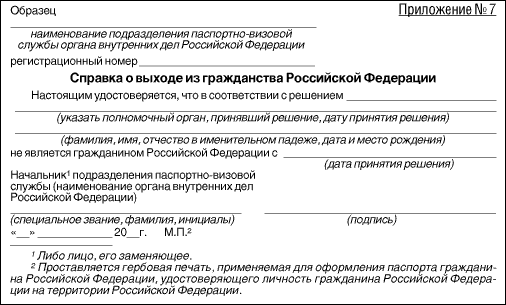 Legislation provides for a ban on an exit from citizenship of the Russian Federation in cases when: a) you have outstanding obligations to the state, established by the laws of the Russian Federation (e.g., the time came and the agenda of the call to military service);b) you prosecuted as a defendant or you have already entered into legal force of a guilty verdict;C) if you do not have another citizenshipbesides the citizenship of Russia, and credible guarantees of its receipt.
Useful advice
Not in a hurry to get rid of current citizenship, got hold of a new one. Moreover, if the principal constitutional obligations, such as, for example, service in the armed forces, you already did. Dual citizenship is not a burden.