You will need
butter - 150 g;
lemon;
salt
dill and spices to taste.
Instruction
Frozen cooked shrimp
does not require long cooking time, as they are practically ready to eat. The whole process of cooking is to nuke them to the desired temperature and add spices.
Take frozen shrimp out of the freezer and rinse under cold running water. Defrosting they do not need, just to get rid of excess ice and possible dirt.
Will pascalite deep pan and melt in it 150 g of butter. Once the butter is completely melted, put the washed prawns into the pan, season with salt and pepper to taste. Remember that these seafood are very well absorb the salt. Therefore, it is necessary to add slightly more than is required to prepare such a volume of other dishes.
Add to the pan a little bit of fennel seeds, mix well and cover. All this must be done on a fairly high heat.
Once the shrimp is boiling, squeeze over the juice of half a lemon, stir, turn off the heat and cover. Leave them for 15-20 minutes in the pan, that they well absorbed the salt and spices, Then the dish will turn out juicy and delicious. Every five minutes stir them.
After that, put the cooked shrimp on a large flat dish. On top drizzle with remaining lemon juice, garnish with lettuce leaves, sprigs of dill and lemon wedges.
If time to prepare cooked frozen prawns no, there is a quicker way of bringing them to the stage.
Rinse the shrimp from the ice, put in a deep bowl, add salt, spices and fennel seeds to taste. Then lightly sprinkle them with lemon juice and microwave on high 5 minutes medium power. After this time the dish is ready to eat.
Serve shrimp cold white wine or beer.
Advice 2 : How to cook cooked frozen shrimp
The most delicious are the fresh shrimp, but in Russian stores sell mostly cooked frozen shrimp. They are also very tasty if you prepare them properly. It is important to note that cooked frozen shrimp product, almost ready to eat. Therefore, the cooking should be minimal, otherwise the shrimp will lose flavor and tenderness.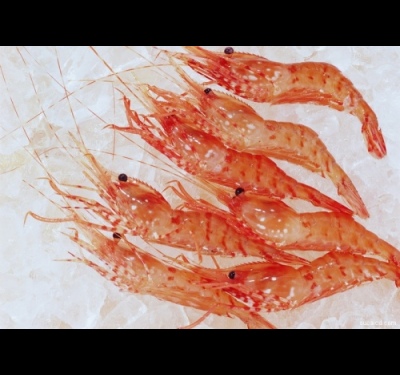 Instruction
The simplest way to prepare cooked frozen shrimp – defrost. Defrost shrimp in the plus chamber of the refrigerator or soak them until fully thawed in salted water. Before serving, heat them for a minute in the microwave.
It is not necessary to place in a microwave completely
frozen shrimp
. Of course, this will allow you to prepare cooked frozen shrimp quite quickly and thereby save time, but a high probability that after a quick defrost the meat of the shrimp will become rubbery.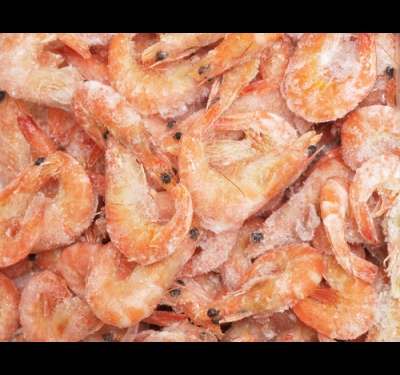 The most popular way of cooking shrimp cooked-frozen is their secondary boiling. Cook shrimp in two ways:

. Dip cooked frozen shrimp in boiling salted water. After boiling, not a big shrimp boil for one and a half to two minutes, large shrimp – three minutes. Shrimp should be cooked no longer than the specified time otherwise they will lose most of their aroma and become hard.

b. Wait until the water boils, the sunflower, and drop into the pot of cooked frozen shrimp, turn off the heat, cover the pan and allow the shrimp to steep for 30 minutes. Cooked so the shrimp come out very tender and juicy.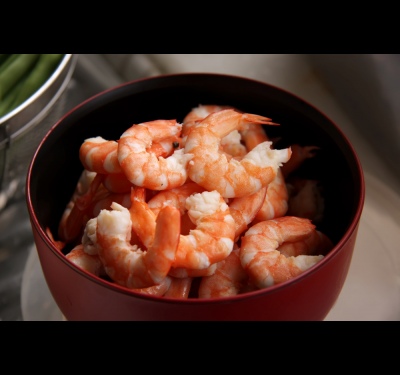 That you have got a particularly tasty shrimp, add water for boiling the juice of half a lemon, stalks of fresh dill/dried dill, Bay leaf, cloves, peas black and allspice, cloves of garlic.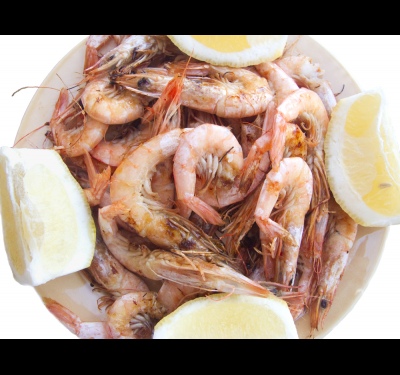 Shrimp preferably serve with sauce to enhance the flavors.
. Mayonnaise sauce for shrimp

Mix 200 grams of mayonnaise, juice of half a lemon, passed through the press 3-4 cloves of garlic and some red pepper.

b. Cheese sauce for shrimp

Boil a glass of milk, dissolve in it a shabby grated processed cheese, add passed through the press 3-4 cloves of garlic.

Instead of salt the water for boiling shrimp, you can add soy sauce.
When cooking shrimp in the water you can also add fresh tomatoes or a few tablespoons of tomato paste.