You will need
- stands;
- information block;
- themed drawings.
Instruction
Area health is an important information point which aims to help parents to conduct a competent prevention of various diseases in children. Before proceeding to the design, find a suitable place. The area of health should be placed where parents expect their children to have the time to get acquainted with useful information.
An integral part of the area health boards. Make visual AIDS the two types. At one place the report on the activities carried out (photos from health day, a short content of the event, etc.). Other stands will be dedicated to important information. For example, in autumn and winter, we will remind parents about the need for the prevention of colds, and in the spring and early summer will be relevant information on protection from biting insects.
Pay special attention to the selection of information, taking the criterion of relevance, accessibility and clarity of presentation. After all, many parents do not have extensive medical knowledge.
Not less important role is played by the form of presenting information. Carved from scientific publications bulky articles, in small print, will not cause the parents great concern. And time is on their thoughtful reading they are unlikely to have. If you really want to area health in kindergarten benefit, please provide all necessary information in a reader-friendly form.
Come to this creative process. For example, instead of "Prevention of acute respiratory diseases in children in autumn and winter," say the article or the memo "a Strong immune system will win ARI". Write the names of bright color and large font.
Dry replace the theory of practical recommendations. Write what and in what sequence must do to protect the child from disease. The font size for helpful tips to choose a medium that information was clearly visible.
If space allows, place in the area of health information for children. You can even write nothing, just hang at the eye level of the child pictures in which fairy tale characters wash their hands before eating, brush my teeth, wash my face, etc. and a positive didactic effect will not keep itself waiting.
Advice 2: How to arrange a children's Playground in kindergarten
Design plot in
a children's
garden
should be bright, unusual and informative. Houses, slides, swings, horizontal bars all contribute to the harmonious development of the child. Monotonous objects on the territory of the children easily get bored, and then comes the time to think about introducing something new.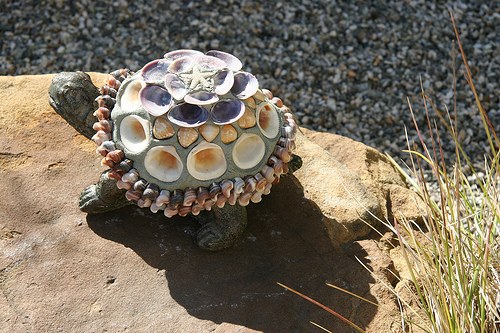 You will need
- Tires;
jig - saw;
- paint;
construction helmet;
- gypsum;
- cotton fabric.
Instruction
Make adorable snails. For this you need old tires, paint and a jigsaw. Draw on the wheel the outlines of faces snail — head and horns. Also draw the neck. Using a jigsaw cut out the lid and remove. One end of the wheel wrap in the shell and fasten with screws. Some snails would look great on the court.
In addition to the snails make a hedgehog. Take a construction helmet, remove from it all unnecessary. Cover with a layer of plaster with a thickness of one centimeter. Then plaster vilaite needles. If the surface is uneven and has cracks, apply it with a brush dampened with water. After the hedgehog is dry you can start painting. Draw the eyes, mouth, nose. Black paint can be painted needles.
In the design of the Playground, use a homemade chickens and a rooster. The pattern stitch bird collection. The material use cotton fabric.
Chickens are stuffed with synthetic padding, as tight as you can. Surface cover with gypsum or alabaster. After the first layer dries, apply a second. Smoothen the irregularities.
Shall describe the product with acrylics and coat with varnish. So the birds are standing, make a stand. In the center is a hammer a long nail, and inside of the products insert a blank rod from a pen. Rod put on a nail, and chickens will stand.
Install houses and structures of different shapes. Thanks to them, children can have fun on the kindergarten territory.
The rack houses on the one hand cover with a tent or a colored material. The other side decorate with climbing plants. Such houses are popular among children very popular because they allow you to play role-playing games — in a hospital, school or family. In addition, such structures allow teachers to watch and guide her in the right direction.