You will need
1/2 Cup butter;
3 egg yolks;
4 tablespoons of water;
2 tablespoons of lemon juice;
salt
Cayenne pepper.
Cheese sauce
3 tablespoons butter;
3 tablespoons flour;
1 1/2 cups milk;
1 Cup grated sharp cheese;
salt
pepper.
Green sauce Bagnet Vert
100 g of parsley;
1 clove of garlic;
2 anchovy;
2 slices of black bread;
3 small pickled cucumbers;
1 teaspoon capers;
coffee Cup wine vinegar;
1/3 Cup olive oil.
Instruction
Dutch sosv a saucepan melt the butter, turn off the heat and mix it with lemon juice and warm boiled water. Prepare a water bath – put a small container in a pan of larger size, fill it with water and place on medium heat. Make sure that the water slowly boiled, but not "full swing".
Separate the egg yolks from the whites, pour them in the pot standing in a water bath, and beat with a whisk until then, until the sauce thickens, will not obtain uniform velvet texture.
Remove the beaten egg yolks from the fire and enter them in the melted butter, continuing to whisk. Add pepper and salt.
Dutch sauce or sauce hollandes is one of the great French mother sauces, the basis for you can prepare the Dijon sauce, simply adding a few tablespoons of Dijon mustard or Maltese sauce, by entering into hollandes some orange juice and zest. Both sauce will also be a good addition to cabbage and broccoli.
Cheese sauce – a popular and relevant Supplement to many cooked vegetables. Broccoli is no exception. Preparing the cheese sauce also on the basis of one "mother" sauces – based on his famous Bechamel.
Over medium heat in a saucepan gently melt the butter. Add the flour and fry till Golden color and a distinct nutty smell. Heat up the milk. Pour it warm into a mixture of flour and oil. Pour in a thin stream, constantly vimosewa. Add salt and pepper. Cook the sauce on a slow fire until it becomes homogeneous and smooth. Stir in cheese and mix again. Serve warm.
Green sauce Bagnet Vert will allow you to enjoy not only the taste, but its rich colours. Cut the bread crust and soak it in vinegar. Clean the anchovies from the bones and rinse them under running water. Fish, parsley and garlic chop. As did the pickles and capers. Remove from vinegar bread and press. Combine all in a blender and purruja, gradually adding olive oil. It is a cold sauce.
Advice 2 : How to make sauce for hamburgers
The homemade sauce
for the burgers
much tastier than store bought. If you don't mind to spend a little time to prepare the sauce, which is exactly like your family, try to make sauce for hamburgers at home.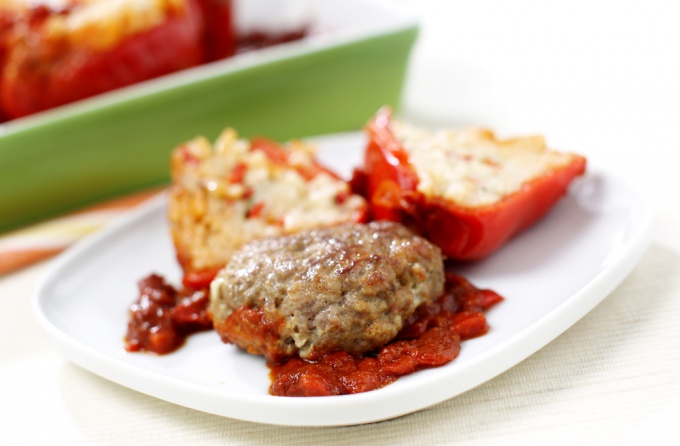 There are many variations of this recipe, but you can follow the recommendations below to obtain the sauce with traditional barbecue flavor.
To make the sauce for the burgers you will need:
- 250 ml of water;
- 200 g of tomato ketchup;
- 1 tablespoon of butter;
- 1 tablespoon of vinegar;
- 1 tablespoon Worcestershire sauce;
- 1 tablespoon of lemon juice;
- 2 tablespoons of brown sugar;
- ¼ Teaspoon pepper;
- 50 g of onion;
- 50 g of celery;
- 1 teaspoon of mustard;
- vegetable oil for greasing.


Grease the pan with vegetable oil.


Make medium heat and put in a pan butter. Wait until it melts.


Chop onions and celery. You can do this using a food processor. Add the vegetables to the pan and lightly fry in melted butter.


Add water, ketchup, vinegar, Worcestershire sauce, brown sugar, lemon juice, pepper and mustard. Stir sauce with a wooden spoon or spatula.


Reduce the heat to a minimum. Leave sauce to simmer slowly for about 20 minutes.


While the sauce is slowly simmering, stir it every 3-4 minutes.


Let the sauce cool and add it to the burgers.


Advice 3 : How to make the sauce for the mussels
Meat of mussels on the amount of protein is superior to beef and fish. Therefore, they are referred to dietary products. On top of that mussels live only in marine waters. Include in your diet this product, you will improve your health. Mussels can be served under a variety of saucesthat accentuate the flavor of the product.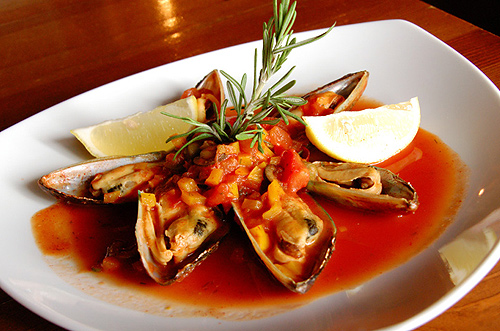 You will need
butter - 50 g
flour - 50 g
milk - 250 ml.
Tomato sauce:
garlic
olive oil - 2 tablespoons
dry white wine - 100 ml
tomato paste.
Creamy garlic sauce:
onions - 2 heads
butter - 50 g
olive oil - 1 tablespoon
white wine - 100 ml
cream - 100 ml
greens
garlic.
Hot sauce:
chili sauce
the yolk
soy sauce
a grilled cheese.
Sauce "Morne":
milk - 500 ml
flour - 40 g
oil - 40g
nutmeg
the yolk
cream - 100ml.
Instruction
Sauce "Bechamel". In a water bath melt the butter. Add the flour and mix thoroughly. Add milk, stirring constantly. The consistency should be like condensed milk. At the end sprinkle with salt and pepper.
Tomato sauce. Skip the garlic through a press, lightly simmered in olive oil. Add dry white wine and water left over after cooking the mussels. Simmer for about 5 minutes. Add the tomato paste and keep on heat for another 10 minutes. Then season with salt and pepper.
Creamy garlic sauce. Finely chop the onion. Heat a pan with butter and olive oil. Saute the onion until Golden brown. Pour in dry white wine, wait until it evaporated. Then add the cream, stirring constantly, cook until thick. Turn off the stove. Finely chop the herbs, skip through the press garlic and add to the sauce. Stir and cover.
Hot sauce. Mix a tablespoon of soy sauce with one egg yolk. Mix thoroughly. Add the chili sauce. In the mixture put cream cheese. Then put on the stove. Heat the sauce over low heat and constantly stir. Cheese should melt, but do not let the yolk cook. When the mixture becomes homogeneous, the sauce is ready. Use only hot. On cooling lost taste.
Sauce "Morne". Melt the butter and add the flour. Then pour the milk and mix thoroughly to avoid lumps. Season with salt and add the stick of nutmeg. Turn down the heat. Pour half a Cup of cream. Heat and add grated cheese to taste. Whisk three egg yolks in a separate container with a few tablespoons of cream. The resulting mixture pour into the sauce. The consistency should be thick. Put the mussels on a baking tray and cover with the sauce. Bake until Golden brown.
Advice 4 : How to cook broccoli with vegetables
Broccoli is not only delicious variety of cabbage, but also useful. Especially for women, as it contains many important for the female body the vitamins and minerals, but also slows the aging process and is considered an excellent anti-cellulite product.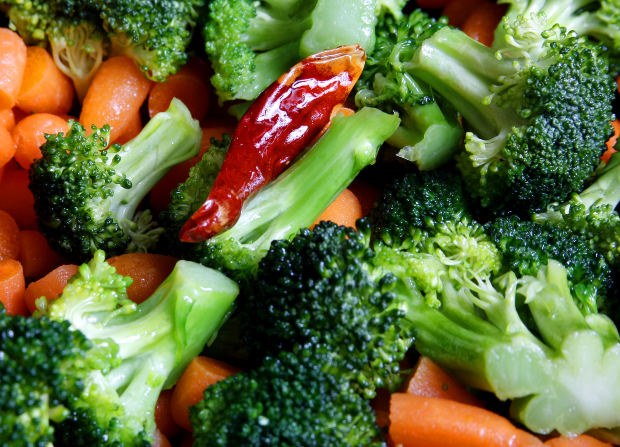 You will need
300 grams broccoli, 2 tomatoes, 1 carrot, 1/2 onion, 1 clove of garlic, vegetable oil, salt. 1 bell pepper, 3 tablespoons of sour cream.
Instruction
Wash and divide broccoli into florets. Pour some vegetable oil into the pan and put broccoli. Add salt and fry on all sides.
Tomatoes pour over boiling water, remove the skin and cut into cubes. Bulgarian pepper cut into thin half-rings, carrots - rings. Onion and garlic finely chop.
To broccoli, add carrots and add some water. The lid on the pan. Onion and garlic sauté separately in vegetable oil.
When carrots are soft, add the tomatoes and spasserovannye onion and garlic. Cook for 5 minutes.
Put in a pan the cream, stir and simmer on small heat for about 5 minutes. When serving you can decorate with greens.
Note
When choosing broccoli, note the young plants with small inflorescences. Fresh cabbage should be stored in the refrigerator for three days. The freezing of the useful properties is lost.