You will need
large saucepan;
pan;
knife;
water;
Fig;
celery;
salt;
dried parsley;
coriander seeds;
sesame seeds;
black pepper;
red hot pepper;
grape wine;
rum;
dry mustard;
rye flour;
vegetable oil;
olive mayonnaise;
potatoes;
carrots;
kohlrabi;
salsify.
Instruction
To prepare the soup, take 2-3 beaver tailand soak them for 12 hours. After that clean them from the skin. Cut into small pieces, throw into boiling water. Add chopped onion, 200-250 grams of rice and salt to taste. After 5 minutes, add to the pan finely chopped celery. Once the broth comes to a boil, it should cook, covered, for about half an hour. Before serving soup at a holiday table, sprinkle it with dried parsley, coriander seeds and sesame seeds. Note: coriander seeds have a bit of crush in a mortar and add the black pepper. This is an unusual dish will impress all guests with its taste.
There is one easy recipe beaver tailov. Take a red pepper (preferably spicy), 1 tablespoon salt, 50 ml wine, 50 ml rum, 1 teaspoon of dry mustard, a little rye flour, vegetable oil, 2 tablespoons of olive mayonnaise. Peel the skin from the beaver tail and wash it in cold water. Half spoon of salt dissolved in 0,5 l of water, add pepper and mustard, mulled wine and rum. Mix everything thoroughly and leave in this solution the tail of a beaver. Hold it there for 12-15 hours.
Drain the solution and remove soaked the tail of a beaver. Roll the tail in the flour and salted, and fry in vegetable oil for 10 minutes. Please note that frying the tail need on low fire covered with a lid.
If you want to cook braised tails, then they should be soaked for 10 hours in salt water. Then cut into small pieces, fry in sesame oil. Fry need until Golden brown. Then cut small pieces of potatoes, carrots, kohlrabi, salsify. All vegetables and toasted tails put in a saucepan and add a little broth. Simmer on low heat for 15 minutes. 5 minutes prior to readiness add 3 Laurel leaf to obtain a perfect flavor.
Advice 2: How to catch beaver
The largest rodent fauna of Russia is the beaver. The weight of adult individuals varies from 16 to 30 kg, though there are larger specimens. The average body length of 80-85 cm to catch the beaver , you need to conduct a number of preparatory activities.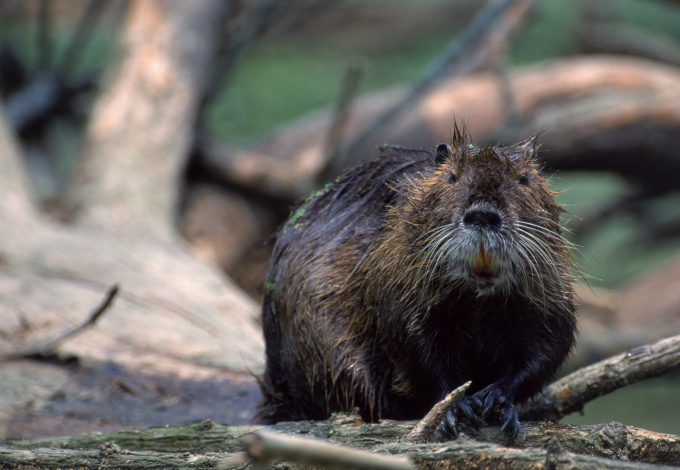 Instruction
Hold a special examination and registration of beaver colonies. You can then diagnose the possibility of trapping of beavers in a particular area.
Mark the areas where you can hold the capture and define the number of individuals subject to capture. It is allowed to start after the end of beavers breeding season and rearing of young. In the Central regions it occurs after July 10. Ends the capture, but given the time of transportation, so as to release animals occurred a few weeks before freeze-up.
Swipe the trapping of beavers at the factory. It we can by means of a metal Ivanouski with curtain doors. To it using the rubber ring, attached wings made of nylon mesh, which are necessary in the trapping of beaver from lodges in the deep or cluttered waters. Also used a homemade trap made from wire rods, fastened with hoops, having the form of a cylinder about a meter long, with a diameter of 40-50 cm.
Beavers may be caught using nets with a length of 25-30 meters and a height of 4 m with floats on the top rope and gruselle on the bottom.
On the shore find the nest chamber and start pounding on it with a stick or feet. The beavers are scared of the noise, out of the hole and fall into the trap.
But in cases where the beavers lay low or absent in the hole, can be a useful dog, specially trained to work with them. The presence of a rodent so the dog feels through the half-meter layer of soil. Let her ashore after the installation of the traps and its behaviour is determined whether there is a beaver in the hole.
Useful advice
Trapping is the day when the animals are in the shed. From the boat with a pole or oar grope trench in front of the entrance to the hole, in which is placed previously wary of traps. It attached to the twigs so that they rose above the water and its fluctuation showed that the beast fell. The large diameter holes are set a few traps to close all of the inlet. Located near other exits nor make traps or block stakes.
Advice 3: How to make Armenian dolma recipe
Dolma is one of the popular dishes of the national cuisine of Armenia. At its core is a filling that is wrapped in pickled or fresh grape leaves. This ancient dish is cooked under pressure in water with the addition of ghee and tomato paste. As a "wrapper" Armenians also use eggplant, peppers, tomatoes, Fig, beet and cabbage leaves. Not less of this dish and stuffing the dolmades are stuffed not just with meat, but lentils, vegetables and even fish.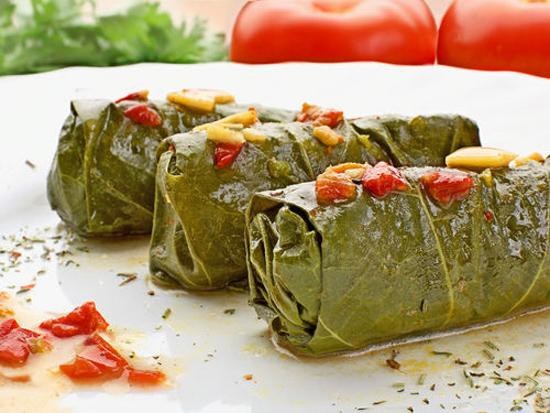 You will need
150 g lamb;
150 g beef;
bulb;
tomato;
50 g of rice;
10 g of vegetable oil;
a clove of garlic;
a bunch of parsley and cilantro;
salt
Zira
ground black pepper.
To fill:
30 g of tomato paste;
200 g ghee;
500 g beef broth or water;
20 g of vegetable oil.
Instruction
Prepare the stuffing: wash and boil the rice until soft. It should not be sticky. For dolma it is necessary to take fine-grained Fig.
Prepare grape leaves. If you are using fresh leaves, then carefully sort and rinse them in a bowl of water and then place in boiling water and keep no more than 5 minutes. Drain, carefully cut the thickening of the leaves and dry them. You should choose the young leaves, palm-sized, no more, since large - zhestkovaty. If this dish you will be cooking from pickled leaves, soak them beforehand in cold water for 5 hours, during which time they will be released the excess salt. Before cooking taste them, if they are too salty, soak in water longer.
Scroll through a meat grinder, mutton and beef. Cut into small cubes onion and promassiruyte in a hot vegetable oil until light cream color. Add it to the stuffing.
Chop the greens and garlic. Remove tomatoes skin and cut into small cubes. Connect all prepared ingredients with minced meat, pepper, add salt and a pinch of crushed cumin. For the filling to be juicy, pour 2 tablespoons of boiling water and carefully stir the minced meat.
Place on the middle of the prepared grape leaf stuffing and carefully roll it into a tube. Similarly, one should wrap the filling in the other sheets.
Fold the dolma in the pot or pan. The bottom of the pan must cover the grape leaves. Dolma should be laid in serried ranks, between which there should not be any gaps, otherwise the leaves can turn around in the cooking process.
Prepare the sauce: mix the yoghurt, tomato puree, pour in water or beef broth, add vegetable oil and mix thoroughly. Pour prepared filling dolma so that she was completely covered. Put a few vine leaves and cover with a heavy plate. She will not allow dolma to emerge. Simmer the dish on low heat for one hour.
Pour dolma juice, which was formed by her fire, and serve hot. To it is usually served with matsun with crushed garlic.
Useful advice
The filling of dolma should be put only on the smooth side of the grape leaf.
Advice 4: How to cook beaver meat
Beaver meat is not as popular as other game, however, is a delicious and healthy product. In cooking is used for meat two to three years animals. When cutting the main thing - not to touch the iron, emit a fatal odor, the so-called beaver jet.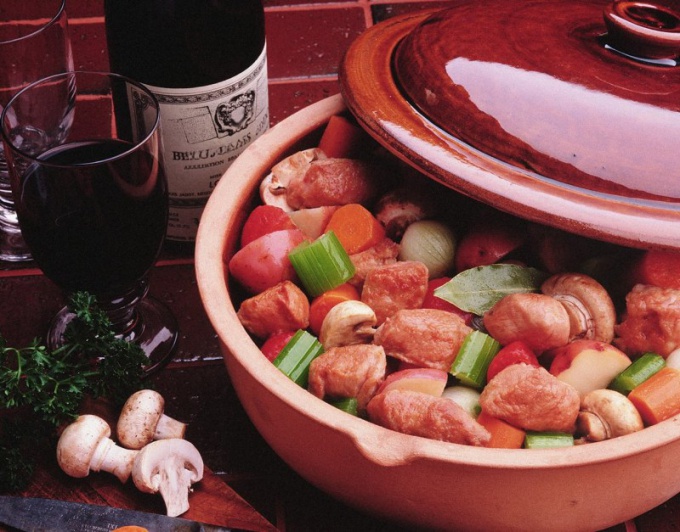 You will need
400 g of beaver meat (ribs);

1 lemon;
1 onions;
2 carrots;
1 Apple;
3 tbsp. butter;
1 head of garlic;
5-7 sprigs of thyme;
100 ml sour cream;
salt
ground black pepper.
Instruction
Have the carcass of a beaver, scrape the meat of the film and rinse thoroughly. Drain and chop the carcass in small pieces 4 cm long, ribs cut in half and divide into pieces of several ribs. Clean the garlic from the skins, half the cloves and finely chop with a knife, the second you need it later.
Wash the lemon, cut it in half, squeeze each half juice, there should be about 1 Cup. Take a deep enamel or glass bowl, put the meat, add the garlic, pour lemon juice and mix thoroughly to evenly distribute the garlic and juice.
Add salt, sprinkle freshly ground black pepper (or other spices to taste) and mix again. Cover the bowl with cling film or a lid and refrigerate for 5-6 hours.
Wash and peel the carrots, cut into large wheels 2-3 centimeters long, wash onion and cut into quarters and each quarter into two halves. Heat in a skillet 3 tablespoons of butter and fry the pieces of onions on all sides until Golden color, put in separate bowl and sprinkle with salt and pepper to taste.
Take a large cast iron cauldron or pan with high sides and pour on the bottom layer of vegetable oil is approximately 0.5-1 cm, rascality it on fire, and quickly fry the pieces of meat the beaver on all sides until browned. If all the meat at the same time is not placed into the cauldron in one layer, fry it a little.
Add to the meat chopped carrots, stir and sauté with carrots for 10 minutes, add onions, stir and simmer for another 15 minutes. Wash and peel the Apple, slice the rest of the garlic and coarsely chop the Apple.
Add into the cauldron 1-1. 5 cups of boiling water and stir, simmer for another 10 minutes. Clean the thyme from the stems, chop them into pieces of 0.5-1 cm long. Add apples, garlic, thyme, stir and simmer for another 5 minutes, add 100 ml of sour cream, reduce heat to low and simmer for another 20 minutes. Serve with fried potatoes.
Advice 5: How to transplant pike tail
Sansevieriya or pike tail, can be found in almost any office and even at home. The flower room is stunningly unpretentious and resistant to even the most hard conditions of life.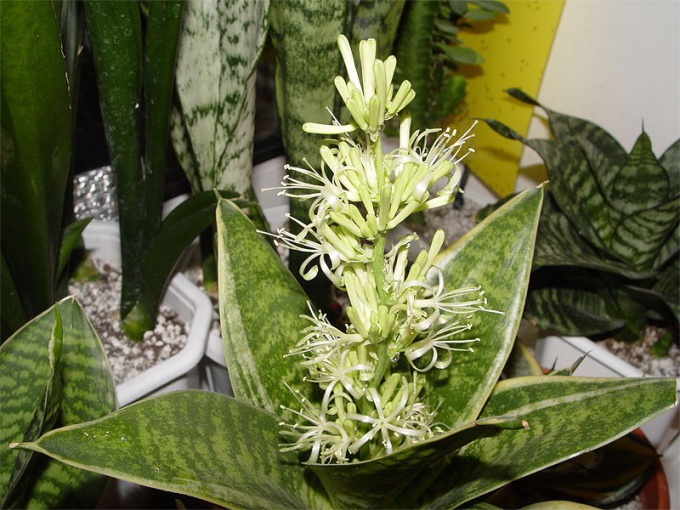 Instruction
Pike the host grows to a height of two meters even in the smallest pot, its root system develops actively, but "freedom" does not require. Not like the flower and watering, half a Cup of water one to two times per month your plant will be enough.
Transplant to flower only in two cases: if you wish to sansevieriya gave new sheets or formed young Bush for further Seating. Or for the reason that you have filled the plant. When an excess of moisture pike's tail is starting to hurt, so you need to carefully knock his pot on the floor so that the ground moved away from the vessel walls and pull tight leaves the plant together with a lump of earth. Not ostraca the earth from the roots, place the plant on a sheet of heavy paper, covered with absorbent cloth. The ends of the tissue up and tie around the roots. So you can easily dry the roots within a day or two. Then just return the pike's tail in the same pot and add some water to dry land.
Similarly, the plants are transplanted into a larger pot. By the way, when choosing pots give preference to an elongated horizontal in such pots powerful rhizome sansevieriya will be free to develop without creating loops. Besides root system of the plant is quite close to the surface, and therefore it simply does not need high vertical pot.
Unlike many plants that are recommended before transplanting, water generously. Pike's tail it is best to transplant "dry". Just remove the plant with a clod of earth and move into the prepared pot.
Any special pochvosmesey sansevieriya also does not require. She needs good drainage, so the bottom of the pot to make drainage holes inside a quarter fill the tray with expanded clay or pebble. On top pour the mixture of Sandstone, milled bark and turf. Such soil is more than suitable unpretentious pike tail.
Transplanted plants need not water, and sprinkle from a spray. The next day after the manipulation in the pan you can pour water.
Useful advice
Do not move the plant is transplanted to another place, pike's tail is sensitive to the location.
Advice 6: The difference between white rum from the black
Until the mid-nineteenth century people did not share the rum varieties, including because they drank it mostly pirates and poor people who had nothing to do with differences in the production technology of the drink. However, later in its production methods have made significant changes, and in the end there was black and
white rum
.
Production technology of black and white rum


Black rum is the original pirate classics: it drank sea wolves, hunted robbery. Traditionally this drink is made by double distillation, after which it is poured into a heavily charred barrel made of oak, and aged for 3-5 years. Such a long period is associated with the fact that the drink is not added starter, i.e. we are talking about a natural fermentation of sugar, which occurs rather slowly. The resulting drink has a rich dark color, strong pungent aroma and specific taste. The hue of the liquid may vary, as it depends on the characteristics of the container in which it is aged, and the composition of the drink. In particular, to make the color more intense black rum adds caramel.

In the manufacture of white rum is always used sourdough, so kept this drink not more than two years. However, the differences in the technology of production of beverages do not end there. White rum is aged in barrels are always made of light wood. Most often, for the implementation of containers for beverage use ash. In addition, after cooking white rum is carefully filtered, which allows to weaken its taste, remove sediment and make the shade lighter. Shade of white rum may be different. This drink is most often transparent or Golden. To slightly change the color of the liquid and make it more "noble", the producers sometimes add a little rum in the caramel.


Important differences between black and white rum


After trying both of these drinks, you can very easily determine the difference in their taste and strength. Black rum is a much more strong drink than white, so the stereotype that pirates drank his pint, not diluting, raises serious doubts. Now black rum is most often used either as a base for cocktails or as one of the ingredients of Caribbean cuisine. Drinking it neat is quite difficult. White rum, by contrast, is very easy. However, it is also part of a variety of different cocktails, but it's much easier to drink without adding other beverages.

Black Roma is characterized by a strong aroma, a touch of caramel and molasses, bright and sharp taste, but also density. White, on the contrary, the consistency is more like water, has a very mild flavor, mild, slightly sweet taste. It is this difference that allows traditionally to compare black and white rum as rude and aristocratic, refined drink.