You will need
Rice vermicelli with chicken:

300 g rice vermicelli;
500 g chicken fillet;
2 carrots
1 onion;
50 g olive oil;
50 g of soy sauce.
Rice vermicelli with vegetables:
500 g vermicelli;
4 tbsp vegetable oil;
2 bulbs;
2 sweet peppers;
2 carrots;
1/4 head of cabbage;
4 tbsp of soy sauce.
salt
black pepper.
Thai soup with rice vermicelli:
1 kg of fresh fish;
250 g pasta;
2 bulbs;
4 garlic cloves;
ginger root (4 cm);
150 g of canned bamboo;
0,5 coconut milk;
2 chili peppers;
zest of 1 lemon;
2 tbsp rice starch;
2 tbsp vegetable oil;
ground turmeric
salt.
Instruction
Boil water amount of 1 l for 100 g of noodles, dip in boiling water the pasta. Again bring the water to a boil, cook the pasta no more than five minutes, then drain in a colander and rinse with cold water.
Rice vermicelli with Caritamrita onion rings, slice large carrots into strips, fry in olive or any other oil without the smell. Chicken fillet cut into small pieces or strips, add fried onions and carrots. Fry all together, then add rest of the oil and soy sauce. Mix the noodles with the roasted mass and serve both cold and hot.
Rice vermicelli with osamamovie noodles and add 1 tbsp oil. Wash and clean the vegetables, cut into large dice onions, remove seeds from the peppers, cut into large cubes, carrots grate on a coarse grater, cabbage cut into large strips. Preheat a deep frying pan 3 tbsp oil.
Within two minutes fry over high heat the onion, then add pepper, carrot, cabbage, stir and fry for another two minutes. In a pan add vermicelli, salt and pepper and simmer the same amount, in the end, add soy sauce.
Thai soup with rice vermicelliwill pochistit fish, disembowel, rinse with cold water, cut off the head, tail, fins have to fillet, the flesh is put aside, all the rest put in a saucepan with 3 litres cold water. Put on fire, bring to a boil, remove the foam, reduce the heat, add salt, add lemon zest, cook for forty minutes on low heat without a lid. Ready broth drain.
Wash the chilli, remove the seeds, cut into thin strips one pod. Chop onions and garlic, peel and cut into thin plates ginger. Drain water from cans of bamboo, cut it in pieces of 2 cm Cut into cubes of 2 cm fish fillets, mix in a bowl 1 tablespoon of rice starch with turmeric and salt, roll the pieces in the mixture.
Preheat a deep frying pan with a thick bottom in vegetable oil, fry the prepared ginger, onion, garlic for four minutes. Put in a pan the fish pieces and fry on high heat for three minutes, stirring constantly.
Bring to the boil 1 liter of strained broth, add the coconut milk, put 1 pod of chili and bamboo, bring to the boil and simmer for five minutes. Then remove from the pan and add the Chile Chile, thinly sliced. Mix the remaining broth with 1 tbsp of rice starch, pour in the boiling broth, again bring to a boil.
Cook separately the rice vermicelli, put it on plates, put the plate of fish with vegetables, pour the hot broth and serve immediately.
Advice 2 : Recipe quick cooking rice noodles or vermicelli
Rice noodles is a type of pasta that looks like a semi-rounded or wide strips from a few millimeters to two to three centimeters. Made from rice flour and water, some manufacturers for greater flexibility add a little corn starch.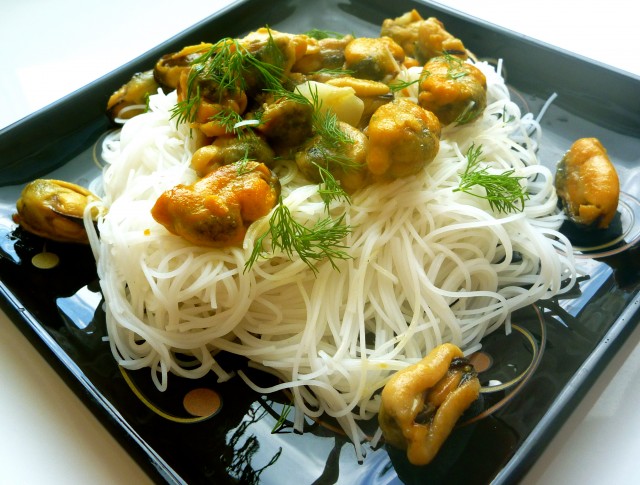 Rice noodles cooked very quickly, while easily turning to mush with excessive treatment, so you should know how to properly cook.
How to cook rice noodles
To prepare rice noodles as independent dishes and as an ingredient in more complex dishes besides the noodles need water and (optional) sesame oil.
If you want to prepare rice noodles to use for cooking other hot dishes, you should soak it in warm water. This means that you can partially cook the noodles, it will be soft outside but firm inside. Soaking in warm water is also suitable for adding rice noodles to the soup, however, is suitable for soups and dry noodles, no pre-soaking.
You should place the noodles in a large bowl and cover with water. It should be warm to the touch, but not hot. After seven to ten minutes in warm water, the noodles will start to separate, that means it's time to drain the water. Then you need to rinse it in cold water, this will stop the process of disintegration.
The thus prepared noodles can be added to stir-fry, soup and other dishes.
Not to let the noodles dry, you can mix it with a small amount of sesame oil.
Soak rice noodles
Soaking in boiling water is suitable, if you plan to use rice noodles in any of the cold dishes, for example salads. To use hot water, it is also possible to prepare flat noodle, which is used for wrapping.
In this case, a bowl with noodles, pour on the boiling water. In contrast to the more usual wheat noodles, rice noodles do not need to boil in water enough to fill with hot water and leave to soak. The noodles are fully cooked for seven to ten minutes, but if you plan to use it in another dish, it should be drained early, as soon as the noodles start to separate, and then mix it with sesame oil.
Rice noodles with Turkey meat
Rice noodles can be used for the preparation of a huge number of salads, soups and hot dishes. One of the easiest and quick recipes dishes is fillet of Turkey with noodles: a minimum of ingredients, preparation steps and a great result.
For cooking Turkey fillet with rice noodles you will need:
1. Turkey fillet – 400 g;
2. bell pepper – 1;
3. carrots – 1;
4. onion – 1 goal;
5. ginger – the root length of 1.5 – 2 cm;
6. soy sauce – 4 tbsp;
7. vegetable oil
Turkey fillet cut into cubes and fry until cooked in vegetable oil. Onion cut into half rings and fry. Bell pepper cut into strips, add to onions, carrots to RUB on a grater, add to the pan, fry the vegetables until tender.
At the same time, pour the rice noodles in warm water for ten minutes, stirring continuously, until it starts to separate.
If the meat is done, place it to the vegetables, mix gently, add the noodles. Everything is evenly mixed. The root of the ginger RUB on a small grater and add to the pan. Add soy sauce, mix well.Fry for another five minutes.
It should be noted that rice noodles is an extremely delicate product, it is better to treat her with caution, not to unwittingly break. Fresh rice noodles are soft, however, often it is sold in dry form.
Rice noodles not only used in simple salads and soups, but also harmonizes perfectly with meat, fish, vegetables, fits perfectly in a duet with seafood and creates wonderful dishes with fried mushrooms.