You will need
Rice vermicelli with chicken:

300 g rice vermicelli;
500 g chicken fillet;
2 carrots
1 onion;
50 g olive oil;
50 g of soy sauce.
Rice vermicelli with vegetables:
500 g vermicelli;
4 tbsp vegetable oil;
2 bulbs;
2 sweet peppers;
2 carrots;
1/4 head of cabbage;
4 tbsp of soy sauce.
salt
black pepper.
Thai soup with rice vermicelli:
1 kg of fresh fish;
250 g pasta;
2 bulbs;
4 garlic cloves;
ginger root (4 cm);
150 g of canned bamboo;
0,5 coconut milk;
2 chili peppers;
zest of 1 lemon;
2 tbsp rice starch;
2 tbsp vegetable oil;
ground turmeric
salt.
Instruction
Boil water amount of 1 l for 100 g of noodles, dip in boiling water the pasta. Again bring the water to a boil, cook the pasta no more than five minutes, then drain in a colander and rinse with cold water.
Rice vermicelli with Caritamrita onion rings, slice large carrots into strips, fry in olive or any other oil without the smell. Chicken fillet cut into small pieces or strips, add fried onions and carrots. Fry all together, then add rest of the oil and soy sauce. Mix the noodles with the roasted mass and serve both cold and hot.
Rice vermicelli with osamamovie noodles and add 1 tbsp oil. Wash and clean the vegetables, cut into large dice onions, remove seeds from the peppers, cut into large cubes, carrots grate on a coarse grater, cabbage cut into large strips. Preheat a deep frying pan 3 tbsp oil.
Within two minutes fry over high heat the onion, then add pepper, carrot, cabbage, stir and fry for another two minutes. In a pan add vermicelli, salt and pepper and simmer the same amount, in the end, add soy sauce.
Thai soup with rice vermicelliwill pochistit fish, disembowel, rinse with cold water, cut off the head, tail, fins have to fillet, the flesh is put aside, all the rest put in a saucepan with 3 litres cold water. Put on fire, bring to a boil, remove the foam, reduce the heat, add salt, add lemon zest, cook for forty minutes on low heat without a lid. Ready broth drain.
Wash the chilli, remove the seeds, cut into thin strips one pod. Chop onions and garlic, peel and cut into thin plates ginger. Drain water from cans of bamboo, cut it in pieces of 2 cm Cut into cubes of 2 cm fish fillets, mix in a bowl 1 tablespoon of rice starch with turmeric and salt, roll the pieces in the mixture.
Preheat a deep frying pan with a thick bottom in vegetable oil, fry the prepared ginger, onion, garlic for four minutes. Put in a pan the fish pieces and fry on high heat for three minutes, stirring constantly.
Bring to the boil 1 liter of strained broth, add the coconut milk, put 1 pod of chili and bamboo, bring to the boil and simmer for five minutes. Then remove from the pan and add the Chile Chile, thinly sliced. Mix the remaining broth with 1 tbsp of rice starch, pour in the boiling broth, again bring to a boil.
Cook separately the rice vermicelli, put it on plates, put the plate of fish with vegetables, pour the hot broth and serve immediately.
Advice 2: How to cook rice soup
Cooking recipes rice soup a lot. Each family has his own. Soup with rice is nice in that it can be as a great nourishing dish, and diet. Its preparation does not require much effort. Soup stimulates digestion, useful for joints, has a diuretic effect. For its preparation it is better to use medium grain rice.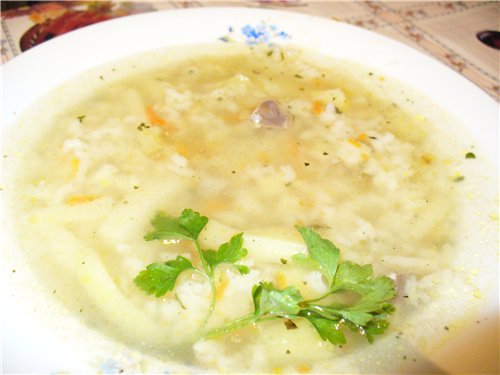 You will need
potatoes (5 PCs.);
carrots (1 PC.);
onion (1 PCs.);
butter (30g);
parsley (10g);
water (80 ml).
Utensils:
pan;
pan.
Instruction
Sort and rinse the rice. Soak in cold water for 30-60 min.
Fill the pot with water. Salt water.
Peel potatoes, rinse and cut into cubes.
Then clean the carrots and onions.
Slice them into strips. Chop the parsley.
Remove the pan, put it on the fire. Put butter.
Sauté carrot, onion and parsley until Golden brown.
In salted hot water put the potatoes and boil it until soft.
Then add the soaked rice and passivated vegetables. Bring to a boil. Rice soup is ready!
Note
Do not wash the parsley in cold water, and in warm it will be more fragrant.
Potatoes easy to clean, if short, put it first in hot water and then in cold.
Useful advice
To make rice soup a pleasant sweet notes along with all the vegetables you can add sweet pepper, cut into thin strips.
Advice 3: How to cook soy sauce
The Japanese use soy sauce as salt. Properly cooked , the sauce contains in its composition of sea salt is very useful. Thus, lactic acid bacteria sauceand improve the stomach.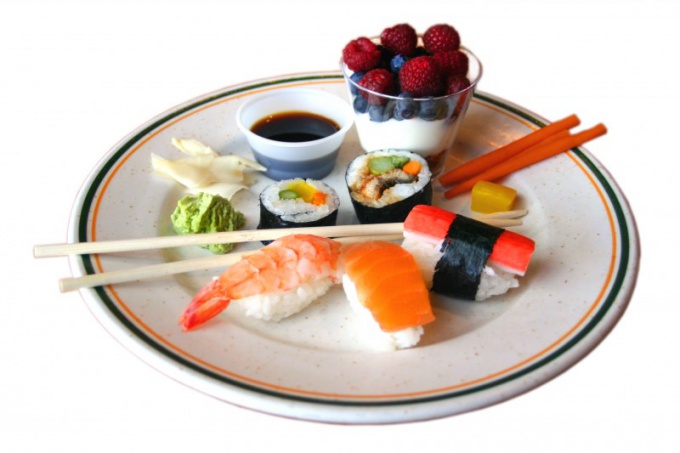 You will need
100-120 g of soy beans;
2 tbsp. butter;
50 ml of the clarified chicken broth;
1 tbsp wheat flour;
sea salt to taste.
For recipe "a Salad of young cabbage with soy sauce":
1 head young cabbage;
1 cucumber;
1 red bell pepper;
1 yellow sweet pepper;
2 tbsp light soy sauce;
1 tbsp rice vinegar;
2 tbsp sesame oil;
ground black pepper.
Instruction
Home way of cooking soy saucewill otvorite soy beans in a saucepan with a small amount of boiling water. Strain through a colander, put the soybeans in the iron bowl and mash with a ladle. Mix the beans with the remaining ingredients, mix thoroughly. Put on the stove and bring to a boil. Cooked this way the sauce is ready to use.
Industrial method of preparation of soy sauceboevye the soybeans are cleaned and boiled. The resulting mass is put on the washed Mat small lumps. After some time, the mess will be covered with mold. Now it is necessary to break up into small pieces and leave for another two months. After two months the process of fermentation should stop. The resulting soybean lumps put in the tank with salt water. During the year, the liquid is filtered, thickens and becomes viscous.
The sauce is made from soy beans can be used to highlight and enhance the flavor and aroma of the meals. For example, it is added to various salads, vegetable stews, fish and meat. He sauce has a spicy aroma and spicy taste and is able to keep its taste for a long time. Special storage conditions for soy saucebut not required.
Salad of young cabbage with soy sauceangamaite cucumber and peppers. Slice the cucumber into strips and peppers – thin half-rings. Remove the peppers from the pre-core. Rinse cabbage and cut into 4 pieces, slice into thin slices. Sprinkle with salt and lightly mash with your hands. All of this mix in a bowl. Dress the salad with a mixture of soy sauceand vinegar and sesame oil. Before serving, season with black pepper.