You will need
— a computer with Internet connection;
— newspaper advertisement;
stores with promotions and discounts;
money.
— funds for the restoration: paint, sponge, cushion, new hardware, etc.
Instruction
Review ongoing auctions on the subject. Often it happens that different kinds of furniture and interior items go under the hammer at an attractive price.
Please note, many stores around the holidays or some other reasons, throwing all kinds of sales. Set out to find these stores are, most often, it is a major or specialist outlets.
Restaurerede your old things. Pay specially trained skills to people or, with imagination and creative approach to business, do it yourself. Because most often, designer interior, and thus appear. Take an old coffee table. Sand it, using sandpaper remaining paint coating. Replace your old fasteners, hinges and handles are new.
Make sure that the strength of the coating and give it a classy look, for example, thus: pick water-based product that will suit to your interior, take a small roller with a long NAP (to give a uniform background texture) and apply to the surface in two layers. After dry, grab the pre-purchased stencil to create on the surface of any drawing. Apply it in a different color. To give the effect of antiquity dilute base coat with a lighter tone. Grab a sponge and a small amount of paint, apply the chaotic brush strokes in one direction, it will give the effect of a rare condition. Thus, you can give any of your old prophetic new life.
Be modest in your desires, furnish the apartment gradually. Today buy one in a month or two and so on.
Buy furniture, second-hand, ads on special websites or in the newspaper. Remember, you can buy plenty of quality stuff, despite the fact that they were already in use. Used – this does not mean that a bad thing. Just be careful with the furniture, it can live for parasites such as bed bugs; in addition, the foam is quite out of order and begins to emit toxic fumes and dust.
Look in specialized stores furniture on the subject of markdowns. Some companies make discounts on their products due to minor defects. It could be a scratch, a puff, a chip. For some, this is a very important thing is without a master, and you may like it. Good build quality can compensate for minor external defects.
Advice 2: How to cheaply do repairs in the apartment
Inexpensive is a cosmetic repair with your own hands and local materials. Such repairs will not require large financial investments, but the cleanliness and freshness of your apartment you provided. Cheap is not always bad.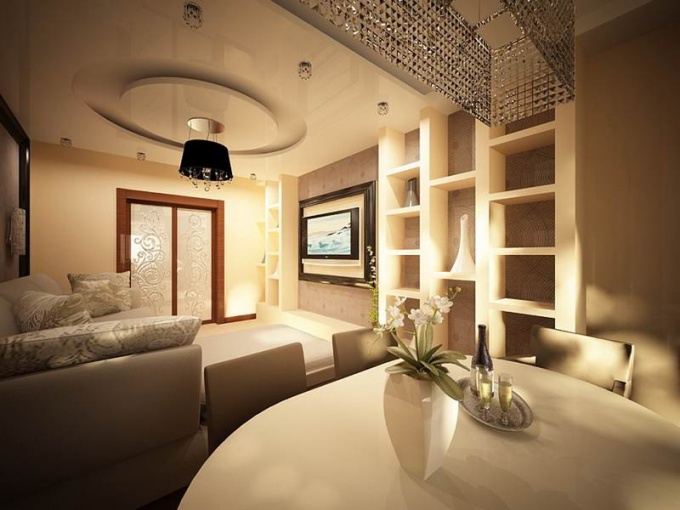 You will need
- plaster
paint
- spatula
- cushion
- brush
- water container and putty
- grunt
- latex paint
- glue for Wallpaper
Instruction
The concept of cosmetic repairsand is part of the following list:- Cleaning of ceilings and walls from old Wallpaper or paint.
- Putty, primer, sanding the ceilings and walls.
- Painting the ceiling with latex paint or sticky Wallpaper.
- Sticking the walls of Wallpaper.
- Painting window frames and soffits.
- Floor repair and painting.
To repair your apartment is not inhaled, remove furniture from the room in which you start to work. If this is not possible, then make it in the center of the room and close the film.
Repairs in the room begin to prepare the ceiling and walls to finish. To do this, dilute the ceiling up to the plate. Wet the ceiling area in warm water, let the whitewash or latex paint to swell, then remove with a spatula all the old ceiling and re-rinse the area. Change the water as often as possible. From you washed the ceiling will depend on the durability of its coating.
The next stage is to repair the ceiling. Embroidered all cracks with a spatula, so that they become deeper. Prime soil, zashpaklyuyte putty and let dry. After the primer dries, scuff the ceiling and primed it again. Before painting the ceiling make the repair of the walls.
After working with the ceiling and proceed to remove old Wallpaper. To do this, wet the old Wallpaper with water and let them soak for some time, and as soon as they get wet, remove them with a spatula. The wall must be dry and clean before you start its repair. Embroidered all the cracks on the wall with a spatula, primed them with soil and seal with putty. When the places that you have putty dries, scuff them, and then coat again with primer. If you're going to glue thick wall finish plaster do not apply.
The next step is ceiling painting or pasting of Wallpaper on the ceiling. Dilute latex paint as it says on the tin and paint the ceiling 2 times. If you decide to hang Wallpaper for painting, stick them on and paint 2 times. Paint domestic producers are cheaper so your budget will not suffer.
Before you paste the wall Wallpaper, it is necessary to paint doors and window frames paint. If you buy the paint "P" of the Russian manufacturers, not imported, it will cost you much less. Once the paint is dry, proceed with the papering. To save money on the purchase of Wallpaper, will choose domestic producers. The quality and durability of Wallpaper Russian manufacturers are not inferior to imported.
The final stage is painting the floor. If the furniture is not handed down, seal the perimeter and legs of furniture with masking adhesive tape and after painting, remove the furniture will remain clean. Paint pick domestic is cheaper, but the paint quality is not affected.