Instruction
Training is not training, and work, which aim is the acquisition of necessary safety skills for a certain profession. It can be carried out in different occasions differs in duration and content.
Internship
in the workplace
at prima to work, transfer to another job or to another unit
After conducting a newly adopted or transferred to the employee's primary
instructing on a workplace
, should training. Its purpose is the acquisition of new recruit basic safe methods of work study schemes of passes to him and others Responsible for training appointed by the head of the management area from among experienced workers (experience; it cannot be less than 3 years).
The duration of the internship depends on the profession, which was adopted or transferred employee. Often 3 shifts, but for complex, hazardous occupations, the duration may be extended up to 10 shifts. Typically, this is specified in the regulations on labour safety, which must necessarily be developed and approved at the enterprise established procedures.
The results of the internship are recorded in the journal briefings on labor protection in the workplace. Head of internship reports for every day work stairwell. In the column "content of training" he writes the kinds of work performed by the employee during the shift. At the end of the probation period the employee is permitted to initial test of knowledge on labor protection.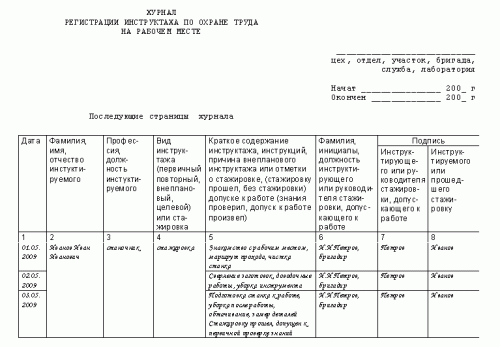 Internship as a training before appointment or inclusion in the reserve for managerial positions

Training can be conducted either on your premises or on another base, including overseas. For the internship issued an order, if necessary, are documented on a business trip.

The head of the enterprise which is training of the worker, is obliged to appoint the head of the internship and approval of the plan. Its duration cannot be less than 2 weeks.

According to the results issued feature-opinion, which shall include recommendations on further use of a specialist. For example, his candidacy may be recommended for appointment to a higher position, for inclusion in the reserve.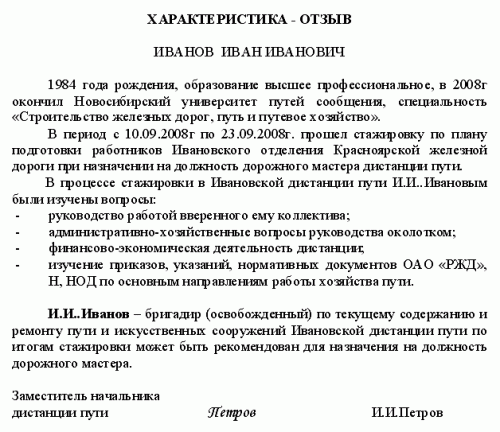 Internship program for young professionals and students

The organization of such training may be initiated by the enterprise, academic institution, regional Center of employment. About the internship is the entry in the service record, the certificate. According to her results, the young specialist may be offered a vacant position in the company where he interned.
Useful advice
Internship for inclusion in the reserve for Executive positions can be combined with a period of duty for her during the non-regular worker (e.g. a holiday period).