The main reasons why carrot does not rise:
Old seeds. Carrot seeds remain viable for 2 to 3 years. Even seeds 1 class have a germination rate of around 70%, second class is only 45%. Buying bags of carrot seeds, pay attention not only to the expiration date of the class, but the flavor coming from the package of carrot seeds. Fresh seeds emit a fragrance, if they are unprocessed (in the form of pellets, tape) and Packed in an additional package.
Depth of seeding. Finely sown carrot seeds just dry, deep-seeded will not be able to climb out to white light.
Watering and soil moisture. It is necessary to sow the seeds in moist soil. Given that the carrot has the "audacity" to rise about two weeks on average, and the sowing is carried out by 1 or 2 cm depth, as seeds are small, with no moisture in the soil and seedlings will not.
You need to carrot seeds germinate?
Seeding is best done not in the narrow grooves side by side, and in a broad band (10...15 cm wide). Seeds can be directly expanded to try to save some money rather than rattling off a bunch in a narrow groove. Because then you have the "pile" to pull out.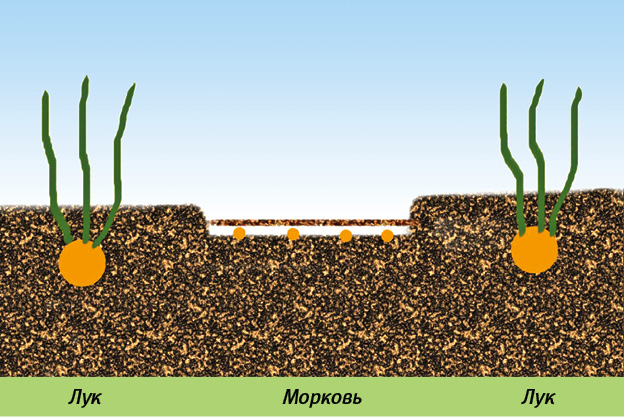 But before you put the seeds the tape is necessary to shed water from a watering can, trying not to blur the earth. Let the water soak in and begin planting. Moisture will not be superfluous. Seeds sprinkled the ground (peat, humus) and on top of not water, but only harbouring non-woven material. Plastic film should not be used. In Sunny weather, under the film seeds can burn. In the absence of rains and prolonged dry weather, if the top layer of soil dries up, the crops are carefully watered from a watering can without removing material.
Sow the carrots around the edge of the beds impossible. Sowing is carried out, departing from the edge of the beds at least 10...15 cm.
Land for planting and growing carrots should be cultivated and have a neutral reaction.