You will need
three bright flannel diaper;
- thin flannelette blanket;
- eight pairs of socks:
three baby spoons:
three rattles;
about 180 diapers;
tray;
tape (for wrapping gifts);
- decorative grass;
- cardboard;
- clothespins;
- stationery gum and Laundry gum.
Instruction
Cake start with the creation of the upper tier. To do this, take seven diapers, gently roll each tube (start to wrap with elastics) and secure each with a pin.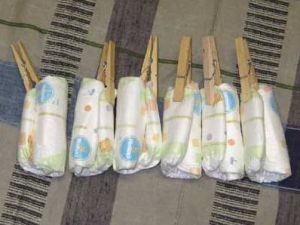 One diaper put vertically, the six position around it and secure all office supply rubber band.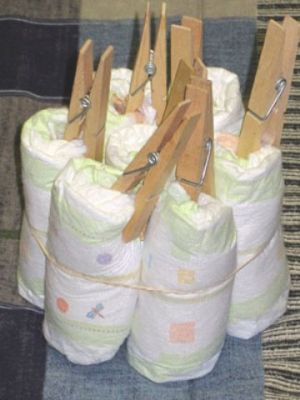 Take the diaper, fold it so that its width was made equal to the height of the layer cake. Wrap the diaper tier cake, pin the design of stationery gum.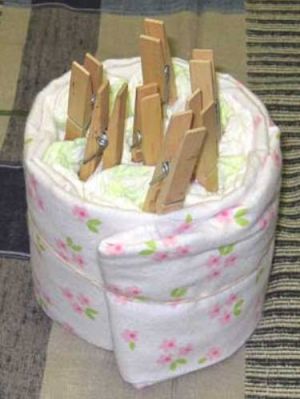 Remove the clothespins. The top tier of the cake is ready.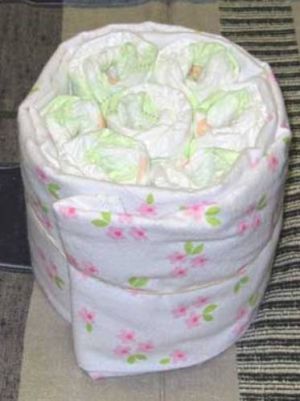 Take 19 of diapers, each of them will roll up into a tube and secure with a clothespin. Next, take one diaper, around him spread six other diapers and secure with rubber band. The remaining 12 of the workpiece evenly around the just-made designs and again all secure with a rubber band.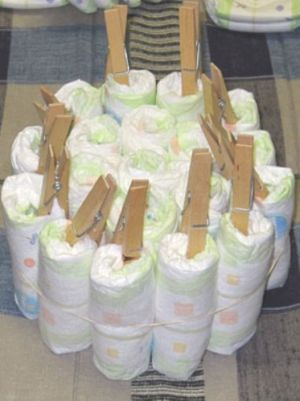 Turn the diaper so that the width became equal to the height are made of tier cake, wrap it a layer and lock it with the elastic band. Remove the clothespins. The second tier of the cake is ready.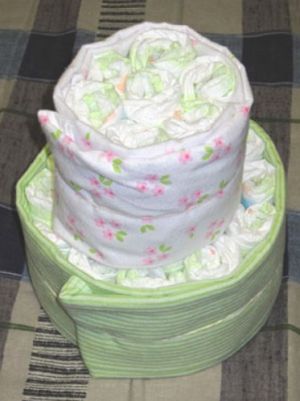 Take 43 of the diaper, in the same way each twist into a tube, secure the clothespins. Create the same composition, the second layer, not only oborachivaniya his diaper and then add in a circle for 24 diapers and fix all of the lingerie elastic. Only after that, fold the diaper of the required width and wrap it made the third tier.
Next, let's create the last layer of cake, fourth. First make three blanks of the seven diapers (such what to do for the first tier), link them to the linen with a rubber band, and then in the "gaps" between the pieces evenly, insert the required number of rolled diapers to make a smooth circle. Add another circle of diapers around just created. Fold the blanket, wrap them in this layer and lock it.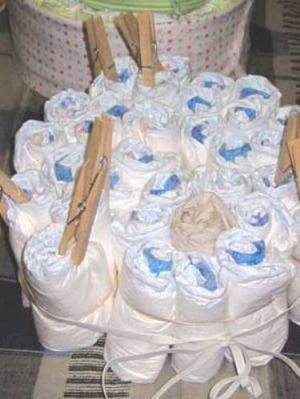 All tiers are ready. Lay the largest layer on the prepared tray, on it a layer a little less and so on.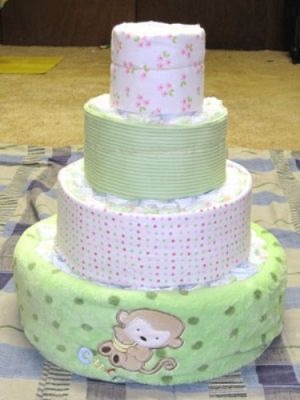 A cardboard cut out 16 rectangles with a width of five centimeters and a length of 15. On each rectangle put on the sock.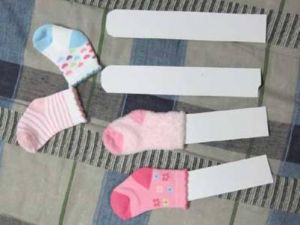 Decorate the cake socks, inserting the cardboard rectangles between the diapers. Similarly proceed with rattles and spoons. Artificial grass themselves close the diapers on each tier. Cake for a newborn is ready, now it remains only to wrap in packaging film.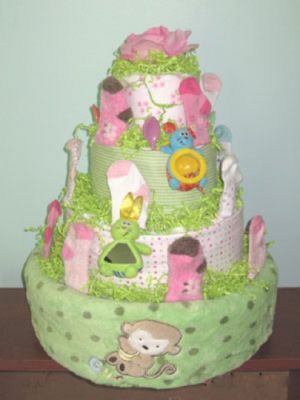 Useful advice
As cake decorations can be used not only these items but also soft toys and so on. Pretty interesting look, the cakes are decorated, for example, pacifiers.