You will need
- one package frozen puff dough - 500 grams
- three apples
- 100 grams of fresh or frozen raspberries
- one tablespoon of cane sugar
- flour for obvalivanie test
- one tablespoon of refined olive oil
- one tablespoon of sour cream
- one tablespoon of cinnamon
Instruction
Thaw the dough, divide it into eight parts. Roll out thin squares. Leave for some time.
To prepare the filling. Clean the apples from the skin. Cut into small cubes. In a deep frying pan heat the oil. Arrange the apples and fry a little. Add the raspberries, mix well, cover and then for five minutes. Add brown sugar, stir and wait to dissolve. To wait until it has cooled.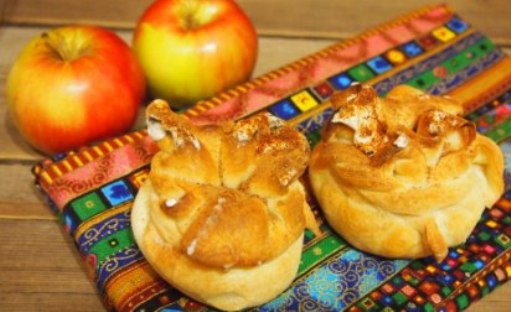 Spread the filling on the dough, raise the edges and pin. Turn on the oven, put the buns on a baking sheet and leave the oven door open. In thirty minutes, when the buns will fit, close the oven and bake at 200 degrees. When the buns browned - remove from the oven.
After muffins with apples, raspberries cooled, spread the top with sour cream and sprinkle with cinnamon.
Useful advice
To prepare muffins with apples, raspberries and cinnamon, do not have to use the filling in this part. You can replace raspberries black currants or strawberries, and apples - pears. Importantly, the fruit was fresh or frozen. So the filling is so delicious and flavorful, and the amount of sugar can be adjusted.