Instruction
Amber (jewelry) with it always in fashion. Most often it is framed in gold create a stylish and elegant decoration. Contraindications for wearing this stone does not exist. In addition, it is believed that it protects its wearer from troubles and misfortunes. And pregnant women amber helps deliver a healthy baby.
It is not customary to use amber jewelry for body piercing. The only exceptions are gold earrings for ears, encrusted this unusual stone.
Combine amber with silver, enamel, ivory, wood and precious stones. Insertion of the amber may have many different and bizarre forms.
Wear amber necklace (beads) to emphasize the tan of his skin.
Amber just enough to combine with the wardrobe. But there are certain rules. Classic amber yellow color should be worn with clothes of different shades of brown or green in color, this stone is as well profitable emphasize black or white suit.
Please note that the amber light tones more suited to blue eyes, brown-eyed and gray-eyed girls more than to face stone will be dark shades.
Avoid excess amber jewelry worn at the same time. To give your image a highlight, wear either a necklace or earrings, or brooch.
Note
Jewelry made of amber keep on a soft surface to avoid scratching the stone. Wash contaminated items in warm water with soap and a small amount of ammonia.
Useful advice
To check out the natural amber you purchased or fake, dip the stone in clean water. A genuine stone will sink. When heated, man-made amber produces an unpleasant smell and damage - proof. According to astromineralogy, amber suitable for all zodiac signs except Taurus.
Advice 2: What to wear with amber decoration
Many women prefer jewelry made of amber because this beautiful stone shimmers with bright Sunny color. But some ladies can't imagine who goes amber jewelry and wear them with anything.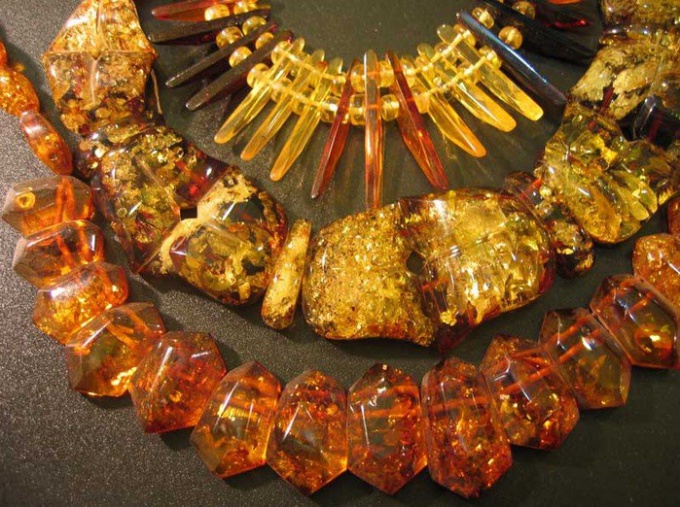 Amber: properties

In ancient times, women wore jewelry made of amber on secular balls and formal dinners. Amber was one of divine jewelry, emphasized the cheerfulness of the hosts. This is a unique property of the mineral was carried down to our times.

It is believed that amber brings to its owners love and sexuality, protects from harm, inspires faith and optimism, and helps pregnant women to bear healthy offspring. This solar stone, but rather fossilized resin, in its raw version has healing properties against many diseases and also used in magic to protect against evil spirits, cleansing the human aura from the astral wastes.

Amber itself can have different shapes. In the form of inserts in jewelry sometimes it looks like a fabulous pattern. Necklace, beads, earrings of amber have the ability to emphasize the beauty of dark skin and copper and tan. Against the background of the skin seems to be especially brilliant.
Jewelers find that these shining stones in jewelry are perfectly combined with other materials: wood, ivory, enamel suitable shade precious stones, gold and even silver. Amber jewelry can be combined with various wardrobe items. But certain rules must be followed.


How to wear amber


Striking amber decoration combined with white and black things strict style. On the background of natural mineral sparkle in all its glory, the bright rays. And surrounding this will certainly celebrate.

It is believed that classic amber yellow looks great against the blue, green, red, brown and orange clothes. Stone lighter shades will suit girls with dark eyes: grey and brown. Blue-eyed ladies fit amber dark shades.

It is important that wearing amber jewelry should not be excess. Amber ensembles from the earrings and necklace will look vulgar. So it is advisable to wear either amber earrings or a necklace, or bracelet, or necklace of amber. Then this unique stone will be a bright accent in the form of a woman, dressed impeccably and tastefully.

Another thing, if amber shining in the barrette on the hair. Then you can add the amber earrings or necklace. It will not be overkill. The piercing amber better not to use.

According to experts, amber almost never go out of fashion. Afford women even of modest means, suitable ladies with any hair color and any age.

The girl who is going on a first date, you may wear an amber bracelet or earrings with a gold ring and necklace, evening dress color turquoise. The impression of a young man, in this case, the young person will be unforgettable. Slender girl in jewelry made of amber combined with the turquoise outfit associated with young, supple and glowing from the Shine of the dew and the SAP of the tree.

Highlight the female form usually gives solid amber brooch, attached to a large viscous knitted pointelle jumper or cardigan blue. It should be noted that amber looks like a refined with gold and silver ornaments.
Advice 3: Gold earrings with amber
Now gold earrings with amber are back in fashion. This decoration easily managed to fit into the collections of many fashion houses. These earrings due to the new design truly stylish novelty. They are able to emphasize the feminine elegance that fit in any way.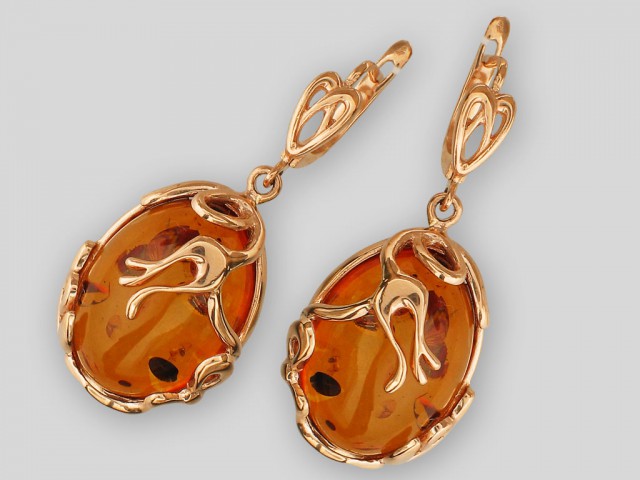 The types of amber earrings in gold
A variety of models amber earrings cannot fail to delight fashionistas. Any girl can choose the option for your image. Gold earrings with amber can be:
in the form of studs;
pendants;
rings with amber flecks;
chandeliers.
Some models of earrings is a large stone of irregular shape set in gold. Quite interesting look earrings in the form of a scattering of small stones. Such models are often additionally decorated with other stones, not only amber.
How to choose gold earrings with amber
First and foremost, pay attention to the stone. Natural amber color is transparent red or waxy, passes through a light. Often the amber changes from brown to white. Gold earrings with amber can be a pleasant milky cream shade - these stones are valued higher because it speaks to his exclusivity! But note too the white color of the stone is a sign of the presence of chalk, therefore the stone is not very good.
Not to buy instead of the original forgery, take the piece of wool. RUB the earrings with the amber hair on the rock were the hairs? Then it is natural. In addition, invisible part, you can coat the stone with a sharp object - the original stone will crumble, the fake - creatica. Of course, it is not necessary for such a validation method to use expensive jewelry, you can damage them.
Advice 4: How to wear gold and silver simultaneously
Often girls and women interested,
whether you can wear gold
and silver simultaneously and how to combine with each other such decorations. The answer to this question largely depends on what is more important: health or style. However, everything in order.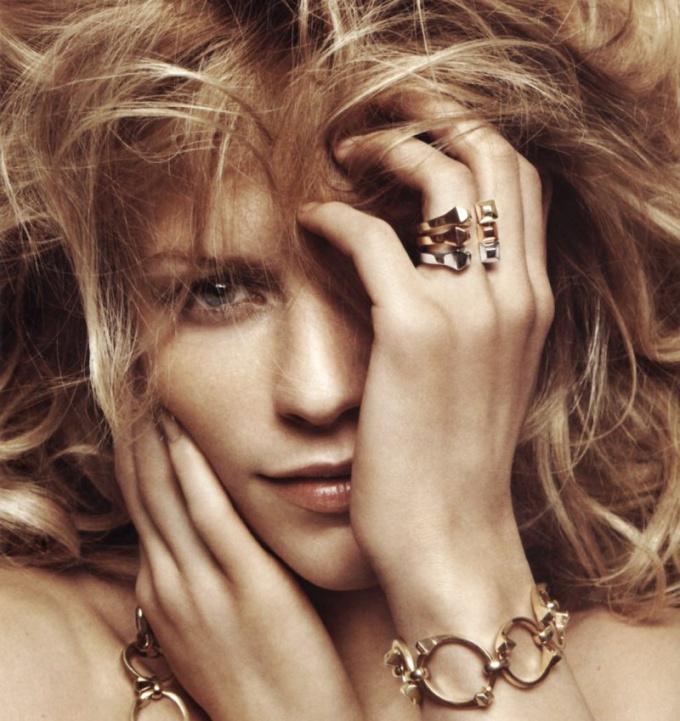 Instruction
So, it is necessary to start with the main, namely with health. It is believed that wearing gold and silver at the same time denied because the metals have different energy fields. In other words, if gold and silver individually have on the body positive effects, together they affect it negatively, because of the interference of various energy fields.
Gold is a precious metal, invigorating and toning the human body, giving it strength, silver - metal, which cleanses and soothes, gives a sense of peace and tranquility. It turns out that on the inside system of a human being simultaneously affected by two opposite forces, thereby breaking the balance in his body. And this imbalance does not lead to anything good, causing only headaches, migraines and unimportant, not to mention the reduced mood.
In addition, a combination of gold and silver in different jewelry in etiquette it is considered mauvais ton (mauvais ton), that is bad form. It looks as if the owner of the jewelry put on from all that you have in her jewelry box. Besides, if you wear gold and silver simultaneously, you risk to look vulgar and tasteless. This opinion is formed due to the fact that gold is an expensive metal, and silver is cheap. And to combine expensive and cheap items – the height of bad taste. It's the same, what to wear chic mink coat and rough boots with the local sales.
However, many modern stylists and image-makers still believe that sometimes you can combine the two precious metal. Of course, with the caveat that it must be done very carefully so that one of them was a background and the other just a little touch that will emphasize its uniqueness and beauty.
For example, a large gold chain can be diluted to a thin chain of silver. However, in no case should not be worn on one finger ring silver and the other gold. So, if you are well versed in style and are not afraid to experiment, combine these metals, improvise, compare and choose interesting and original combinations.
And again, here there is one caveat: if you predpochitaete eclectic style in which it is not forbidden to break tradition and combine incongruous things you can do to ignore the rules of etiquette and good manners. Especially because nobody forbids you to dress and decorate yourself as you like. There is another option: you can wear jewelry, which includes gold and silver. These products offer today's leading jewelry houses.
If you still are afraid to wear gold and silver simultaneously, try different win-win combination. You can combine yellow with white gold or platinum, which are cold color close to silver. This combination does not look vulgar, but rather prestigious. In addition, wearing of these metals at the same time does not harm health.
Advice 5: What are the properties of amber
Amber is a fossilized resin now rare conifers of the family Sciadopityaceae. Many millions of years ago when the resin was still viscous, it was stuck insects, plants, even those which now exist in nature, and have remained in the solid state. Amber is a precious stone, which in ancient times attributed a magical power, and the ability to cure illness.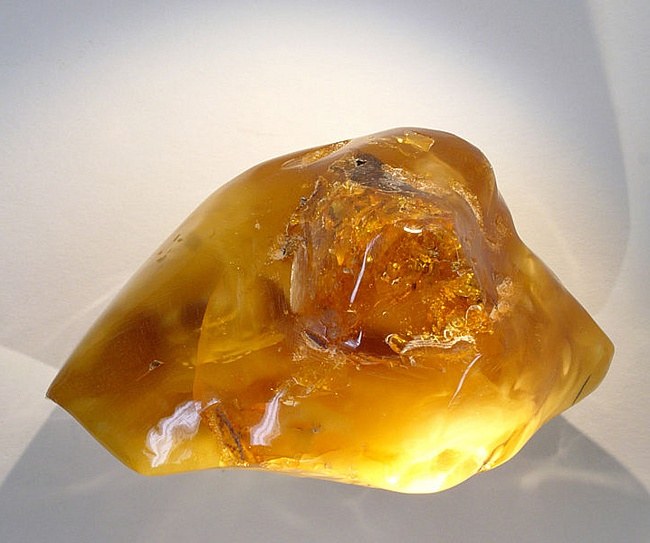 The nutrients contained in amber:
- iodine;
- iron;
magnesium;
calcium;
- zinc;
- succinic acid.
Amber in nature
Amber was formed from resin millions of years ago. Now it is produced in many countries on different continents, sometimes it is detected during archaeological excavations or underground work. For example, the construction of the bridge in Kiev, workers found large pieces of amber. This may seem surprising, but amber remained in those places, where once was a big water, but now the flow of the river. Most amber found in the Baltic and North seas.
In the Baltic States, Poland and other countries on the Baltic sea coast there are many hunters among the amber residents of these places, as well as tourists. However, it is not as easy
to find
as it seems. Amber is often found, and very small size, after storms, when it raises from the depth of wave along with the garbage, which a lot of the sea, and algae.
Gemstone is fragile, but break it not as easy as glass. Color palette of amber varies from white to yellow with all shades of almost red and even black.
Especially valuable is the amber with inclusions of air bubbles or water, and the ancient insect.
Magical and healing properties of amber
Since ancient times, believe that amber has magical power to heal many diseases, to attract good luck and to ward off the forces of evil. It was worn as a talisman. It was believed that this stone protects warriors in battle, on amber wrote the ancient philosophers and thinkers.
Amber lit a smoke with a pleasant aroma fumigated the room in which were patients, it was believed that the smoke is healing, cures diseases of the nasopharynx, eyes, ears, respiratory and infectious diseases.
Amber make Smoking pipes and mouthpieces to tobacco smoke did not cause lung disease. Perhaps the ulterior motive is that the amber necklaces help with a sick thyroid gland, since it is known that amber contains iodine and succinic acid.
In order for an amber necklace really helped, recommend them to purchase of polished and rough stone.
At all times amber made figures of animals in the form of amulets, various products, for example, in the shape of a miniature mug of beer, which is kept in the amber Museum in the Lithuanian town of Palanga. In Poland make vodka amber containing amber, that cures sore throat and colds. Many fine works of art made from this warm stone which reflects the sun. For example, such a magnificent creation of the craftsmen, St. Petersburg lost and restored "amber room".
Thanks succinic acid aktiviziruyutsya metabolic processes in the body and improves the functioning of digestive tract. Magic stone has antibacterial and anti-inflammatory properties. They also say that if amber is worn on the chain, it will help to get rid of stones in kidneys and gall bladder.