You will need
For the dough:
- 4 eggs;
- 1 teaspoon of baking powder;
- 200 g of crystalline sugar;
- 200 g of butter;
- 1 teaspoon of vanilla extract;
- 250 g flour, 2 tablespoons of milk;
For a layer:
- 200 g sugar powder;
- 1 tablespoon of milk;
- 100 g of butter;
- 1 teaspoon of vanilla extract;
- 6 tablespoons of apricot jam;
For decoration:
- 450 g marzipan;
- powdered sugar (for dusting);
- 4 tablespoons of apricot jam;
- 550 g purple sugar paste, 125 g white sugar mastic;
- edible glitter, a little Royal icing, transparent, jelly candies and sugar pearls, curls, foil (optional);
Utensils:
- baking in the form of a star, the pan;
- silicone pastry brush, cookie cutters in the form of stars;
Instruction
Make the dough. Whisk the eggs with sugar, add milk, softened butter and flour with the baking powder and vanilla. Whisk thoroughly until smooth.

Place the mold on a baking sheet, put in it half of the dough evenly on the form. Bake in a preheated oven at 180 °C for 18 minutes. Hold the cake in the form for 5 minutes and invert on a wire rack. Bake another layer of the remaining dough.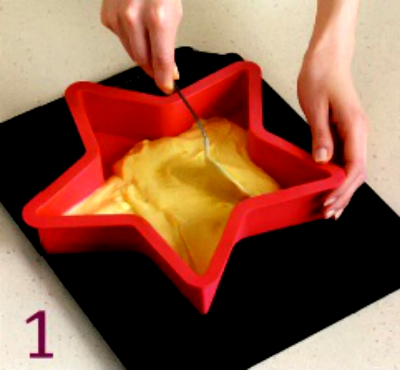 Prepare the buttercream. Beat the butter in a lush cream. Add sifted icing sugar, continuing to whip the cream. Enter vanilla extract, milk and beat until smooth. Spread one cake layer with cream.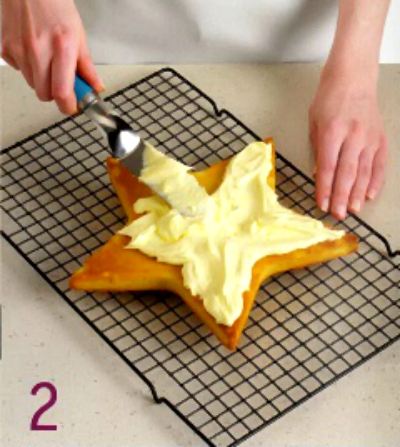 Spread 6 tablespoons of apricot jam on the second cake and place on top of the cake with cream. If necessary, cut the risen part of the cake so the surface was smooth. Heat 4 tablespoons of apricot jam and sieve it through.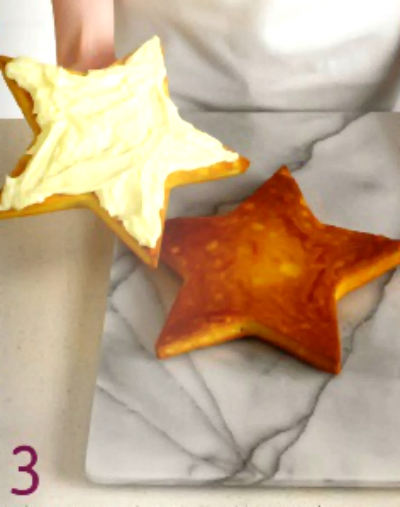 Silicone brush, coat the cake from all sides rubbed jam. Roll out the marzipan into a large circle. Using the rolling pin transfer the rolled out marzipan on the cake, smooth out and trim off the excess.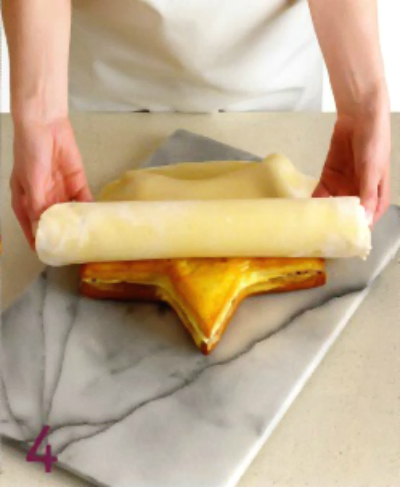 Decorate the cake. Slightly propylite work surface with icing sugar and roll out the purple fondant in a big circle. Try to keep the powder from falling on the surface of the mastic. Moisten with a brush the marzipan with water. Move the fondant on the cake and smooth with your hands. Cut off any excess. Move the cake on the Board.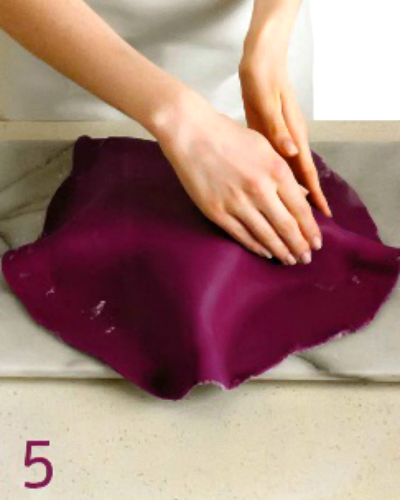 Roll out white fondant and cut notches for cookies stars. Cut out for Central stars of the two biggest stars and pull out midway. Leave to dry for a few hours. Lightly moisten the asterisk with water and sprinkle edible glitter. Vary their number so that some stars were a little pollen, while others glistened. Leave it to air dry.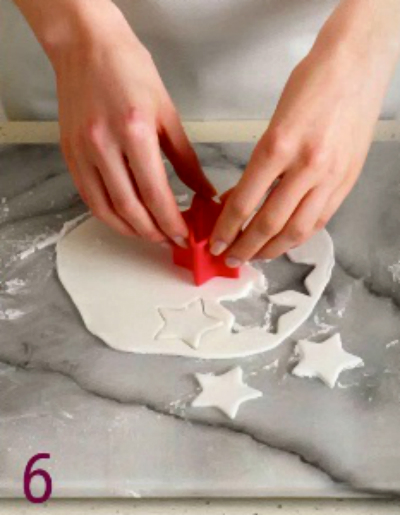 Glue the stars to the cake with drops of Royal icing. Put a star without center so that they supported each other, and glue Royal icing. RUB a little glitter to the cake surface. Icing stick candy and pearls, and if desired, insert curls from the foil.