How to choose an aftershave


After shave lotion helps soothe the skin, to soften and moisturize it. Most men use this product regularly and no longer represent a comfortable shave without applying lotion.

In order for the lotion to give maximum benefit, you need to learn to pick up the product properly. In this case it is necessary to be guided by the type of your skin and private needs.

For dry skin perfect oily lotion with nourishing and moisturizing additives. High-quality cosmetic will provide the skin adequate care.

For sensitive skin you need to choose the suitable lotion. It will help to relieve irritation after shaving, soothe your skin. Typically, these products are hypoallergenic. For oily and problematic skin is better to choose a lotion with antiseptic additives. In some cases, suitable alcohol-containing means. Such products removes Shine, normalizes the sebaceous glands, prevent the occurrence of inflammatory elements.

It is advisable to purchase aftershave and foam, shaving gel from the same line of cosmetics. In this case, they would complement each other's action. In addition, cosmetic products from the same series have generally the same flavor.


How to use aftershave


After hair removal with a razor thoroughly clean the skin. The remains of the foam or gel for shaving, it is best to wash off with water. If after the procedure the skin had abrasions or cuts, it is necessary to cauterize the wound with alcohol-containing medium. If the shaving lotion includes alcohol, pre-treatment of the skin do not have to spend.

After washing, gently blot face with a towel. After shave lotion should be applied to slightly damp skin. For applying you need to pour small amount on palm and apply sparingly to face, spreading the lotion on the skin with your hands.

There is also a more economical way of using lotion after shaving. To do this, apply a small amount on a cotton pad and wipe over face.

If a man is accustomed to look after themselves and to take care of your skin, some time after applying the lotion it can be applied to the skin some cream. It is very desirable that the cream and lotion were from the same cosmetic series.
Advice 2 : How to apply gel for shaving
Gel for shaving is a popular tool for men and women. Ironically, many use it not quite right, and therefore not as effectively as they could. How apply gel for shaving?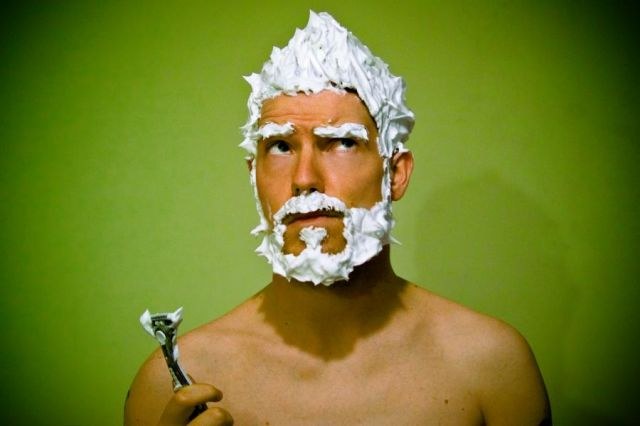 You will need
- shaving gel;
water;
- shaving brush (optional).
Instruction
Before applying the gel prepare for shaving. If you are a man and want to shave off his mustache or beard, wash with warm water and Pat your face with a clean towel. Wish to shave the head completely, it is recommended to hold it under a warm shower for 5-7 minutes, depending on thickness of hair. Girls to prepare for waxing different areas of the body should also take a shower or bath.
Squeezing on the hand with a small amount of gel in a circular motion spread it evenly over the surface of the skin. If the area you intend to shave, much overgrown with hair, they must first be cut and then lightly RUB the gel to the skin. You can do it with your fingers, without any special tools.
If applying the gel you used to use a shaving brush, at least choose one that is made using squirrel or badger hair. There is a perception that this accessory, if it is quality, should cost at least 20 USD, but this is at your discretion. Squeeze required amount of gel in a dish or other suitable container, soak the shaving brush to the water and rapidly spin them in a circle until you get a thick foam. Apply it on the selected area.
Leave the gel on the face for 1-2 minutes. During this time he has time to exert its positive effect. Only then start to shave. Apply immediately to the entire surface, which will remove the hair. While you are working on one plot, another will soften, hydrate and prepare for the procedure.
Note
If the razor already has a special tool that functions similarly to shaving gel, you can do without the latter.
Useful advice
Correct shaving gel will help with such problems as dry and tight skin, hard and rough stubble and sensitive skin. It is important to choose a product suitable for your skin type.
Advice 3 : How to choose a shaving cream
The image of a successful man, many associated with smooth, carefully shaven face. However, daily shaving is usually not the best way affects the skin condition of men. Often the situation is aggravated even not too often the process of removing from the face of unwanted hair, while the wrong skin care after the procedure. To the facial skin was always soft, gentle and beautiful, the choice of the aftershave should be taken very seriously.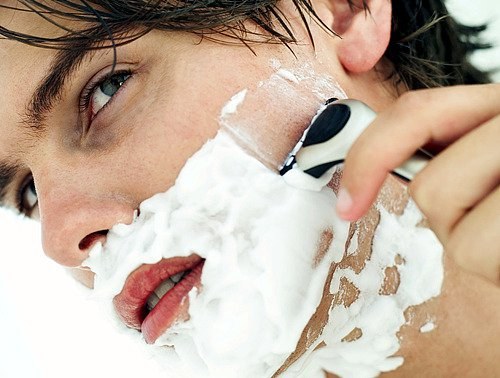 A good aftershave: what to choose
To choose the right aftershave is not so difficult. It is only necessary to correctly identify the type of own skin and aware of the impact included in the composition components on the skin.
So, men with oily skin should give preference to the refreshing cream after shaving, one constituent of which is alcohol. This substance is perfectly disinfects and refreshes the skin, making it tender and soft. However, too frequent use of refreshing shaving cream can cause redness and peeling on the skin and unpleasant sensations of her tightness.
In addition to alcohol, a common component of refreshing shaving creams is menthol. It has the same effect as the alcohol, perfectly refreshing, toning and protecting the skin from development of all kinds of inflammation and irritation.
To enjoy the refreshing shaving cream that contain alcohol or menthol men with sensitive and dry skin is not recommended.
A good after-shave for men with dry and sensitive skin is moisturizer. However, his choice of the representatives of the stronger sex should be treated with extreme caution. Too thick a moisturizer after shaving can clog pores, which could result in a violation of the processes of heat exchange, the appearance of abscesses and inflammation.
Try to give preference to products with a minimum number of unfamiliar chemical additives. They can easily cause allergic reactions, which not only will give you a bunch of unnecessary problems, but not the best way affect the attractiveness of your appearance.
The main components of a good shaving cream are soap base, various oils, anti-inflammatory medications that make the skin clean and well-groomed.
Shaving cream: selection rules
Important role in the selection of aftershave packaging plays. The most convenient are tools in plastic tubes. This package calls for easy removal of the cream after shaving and allows you to use the whole volume of the contained media. Shaving cream in the cylinders is also popular among the strong half of humanity very popular. However, as practice shows, such a package often oxidized on the outside, and there is absolutely no guarantee that this does not happen with her inside.
Choosing a shaving cream, give preference to products known proven manufacturers. The most popular and reliable companies manufacturing cosmetic products for men are Nivea, ARKO and Gillette.