Instruction
In order to become a TV presenter first and foremost you need to get a proper education. Faculty presenters does not exist, so it's best to go into journalism, and after graduation to enroll in presenters, if such is your city.
Learn how to clearly Express their thoughts, develop the fantasy. Today, there are two types of television programs. For some of them the presenter himself is all their texts to others writing full-time authors, and the presenter only reads the texts. Professional presenters, who enjoyed success with the audience, they write their texts by themselves. Therefore, the ability to write good and interesting you will definitely be useful.
Develop good communication skills. To pass the audition and become a TV presenter, you need to be able to carry on a conversation with anyone. Your job will involve communication not only with smart and nice people, most likely, you will have to talk with those who you absolutely unpleasant. Learn to find common language with everyone, even with closed people.
Work on diction. Each presenter should have a beautiful and correct diction. Train your speech to your pronunciation was clear. You will have a lot to say. If you "swallow" some of the words or stammer, the work of the presenter you not to.
Pay attention to your appearance. You want to be a celebrity to have your TV shows watched thousands of people? Then, on top of that you have to please the audience and externally. Watch your figure, hair and makeup, they have to be perfect.
Remember that all the time you need to develop as a person. You have to be interesting to the viewer. Make your transfer was a success, you need to not only motivate people, but also charisma. This should be a comprehensively developed person.
Learn to smile always and all. Presenters are ordinary people who also may be problems or troubles. But, whatever happens, they have no right to show a bad mood to the audience. They are always open and smiling. You need to be not only fun, but emotional man. If you're cold and standoffish, the audience will feel it.
Make sure to be the presenter – this is your dream. It's very difficult work, many leading up to the evening, even hoarse. Shooting can last 12-14 hours. This inhuman work. But if you dream about it, and you have everything in order with the nerves, you really need to work on the TV. It's time to sign up for the trials.
Note
During the filming can happen any emergency situation. Never lose your temper. Be resourceful and you'll always be ready for anything.
Useful advice
To improve diction, read out loud. It can be any book. And, of course, don't forget about tongue twisters.
Advice 2: The most famous TV presenters
Oprah Winfrey, Andrey Malakhov, Ivan Urgant, Dmitry Nagiev, Vladimir Pozdner... These people hold the first place in the popularity ratings of more than one year. They are symbols of their time - the most famous TV hosts!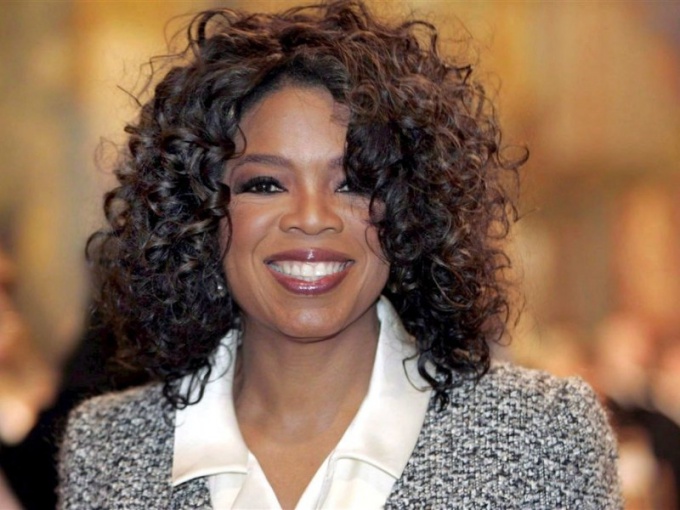 To become a famous master, some of us have years to perform minor work on television, in the hope that they will notice, for others fame comes fast and easy. Any rules and benefits in popularity does not exist.
Talent, leadership qualities and the ability to speak and look beautiful in the frame – something that should have people eager to run his own show.
The most famous Russian TV presenters
Speaking of the most famous show in Russia, it should be noted that in the last few years, is a leader and win again Andrey Malakhov. From the correspondent of management of information programs of the First channel to host "Big wash", the first serious creation, it's been 6 long years. Then everything went like clockwork – each broadcast transmission received huge ratings thanks to the talent Malakhov to aggravate the situation in the Studio, to find contact with different people.
Andrey Malakhov is called a face of the First channel.
The next stage of his career, became the hit parade "Golden gramophone", followed by "Five evenings" and "Let them talk". The last project is still going on Prime time on the main channel of the country.
Ivan Urgant – the name that it's hard not to know someone living in Russia. Every day close to midnight, Ivan entertains the viewers in the program "Evening Urgant", and on Saturday mornings teaches cooking in the project "Relish". Outstanding sense of humor, high working capacity and good looks were the main helpers on his way to success. Despite the actor's roots, the help of relatives, there is little doubt the guy's talent. The most popular project for this day is "Projektarbeit Hilton", where he worked as one of the top four, with humor, discussing the latest news.
Leonid Yakubovich – the darling of the television audience, the showman, auctioneer. The transfer of "Field of dreams", which he has done for over 20 years (since 1991), still enjoys the interest of the viewers, should be thanks to his charisma, humor, kindness, Leonid Abramovich.
Most popular TV presenters in the world
The most well-known TV presenter in the world Oprah Winfrey has become quite long. Until 1986, when she had her own TV show - "the Oprah Winfrey Show", she tried herself as a leading news commentator, reporter and speaker. Thanks to the ability to empathize, talent, extraordinary intelligence and beauty, Oprah has gained popularity among audiences around the world. In addition, it has become one of the richest women in the world.
Simon Cowell is one of the most famous and highly paid TV presenters in the world. Its popularity he earned as a sarcastic straight-line judges in various television projects such as "Pop idol", "American idol" and "World idol." He is also the Creator of the famous in our country show "X-factor".