You will need
- red roses;
- floral foam;
- strawberry;
- needles;
- toothpicks;
feed.
Instruction
For a start we should cut a heart shape from the floral foam. For flowers you need to choose foam green color, as it really absorbs the liquid. Her flowers will be able to stand as long as possible.
Dip a sponge into water for 20-30 seconds, no more, otherwise she's gonna get soggy. Next apply foam to a tissue to drain excess water.
Cut the rose stems with secateurs, leaving a small feet size literally 5-7 inches. Feet must leave and then paste them into the sponge. The leaves can also be left for further decoration of the heart.
Spread roses on the surface of the sponge, alternately inserting the stems into the foam at a distance from each other of 1-2 cm. Remember – roses should fit snugly to each other, leaving between them gaps.
The remaining leaves on the stems alternately cut and use in the form of side fringing. The sheets were kept, you can pin them together with decorative needles.
Complete bouquet of fruit, making one half of the heart of roses, the other of fruit. For example, well suited for these purposes, strawberry. Attach it to a toothpick and insert alternately in the sponge. As beautiful decoration will be able to serve, and candies, for example truffles. If desired, you can combine them with previously placed around the perimeter of the bouquet of fruit. The main thing - to observe the style of the bouquet and do not overdo it with decorations.
The remaining trimmed the rose stems can also be used for decoration. Cut them in sticks of 5 cm, pre-prepared tie red ribbons 2-3 pieces, and then fixed on the brand side around the perimeter of the heart. The composition is ready! Do not forget to attach to the heart a love note or greeting in the form of postcards.
Note
When wet, the foam becomes harder for about 30 times. Before the procedure, try experimenting with a small piece of foam to understand how to work with it after getting wet.
Useful advice
You can make a heart of roses using a variety of shades. Red, for example, always symbolizes wild passion, love, and prosperity; white is a symbol of purity, innocence and nobility; yellow, contrary to popular belief, can talk about financial success.

The combination of different colors and shades will give a bouquet of even greater brightness, spontaneity, and individuality. Among the most popular color combinations will look perfectly red, or even Burgundy roses together with white.

The number of roses in a bouquet can also be quite symbolic. For example, in Ancient China, a bouquet of 101 roses symbolize sincerity, depth of feeling, and was a sign of great love.
Advice 2: How to make a bouquet of flowers
A beautiful bouquet is a great gift for any occasion. In order to learn how to dress scattering flowers, you should know a few simple tips.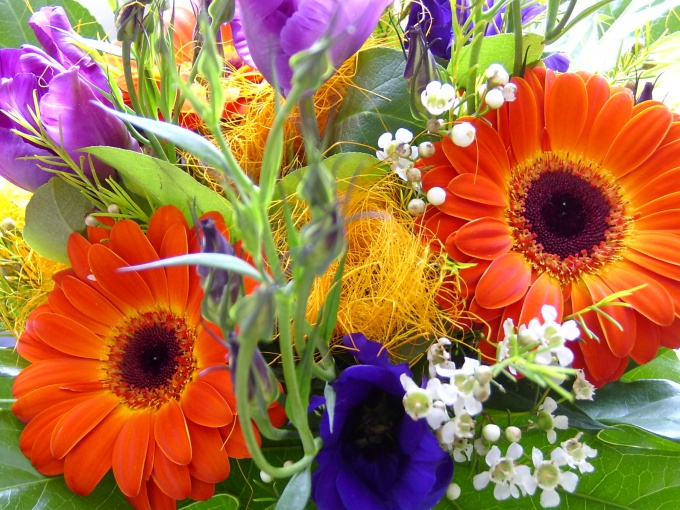 Instruction
Before you make a bouquet, you must make sure that the flowers are fresh. If you do cut the flowers for future bouquets, it is best to do this with a sharp knife in the early morning.
The bouquets are made up of an odd number of flowers. Decide what shape you want to make a bouquet. It can be circular, linear, geometrically incorrect - it all depends on your desire and taste. In the preparation of the bouquet florists recommend to put in the center of the composition are large and bright colors, the edges are pale and small.
You must also consider who the gift. Girls good bouquets of small roses and delicate lilies, the women have decided to give roses deeper tones, as well as tulips, gerberas. For young children especially good bright bouquets of flowers with small buds.
Special attention should be paid to the mens bouquet. It is best to do it the linear form of gladioli, Callas, Anthurium and roses. Designed in strict tone. You should also pay attention to the packaging - it should not be with jewelry and lace. We also do not recommend the use of different bows, ladybirds and butterflies.
In the preparation of the bouquet it is very important to choose the right color scheme. White is a universal colour - it goes perfectly with the palette. Beautifully blue with orange, red with green, purple with yellow. You can make a beautiful transitions. For example roses deep Burgundy color go to pink and then to white.
In the preparation of the bouquet keep in mind that some flowers are fighting each other. For example, carnations roses and daffodils should be placed in the company of other flowers - they are poison. Of these colors it is better to do monovalency. Also the warlike nature of different lilac and violet. And sissy-carnations will not tolerate the neighborhood and even with apples and tomatoes.
In the preparation of the bouquet is of great importance to his design. Add to the colors of the sprigs of greenery, pick up a nice package, which must be in harmony with the bouquet. Don't forget about the jewelry in the form of ribbons and butterflies.
The finished bouquet should be stored in a cool place and in a vase need to add sugar or aspirin. You can also buy in a flower shop a special tool that will help your bouquet stay longer bright and fresh.
Note
How to draw a bouquet of flowers. Step 1. Mix in a jar a tablespoon of milk powder and water. Add a little red food coloring and mix it well. Step 2. In a separate jars also make pink and green pasta. The orange paint to do, combining half the dose of yellow and pink dyes. Step 3: how to draw a bouquet of flowers.
Useful advice
Draws the stems, legs, then ovals determined by flower size and number. And after you can draw the petals. That came not quite childish, it is important to convey, show plane. And after then draw the leaves and decorate our bunch. You choose a bouquet of flowers or a pot plant? Funny caricature. How to draw step by step, pencil? How beautiful tie a bow (to tie up the bouquets)?