Instruction
Birch is the most festive tree at Trinity. She used the rest of the trees put on after winter catkins. Therefore, all ternary rituals were conducted by this tree or with him. Slavs believed that this tree possessed of great vitality.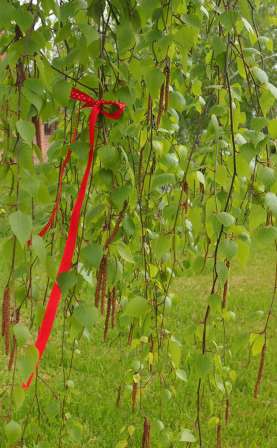 Birch branches and grasses decorated the houses and temples. They were placed in the corners, were scattered on the floor, put on the window sills. It seemed that all the rooms on this day was a green grove. No wonder green was the traditional color of the clothes on the Trinity. Women wore green kerchiefs, father - green robe for the service, and men in green shirts. Celebrating the Trinity in Russia beautiful and elegant.
At Trinity, young girls performed the rituals. Around traditionally decorated with red ribbons birches danced and wove wreaths. As earlier said, "curled". The wreath can be curled for yourself or anyone else. Young girls and women "kumilis" in wreath. They kissed through it and became friends for life. Our ancestors knew how to work and celebrate.
And in this day festively decorated birch wore with songs home girls, and then with the wreaths were allowed to swim in the river. And wondered: will kill a wreath at the beach - get married in his village, bear river - not to see marriage this year.
On Pentecost it was customary there in the garden under the birch eggs. And to invite to that table of friends. Eating from pottery spoons. Then threw the spoon in the box and asked me to send a rich harvest of grain. And yet the Trinity was decided not to refuse the poor and the poor in alms and food.
In the Church also practices three times kneel during the service. And at this time you need to have time to weave three wreaths.
So going with big bouquets of flowers and herbs. The wreath, in the Church, was believed to have great healing power. It hung in pride of place in the winter cold, and all watered tea of these herbs.
Note
Collecting herbs for the wreath, take those that are familiar to you.