How to cook beef with sesame seeds

Ingredients:
- 450 g beef;
- 30 g sesame seeds;
- 1 bell pepper;
- 5 cloves of garlic;
- 4 tablespoons soy sauce;
- 2 tbsp. spoon of dry wine and vegetable oil;
green onions.

Heat a dry frying pan, add sesame seeds, fry them without oil for two minutes, until they darken. Now remove from the frying pan the seeds, slice the beef fillet into thin strips, slightly repel them, fry in butter for 5 minutes.

Pepper chop, garlic chop, add to meat, fry for a further few minutes. Then pour in the wine, soy sauce, add chopped green onions, mix and allow the mixture to pobolit in the pan.

Put the meat with the sauce on warmed plates, sprinkle with sesame seeds.

How to cook beef stew

Ingredients:
- 1 kg of beef;
- 300 g of onions;
- 300 ml of broth;
- 4 tbsp cranberry sauce, flour, olive oil;
- pepper, salt.

Rinse the meat, Pat dry, cut into portions, roll in mixture of salt, pepper and flour, fry in a skillet in oil. Chop the onion, fry until Golden brown, add meat, pour in the broth with the wine, bring to a boil, stirring the mixture.

Reduce the flame, cover the pan with a lid, simmer the meat on low heat for 60 minutes. Then add the cranberry sauce, bring to a boil. If necessary - sunflower and pepper the meat. Simmer for another 5 minutes, serve hot beef stew.
Advice 2 : How to cook rabbit fillet
Rabbit meat is useful for both adults and children. It is widely used in the preparation of dietary meals, as proteins in its composition is much better absorbed by the human body than proteins of pork or beef. Rabbit meat refers to white meat. She's not fat, low in cholesterol, rich in vitamin PP, calcium, phosphorus and magnesium. In addition to dietary properties and nutritional value rabbit meat is cooked simply and quickly. It is combined with many products and subjected to any heat treatment. Tender rabbit is good and in soups, and in dishes.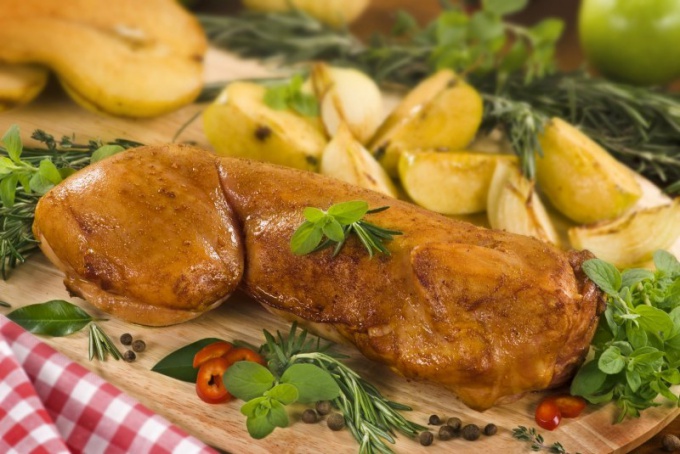 You will need
300 gr. rabbit fillet;
1.5-2 liters of broth ready;
salt
ground black pepper;
Bay leaf;
1 small beet;
2 tbsp red wine;
1 onion;
dill
parsley;
sour cream.
Braised fillet of rabbit with sour cream.
500 gr. fillet;
500 gr. sour cream (enough 20% fat)
2 tbsp. butter;
vegetable oil for frying;
1 medium carrot;
1 PC of onion;
salt
black pepper
Bay leaf;
cumin;
3 cloves of garlic;
the bouquet of aromatic herbs (for example
Basil
thyme)
Rabbit with sesame seeds.
500 gr. rabbit fillet;
soy sauce;
2 cloves of garlic;
sesame seeds for the breading;
vegetable oil;
dill
parsley;
salt
black pepper;
thyme (you can substitute Basil or rosemary).
Instruction
Soup rabbit

Cook rabbit meat soup. Peel beetroot and cut into cubes. Put in the prepared broth, bring to a boil. Cook until soft beet.
Rabbit fillet cut into small pieces, chop onions. Put the meat and onion in a pan with beets, add the spices, Bay leaf and cook until tender beets. After you add the greens. After about 7-10 minutes, pour the red wine, bring to a boil and immediately turn off. Serve with sour cream.
Braised fillet of rabbit with sour cream
Slice the meat into portions. Fry in vegetable oil. Place in a deep fireproof dish.
Cut the vegetables: onion half rings, carrots into strips of medium thickness. Slightly saute them in butter. The fire should be small. Put the browned vegetables in the fillets. Add spices, herbs, chopped garlic and Bay leaf.
Warm the cream in a water bath. Gently pour in a bowl with the meat.
Preheat the oven to 180 degrees C. Transfer there capacity. During the first 20-25 minutes of watering fillet juices, which he does when fighting. After you cover the pan, reduce oven temperature to 160 degrees C and leave for another 25-30 minutes.
Rabbit with sesame seeds
Fillet lightly beat off and cut into small pieces. Mix with soy sauce and spices.
Add the chopped garlic. Leave to marinate for 20-30 minutes. Remove rabbit from the marinade, wipe with a paper towel.
Roll the pieces in sesame seeds and fry in vegetable oil. Before serving, sprinkle with chopped greens.
Note
The rabbit often has an odor. To eliminate it, soak the meat in milk or weak acetic solution. If the fillet is left fat, then it should be cut because he is the culprit of that smell.
Useful advice
Dishes made of rabbit meat is best served hot.

The rabbit meat gourmets recommended to serve dry red or dry wine.