The choice of gift for any occasion the teacher usually is not much difficulty. But when the question concerns what to present a gift to a teacher is a man, here it is necessary a few to think about.
General rules for choosing a gift
Before you choose anything in particular, it is worth remembering that the master – official. Therefore, in any case can not give something very expensive. This same person can be put in a rather awkward position. Exception – a gift from the whole team.
The selected object does not have to be intimate, personal nature.
Such things give only close people.
The gift should not be with any intention, or hint, otherwise it may cause resentment, it is better to select neutral.
Well, if the gift will be original. This means that the giver chose the gift with heart and really desire to please my teacher.
To present a gift to a male teacher
In anticipation of a holiday gift, respectively, can be associated with it. For example, if it's a New year, you can donate a bottle of champagne and box of chocolates with Christmas design.
Gifts like good cognac, gourmet coffee or tea are neutral, so they need beautiful and unusual packaging. And remember, alcohol male teacher giving only in the case if you are his colleague, not a student.
Every teacher have to keep many different records. A set of pens or a high quality pen in a gift box will be a very good solution. Fit diary in good cover, organizer or a beautiful table set. They can be engraved warm and sincere words of congratulations.
The gift can be associated with a subject that was taught by the teacher, for example, disk or multimedia encyclopedia program. Any dictionaries, reference books, encyclopedias - also a great choice.
In recent times it has become fashionable to give a gift card. This gift can be presented to the teacher, but it is better still to make something memorable. For example, a collage of photos, which shows a teacher with his students or colleagues, a video with greetings from the students, if the gift collective. If the gift is from one person, you can give something made with your own hands or buy a small souvenir like a mug for tea with a picture of a teacher.
If you decide to give a bouquet of flowers, it should be remembered that men give tall flowers like gladioli or irises.
Any gift you need to choose and give from the heart. Energy such thing always feels very cheap because even a trifle may sometimes remain a person to a long and pleasant memory.
Advice 2 : What to give for an anniversary the head of the Department
To choose a gift for an anniversary for the head of the Department difficult. Such a process may not be quick, as this is a very important task. Such a gift needs to fit not only the taste of the donee, but the rules of business etiquette.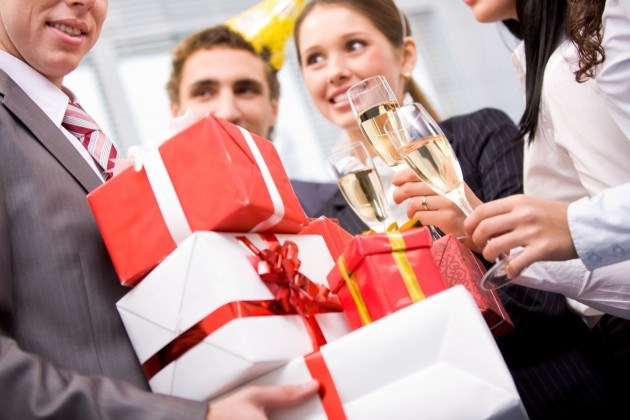 Gift choice for head of the Department
The first thing you must remember: the gift must be combined with the interests of the Department head and to overlap with the specific activities of the Department he or she leads. After using the gift, you must show your respect for the person and what you value as a leader.
You should bear in mind that the gift should not be very expensive, because you can put the celebrant in an awkward position, if it is not, of course, a big date, for example, 50 years.
On such date to purchase something more valuable.
But, on the other hand, is too cheap a gift will not cause a storm of emotions, so it's best to stick to the Golden middle. If the head of the chair - man, he can give an expensive pen or a tie clip. If the head of a woman, I have a pen also, another option can be a nice business card holder or purse from quality materials. If the celebrant is a collector, you will focus on choosing a gift, choosing the missing copy from his collection. It is important to remember that the gift should be for official business.
You can buy a bottle of expensive wine or a five star imported cognac, good choice as gift watch or wall arms. For ladies you can choose gifts from glass. Ceramic and porcelain will also work. They look simultaneously elegant, and not too personally. You can opt for paintings, frames of wood for photos, unusual figurines or tea from good China.
What to look for when choosing a gift
When choosing gifts for women remember that it isn't just your head of Department. It is possible to present as a gift, good coffee, now there are whole stores selling elite varieties. Also a lovely option would be a set of high-quality chocolates, and, of course, a bouquet of flowers or an unusual plant for the home.
Not to be mistaken with a gift, it is better to start to learn about the preferences of your Department head in advance, because the consequences may not be rosy for career advancement.
Remember that colleague doesn't need to give clothing items (does not apply to neckties, shawls and scarves), and personal hygiene, are not suitable even the most expensive shower gels.
Gift packing also has a very important role. It must be a classic or business style, because it is starting with the packaging first impression about the gift in General.