How to cook pigeons
Pigeon meat is dark and fatty, most of it in the body is concentrated on the back and breast, while the other part of the bird quite bony. That is why pigeons are prepared either in whole or only the fleshy part. The old birds get a little dry and hardly edible. Squab / pigeon easy to digest, rich in proteins, vitamins and minerals and is suitable for a whole range of delicious dishes.
The taste of pigeon meat depends on the feed, which ate the bird. Homing pigeons specially fattened with corn and grains, have a predictable sweet nutty flavor.
Often pigeons baked, pre-lubricated with grease and wrapped in bacon. In Spain and France of the birds cooked confit – meat, long stewed in their own juice on low heat. Wild and "old" pigeons used in stews. In Chinese cuisine pigeon meat dish, birds deep fry the whole thing. The famous Cantonese dish of golovatyy – birds, braised in a mixture of rice wine and soy sauce and then fried in boiling oil. Also fried pigeons, fried in Java and in the Sudan, pre-seasoning with garlic, coriander and turmeric. Fried doves in the Eastern style is often accompanied by couscous. For pigeon, cooked in a European style, usually a side dish served with mashed garlic and chestnuts, braised cabbage, lentils, prunes.
"City" pigeons, due to unhealthy diet, the food unsuitable.
Dishes of pigeon meat
The simplest dish of pigeon roast is juicy and flavorful breast. You will need:
- 1 pigeon breast;
- 5 tablespoons of olive oil;
- 5 stems of white young leek;
- 1 tablespoon of honey.
To pigeon meat are well suited to such spices as Bay leaf, parsley, thyme, dove flavored red wine or brandy.
Preheat a heavy pan. Pigeon breast, smear one tablespoon of oil and fry 1-2 minutes on each side. Remove from heat, set aside in a warm plate and cover with foil. In the same pan melt the honey, add another tablespoon of oil and fry the stalks leek until light Golden brown. Whisk remaining oil with vinegar. Add the squab / pigeon leeks, cut the meat into slices, pour the sauce and serve.
Also you can easily bake the dove in the oven. Two bird's breast you will need:
- zest of 1 orange;
- 1 tablespoon rosemary leaves;
- 4 slices of bacon;
- 1 tablespoon of olive oil.
Preheat the oven to 180oC. Dove breast, wrap with plastic wrap and lightly beat off with a hammer. Grate orange zest and rosemary, wrap with bacon. Place Breasts in a baking dish, put in the oven and bake for 7-10 minutes. Submit such can breast with a salad of spinach leaves and slices of peeled orange.
Advice 2: How to breed pigeons
Breeding pigeons – just hard work, not bringing much income. This business requires a passion and true love for these beautiful pet birds. The reward for your work will be a great spectacle of thoroughbred flying dove, symbol of peace.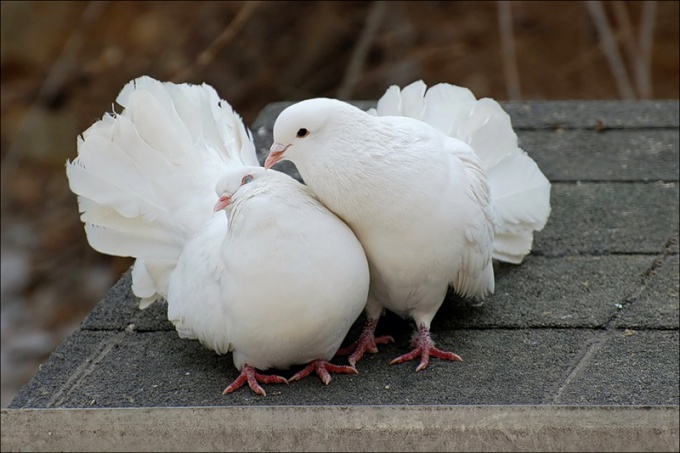 Instruction
Start to breed pigeons with a study of the theoretical foundations. Decide what breed you will breed. Better not to start with Mongolian breeds and not take the content more than 5-6 pairs.
Prepare the necessary tools and equipment. First and foremost, you will need a premises for keeping pigeons. The dovecote can be constructed from brick, wood or metal. It must be sufficiently spacious, bright and draught-free. It is better to do in room 2 offices for adult birds and for the young. Door shall have a height of approximately 150 cm, width up to 70 cm can make a double: the outer continuous and the inner lattice. Floor made of planed planks, raising it 25 cm from the ground to avoid dampness. The height of the pigeon should be about 2 meters.
Read the diet of pigeons and purchase the necessary food. Remember maintaining vitamin and mineral balance in the diet of birds. Pigeons is not to overfeed, so when the cold weather increase the amount of feed, and in the warm time of the year of the decrease.
Buy pigeons chosen breed and make a record of the birds, as well as cards, with a pedigree of each bird.
Protect your pigeon against the penetration of cats and rodents. An ordinary rat can destroy your hard work, paradosis Chicks or stealing eggs.
Learn the techniques of breeding and crossbreeding. Highlight birds, the most suitable for breeding and start your genealogical line. Remember, however, that in subsequent generations the positive qualities of a founder can get lost. For breeding use only pedigree pigeons with pronounced signs of noble birth.
Keep pedigrees for each pigeon. They are nicknamed the birds, the names of parents, color and other characteristics. Based on pedigrees, it is possible to draw conclusions about the transmission of hereditary characteristics. Good luck in the breeding of purebred pigeons-beauties!