You will need
- PC/laptop with Windows or MacOS;
program BlueStacks.
Instruction
Program BlueStacks allows you to run applications built for Android on computer running Windows or MacOS.
- Download it to your computer from the website http://www.bluestacks.com/ for the relevant system.
- After installing and starting the program click on the Settings button.
In the settings left from the list, select Accounts.
In the upper right corner, click Add Account
In the resulting window, select mail Google in order to connect to the Google Play store.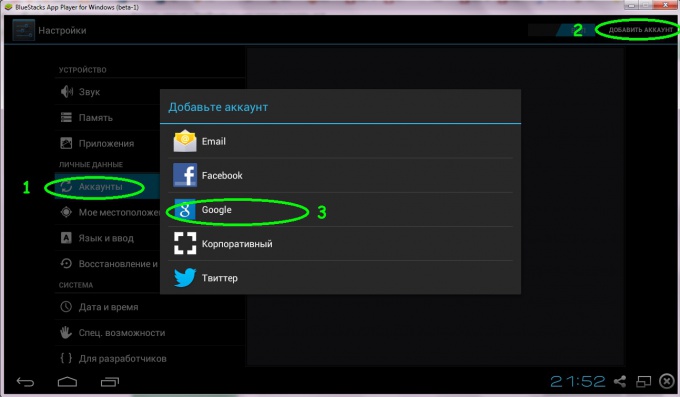 In the next window that appears click on the Existing one, if you have a Google mail.
If not - New.
Follow the prompts of the program.
To configure input languages for the keyboard, you must:
- click the Settings button
- select input Languages
- remove the check mark from the line system Language
- add the new keyboard.
- to return to the previous menu, press the arrow in the lower left corner.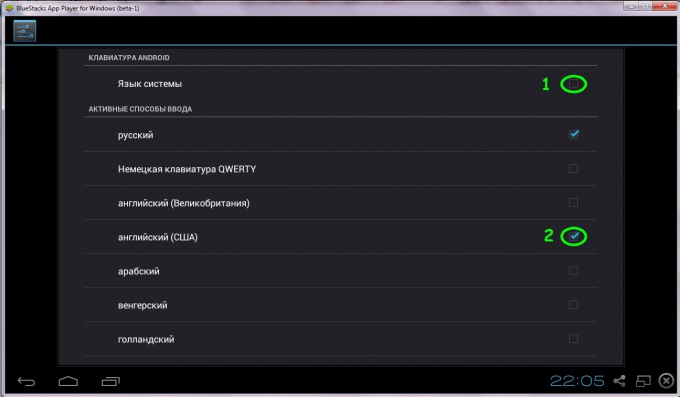 To change the input language click the keyboard next to the clock.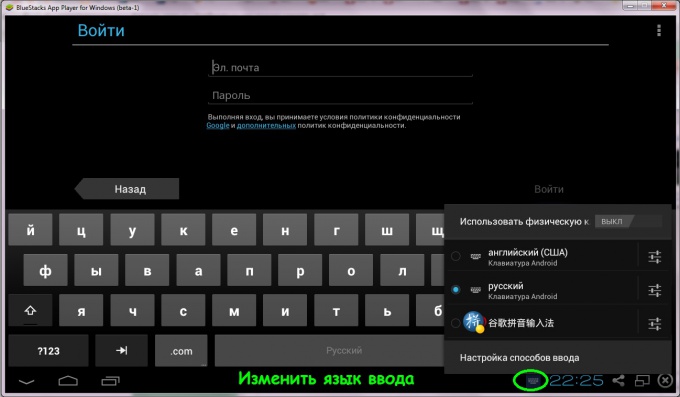 Full-screen mode.
- for Windows users, BlueStacks to expand to full screen or to exit, press key F11
- click on the icon of two rectangles at the bottom of the screen.
After connecting to your account skip configuring the data on your credit card by clicking Not now.
- If you need a backup of a virtual phone or tablet, then leave a tick opposite the corresponding entry.
- Click the button Next.
Our account is set up.
- Exit the settings menu by clicking the arrow at the bottom left of the screen.
- Click on the Search button (Search).
- If the "One time setup", press the button Continue.
- There will be a synchronization window of the virtual phone/tablet with your computer. Click Proceed.
Next window will appear sign in Google account. Enter the password to it.
- After login you can see in the top row Add phone (Add phone). Click on it.
- Click on the button Let's go!
Get to the login screen in Google Play.
Accept the terms of use. If you do not want to receive newsletters, pre-remove a tick.
Installation of the application.
For example, check the operation of the mobile Internet "MTS tablet" we install application MTS TV.
For this we need the SIM card from MTS with the connected option "MTS tablet" and the usb modem for SIM cards.
- Click on the Search button (Search) in the upper left corner.
- In the query string of the dialed MTS TV.
- Click Search Play for MTS TV.
- Click on the found program.
- Click Install and Accept.
App MTS TV is now installed on the virtual device.
The application to run.
- Immediately after installing the application in the upper right corner will be a button to Open.
- Push it.
- Accept terms of use.
- Connect modem with SIM-card "MTS tablet" to the computer and check the application.
Note
To save the installed programs, click the 1-Click Sync Setup
Useful advice
When you reopen the program BlueStacks installed apps will be on the top line Recently Played (recently launched), or you can find them by searching in Google Play.