Instruction
On the plane to Saransk you can get from three Russian cities - Moscow, Samara and Saratov. To buy a plane ticket in the terminal building or via the Internet. The time in Saransk is about an hour. In other cities of Mordovia planes do not fly.
On the train Saransk from Moscow, St. Petersburg and some cities of the southern destinations - Kazan, Saratov, Samara, etc. There are brand train "Mordovia", which departs from the Kazan station of Moscow. Time of departure - 21:24. He stops in the Mordovian following cities and towns: mount Laurel, Potma, Torbeevo, Kovylkino, Kadoshkino, Ruzaevka. The train is quite comfortable, has a dining car. Cars come with a reserved seat, coupe, Deluxe. Along the way you'll be about twelve hours.
Also to Mordovia Republic can be reached by train No. 80, next to the Nizhny Novgorod town of Pervomaisk. It departs daily at 20:48. From Pervomaisk in the Mordovian village of Spruce forests, located thirty kilometers, goes land transport - buses and taxis. From Spruce to Saransk can also be reached by bus or minibus. Journey time - about two hours.
Buses to Saransk depart from the Central bus station. Located a hundred meters from the metro station "Schelkovskaya", the Ural street, house 2. The bus daily departs in the morning at 07:45. Better to buy tickets in advance. In about twelve hours.
To Mordovia by car from Moscow airport to go on Nosovikhinskoe highway, turning into Nizhny Novgorod route. At the entrance to Nizhniy Novgorod road expanded to four lanes in one direction, the coating is smooth, ride is very comfortable. And can be reached on the Egorievsk highway, but it is more narrow and in the center of Bronnitsy often traffic jams occur.
Advice 2 : How to get to Saransk
Saransk is located in the Eastern part of Central Russia. Is the capital of the Republic of Mordovia. The city has an airport, but to get to Saransk from nearby cities easier via roads and rail.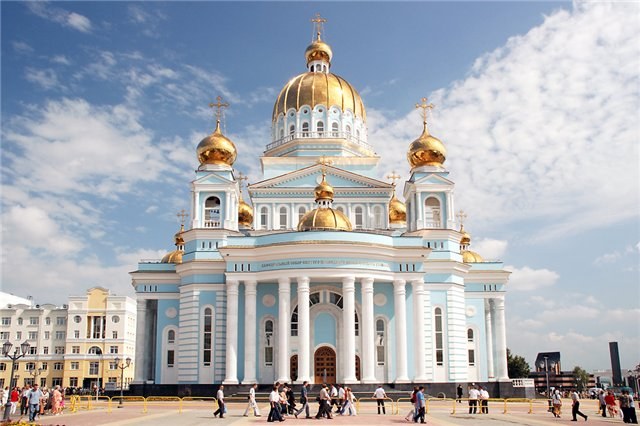 For road routes to Saransk


With a North and South direction it is possible to get to the capital of Mordovia, using the road P-158 (Nizhniy Novgorod — Arzamas — Saransk — Issa — Penza - Saratov).

From the East to Saransk you can drive along the road P-178 (Saransk — Surskoe - Ulyanovsk). She's not the best quality, but in dry weather it can be used.

To Saransk from the West you can get by using the regional route R-180 (entrance to Saransk from M-5). It connects the capital of Mordovia is not only interstate, but also with krasnoslobodska. If you going from Moscow or Ryazan, you can use this way. On the highway M-5 you need to go to the settlement Zubova Polyana, then move about 12 km, then turn left. Next, you need to get to the Krasnoslobodsk, from there to Saransk. But it will be easier to continue on M-5 "Ural" to Penza. Along the road P-158 you need to go North to Saransk.

Also need to get first to Penza, and then to rebuild on R-158, if you want to go to Saransk from Samara, Tolyatti Syzran or. From Kazan we need to get first to Ulyanovsk, and then go along the road P-178 to reach the capital of Mordovia.

From the city of Cheboksary, you can get to Saransk in three ways. The shortest, but not the most reliable — on M-7 highway in Western direction, after you go along the road P-231 go South. Next, you need again to turn to the West on the road P-178. Not to get lost and go for a better road surface, can be directly sent to Ulyanovsk, and then according to the above-mentioned R-178 to Saransk. The most reliable variant — to drive on the highway M-7 to Nizhni Novgorod, thence by R-158 can drive to Saransk.

Also in the capital of Mordovia can get on the highway R-179 (Saransk — Ruzaevka — Bigarm).


By train or bus


In Saransk there is a railway station of Kuibyshev Railways - Saransk—1". Commuter on the railway track in the capital of the Republic, you can drive from Ruzaevka and red Knot. Through the city passes many long-distance trains. Rail connections are from Moscow, Novosibirsk, Adler, Ekaterinburg, Vorkuta, Novorossiysk, Perm, Nizhny Tagil and other cities.

To the bus station arriving flights to the capital of Mordovia from many different places. Saransk has a bus to Tolyatti, Vladimir, Penza, Nizhny Novgorod, Ruzaevka, Yoshkar-Ola and other localities.