You will need
1 kg of chicken wings;
1 tablespoon liquid honey;
0.5 cups of soy sauce;
0.5 tablespoon curry;
vegetable oil.
Chicken wings in batter:
0.5 kg of chicken wings;
100 g of beer;
2 eggs;
4 tablespoons of flour;
salt;
hot red pepper;
vegetable oil;
water.
Instruction
Honey wings. Wash 1 kg chicken wings under running water. Remove pin feathers if they are on the wingsH.
Make a marinade. To do this, mix 1 tablespoon of liquid honey 0.5 Cup soy sauce 0.5 St. l. curry. Curry you can substitute any spice according to your taste. Mix the marinade until smooth.
Add in the marinade a few tablespoons of vegetable oil. Whisk all to connect oil with the honey and soy sauce.
Put the chicken wings in a pan with the marinade and with your hands mix them. Each wing should be completely covered with marinade.
Cover the bowl and put the wings overnight in the fridge to marinate. During this time, a few times with a spoon stir the wingsto better marinated.
Place chicken wings on a baking sheet and put them in the oven, preheated to 150 degrees. Fry the wings in about an hour. Serve chicken wings with honey glaze on a table hot or cold.
Chicken wings in batter. 0.5 kg chicken wings wash, put in a saucepan and add water just to cover the wings.
Cover the pan and place it over high heat. Bring contents of saucepan to a boil, reduce heat. Cook the wings until cooked on a slow fire. 10 minutes before the end of cooking, salt the broth to taste.
Put the finished cooked wings on a plate and dry them with a paper towel. Then RUB each wing spicy red pepper.
Prepare the batter. 2 eggs, whisk with 100 g of beer. Portions add 4 tablespoons of flour and stir until all lumps disappear.
Dip each wing in batter and fry in hot vegetable oil to a delicious Golden brown. Place fried wings on paper towel to remove excess fat. Serve fried chicken wings on the table with vegetable salad.
Advice 2: How long to roast a chicken
Chicken is considered a dietary product. Especially the breast, in which almost no fat. Preparing the chicken very quickly, especially if its pre-marinated.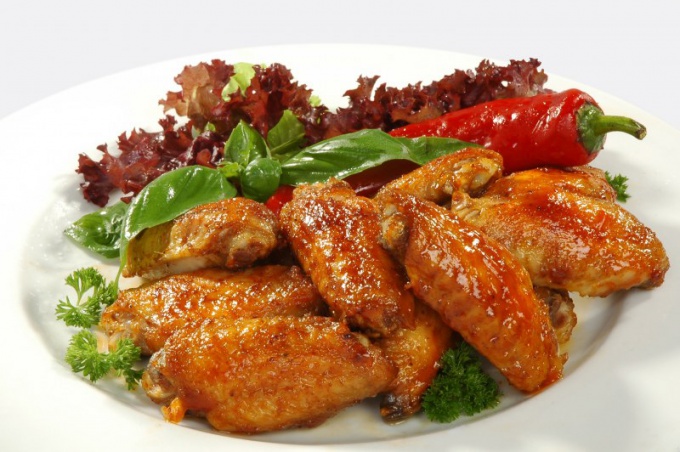 To the chicken dish was really diet, it must be fried with a minimum amount of oil. And it is better - on a special pan, which allows you to cook foods without adding fat. Below the breast is not burnt, you can add a little water.
When frying chicken you can use the breadcrumbs or batter. Then the juice evaporates, the pieces will be very delicate - soft and juicy. But the breading is pretty high in calories. This dish can not be called a diet.
Pre-marinated chicken breast is cooked for long. If you cut her pieces with a length of 3-5 inches and a width of not more than 2 centimeters, for frying only 10 minutes. About 5 minutes after the chicken is laid out on the pan, it must be reversed. For a couple of minutes until tender - stir the pieces.
A whole chicken breast is cooked longer. On each side it fried within 10 minutes. The willingness inside you can check with a toothpick. It is necessary to pierce a piece at the thickest point and see whether it is allocated a reddish juice. If not, and the toothpick remains dry, the chicken is ready.
If chicken is not pre-pickled, it will have to cook it longer. Small pieces are fried for about 20 minutes, to half an hour. In the process of cooking the chicken several times to flip for uniform roasting.
Legs, drumsticks, chicken how to fry
The longest is preparing the grilled chicken. Especially if you got a large carcass. On each side it is roasted at least an hour. The best way to cook chicken under the hood, putting on her oppression. Turn the chicken once. Thus the skin is fried to a Golden crisp.
Fried chicken is best served with steamed vegetables and long grain or brown rice. Also as a side dish ideal simple vegetable salad of cucumbers and tomatoes, seasoned with herbs and olive oil.
Chicken legs and drumsticks are roasted for 35-40 minutes. If they have been previously pickled, the time can be shortened to 10 minutes. To get a delicious Golden crust, the chicken you can smear the soy sauce, adding a little honey. Below the chicken was not greasy in the pan you need to add quite a bit of oil. If suddenly the pieces started to burn, you can add a tablespoon of water or soy sauce.
Advice 3: Marinade recipe for chicken wings
Fragrant and crispy
chicken wings
– a real treat. They are prepared quickly, and the secret is in the marinade, which gives the wings an unusual spicy flavor.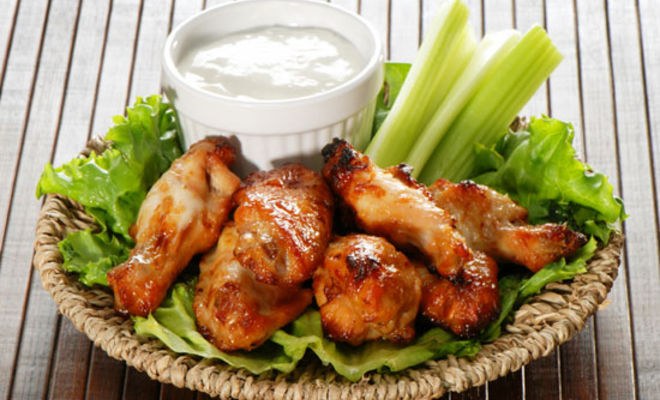 Marinades with soy sauce


To prepare the marinade with soy sauce and ketchup you will need:
- 150 ml of soy sauce;
150 ml ketchup;
- 150 g onions;
- 700 g of chicken wings.

First of all, peel and chop with a knife or in a blender onions. Then mix soy sauce with ketchup and add the chopped onions. All components mix well and pour over chicken wings cooked marinade. Since the soy sauce contains enough salt, optional salt marinade is not necessary. Place a bowl of marinated wings in a cool place for an hour. Then place them on a baking sheet and bake for half an hour in the oven, preheated to 180oC.

You can also prepare a spicy marinade with soy sauce, honey and ginger. For it will need:
- 3 tbsp soy sauce;
- 1 tbsp of honey;
- 1 tsp ground ginger;
- 2 tbsp vegetable oil;
- 1-2 cloves of garlic;
- ground black pepper;
- 1 kg chicken wings.

Mix soy sauce with honey. For the marinade, you should take liquid honey, if he candied, it must be melted in a water bath. Add the remaining ingredients: vegetable oil, ground ginger and pepper, and peeled and crushed garlic. Mix well. Make sure the honey is fully dissolved. Well then grate the washed and dried chicken wings with marinade and place them at 3 hours in the refrigerator, and if possible, leave overnight. Then fry chicken wings in a pan in vegetable oil. Then cover them with the remaining marinade, and place for 10 minutes in a preheated 180 ° C oven.



Tomato pickles


To make tomato marinade that you have the following components;
- 100 g tomato paste;
- 2-3 tbsp of tomato ketchup;
- 2-3 cloves of garlic;
- ground black pepper;
Sol;
- 500 g chicken wings.

Garlic cloves peel and chop with a knife or skip through the press. Mix tomato paste with ketchup, season to taste with salt, pepper and add the chopped garlic. Prepared chicken wings (washed and dried) put in a deep bowl, pour the prepared tomato marinade and put for 3-4 hours or overnight in a cool place. Pickled in this way the wings are cooked in the oven very quickly, in just 15 minutes.

Tomato marinade you can cook in another recipe. You will need:
- 1 tbsp of tomato paste;
- 1 tbsp of ground paprika;
- 1 tsp ground ginger;
- 2 cloves of garlic;
- a bunch of dill;
- a bundle of Basil;
- ground black pepper;
Sol;
- 500 g chicken wings.

Peel and crush the garlic cloves. Dill and Basil have a good wash, dry and finely chop. Then mix the tomato paste with paprika, ground ginger, black pepper, garlic, dill and Basil. Mix well and coat chicken wings cooked marinade. Then place them in a cold place, and after that time, add salt and bake in the oven or on the grill.
Advice 4: How to cook chicken wings to beer
Classic recipe for chicken wings to beer involves their supply with celery stalks and blue cheese sauce. This dish was first served in 1964 at the Anchor in Buffalo and has since been considered a classic Canon and just a great beer snack.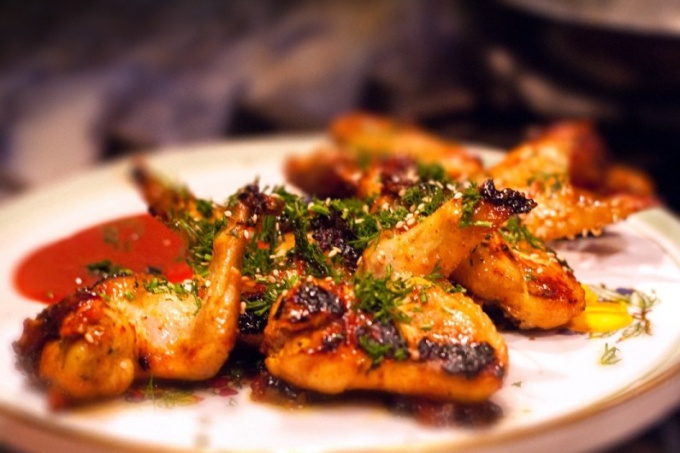 Wings with garlic and mustard


Ingredients:
chicken wings – 1 kg
- garlic – 2 cloves
mustard – 2 tbsp
- soy sauce - 2 tbsp
- Khmeli-suneli - 1 tbsp
- sugar powder – 1 tsp
- mayonnaise – 2 tbsp

All the ingredients for the sauce, combine in a convenient pot, mix thoroughly, dip each wing, fold in a container and leave in refrigerator for 2-3 hours. Baking lightly grease with oil and in a single layer, lay out the wings. Bake for 20 minutes at 180-200 degrees Celsius. To wings get soft and juicy, systematically water them with the remaining sauce. The finished dish is immediately put to the wings not absorbed the excess fat.


Honey chicken wings


Ingredients:
- chicken wings – 0.5 kg
- soy sauce – 50 ml
- honey – 1 tbsp
- Dijon mustard – 1 tbsp
- rosemary, fresh – 1 stalk
- garlic – 3 cloves
- ground paprika – 1 tbsp
- fresh ginger – 50 g
- black pepper
Sol

Garlic crush, rosemary, remove the leaves and finely chop, ginger peel and grate. All the ingredients combine in a convenient container and mix thoroughly.

Chicken wings remove extreme bone, pour the marinade and send in the cold for 2-2. 5 hours. The longer the marinating, the tastier will be the dish.

Pickled wings place on a baking sheet and bake in the oven for 40 minutes at a temperature of 160-180 degrees Celsius.


Spicy chicken snack to beer


Ingredients:
- chicken wings - 1 kg
- salt – ½ tbsp
- ground red pepper – 2 tsp
paprika – 1 tbsp
- seasoning for chicken – 1 tsp.
- ground black pepper - ½ tsp
- chicken eggs – 1 PC.
- flour – 2/3 Cup
- sour cream – ½ Cup
- sauce – 1 tbsp
- horseradish – 1 tbsp

Chicken wings thoroughly under cold running water, dry on paper towel and cut into phalanx.

In a deep bowl, combine salt, seasoning for chicken. Paprika, black and red pepper, add half of the specified rules.

To prepare the dough, whisk one egg with spicy sauce, remaining paprika and a mixture of peppers. In a separate plate pour the flour. In a deep fryer or a deep pan, pour vegetable oil and heat to the temperature required for frying. Dip wings in beaten egg with spices, obvalivat in flour and fry in small batches for 5-7 minutes, not forgetting to flip. The readiness of a dish will tell a Golden color.

Serve with sauce, for preparation of which mix the horseradish, sour cream, hot sauce, salt and pepper to taste.
Advice 5: How delicious to cook chicken wings in a pan
In the wings of a bird, not a lot of meat, but it is very tender and tasty, and the dishes they are great as beer snacks and hot main dishes. Prepare chicken wings in the pan in sauce, breaded or delicious gravy with potatoes.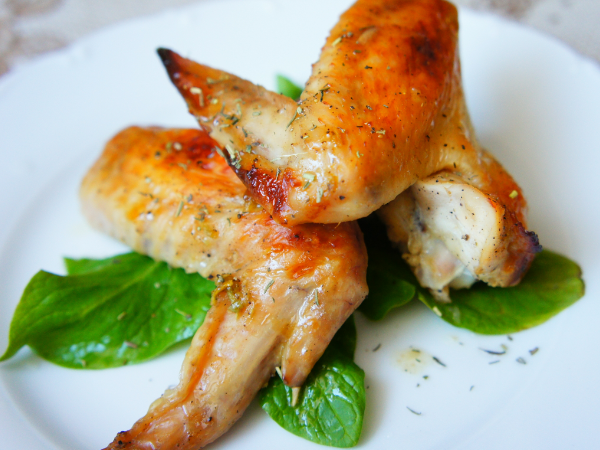 Chicken wings in sauce in a pan


Ingredients:
- 500 g of chicken wings;
- 160 ml of soy sauce;
- 50 g of honey;
- 30 ml lemon juice;
- 1 tsp. curry;
- vegetable oil.

Thoroughly rinse the wings and dry on a paper towel. Remove, if necessary, excess skin and feathers. Fold the part of the birds in the container. A little warm honey, mix it with soy sauce and lemon juice. Add curry and stir everything thoroughly until smooth. Pour the mixture and toss wings to evenly coat them with marinade. Tighten the capacity of the transparent film and refrigerate for at least 3 hours.

Put the wings in a colander set over a pan to drain the fluid. Pour the oil into a pan and heat over high heat. There lay the marinated chicken pieces and fry until Golden on each side. Turn down the cooking temperature to low, pour in the marinade and simmer the dish for another 15-20 minutes, covering with a lid.


Chicken wings breaded in a pan


Ingredients:
- 650g chicken wings;
- 200 g glazed corn flakes;
- 130 g of flour;
- 2 chicken eggs;
- 1/2 tsp of black pepper;
Sol;
- 60 ml of water;
- 30 ml Apple cider vinegar;
- 300 ml of vegetable oil.

Cut wings at the joints, put down for making only the large phalanx, the rest will be discarded. Put the pieces in a bowl, add salt, pour the vinegar solution in the specified volume of water and leave for half an hour. Place the cereal in a sturdy bag and crush, but not much to coarse crumbs. Pepper them, and sprinkle the sunflower on a flat plate. In the same way, pour the flour. In a Cup whisk eggs with a whisk.

Roll each piece of chicken wings in flour, then dip in egg, dip it in corn batter and place in hot oil in a pan with high sides. Cook everything in oil for 4 minutes, then place on a napkin to remove excess fat.


Braised chicken wings with potatoes in the pan


Ingredients:
- 500 g of chicken wings;
- 250 g of potatoes;
- 100 g of 25% strength cream;
- 60 ml of water;
- 2 cloves of garlic;
- 3 sprigs of parsley;
- 1/4 tsp of curry, paprika and mixed spices;
Sol;
- vegetable oil.

Treat the wings as described in the previous recipe. RUB them with salt and spices and fry in vegetable oil 2-3 minutes. Cleaned, cut into slices or cubes potatoes and place in pan. Fill all sour cream, diluted with water, and simmer, covered over low heat for 30-35 minutes. At the end of cooking, season the dish with crushed garlic and chopped parsley.