You will need
salmon;
vegetable oil;
bow;
sour cream;
freshly ground pepper;
spices for fish;
salt;
dill;
parsley.
For the second recipe:
salmon;
spices for fish;
salt;
pepper;
mustard;
Bay leaves;
potatoes.
For the third recipe:
the salmon fillet;
apples;
the juice of a lemon;
seasoning for fish;
salt;
pepper;
celery;
parsley root;
vegetable oil.
Instruction
In order to put out the pink in the sour cream, take 400 grams of fresh fish and chop not too wide apart. One large onion shred small cubes. In hot pan pour 3 tablespoons of vegetable oil and sauté the onion until it is Golden brown.
Onions place a layer of salmon and pour over 150 grams of fat sour cream thinned with 50 grams of water and flavored with spices for fish, black pepper and salt to taste. Cook, without covering with a lid, over moderate heat for about 15 minutes. Sprinkle the finished dish with chopped dill and parsley, serve with boiled potatoes.
To prepare salmon with potatoes clean one large fish from scales, gut, remove the tail, head and fins. Cut into serving pieces, season with spice for fish, salt and pepper. Coat on all sides with a thin layer of mustard. On the bottom of the pan lay 4 sheets Lavrushka.
Add the chunks of fish, placed vertically. Between them lay the half peeled potatoes. Pour in a pan of water so that its level was higher in fish at 2 inches. Cover and simmer on medium heat for 30 minutes.
Saute salmon with celery and Apple. This 800 grams fish fillets, divide into 4 pieces 200 grams, sprinkle with lemon juice, sprinkle with your favorite seasoning for fish, salt and pepper. Put in the cold for one hour.
Two medium apples cut into thin slices, having cut out the cores and seeds. Half a celery slice into strips, one parsley root, RUB on a small grater. In a deep frying pan in vegetable oil fry the apples and celery. Lay on top the pieces of fish fillet, grated parsley root and cover with water. Add salt as needed, close the pan with a lid and simmer until the fish is cooked.
Advice 2: How to stew fish
Fish stew – delicious and flavorful dish that is easy on the stomach. Roast is especially good hake, Pollock, cod, bondage, catfish, mackerel, tilapia, catfish, perch, halibut and salmon. Simmer the fish can be different.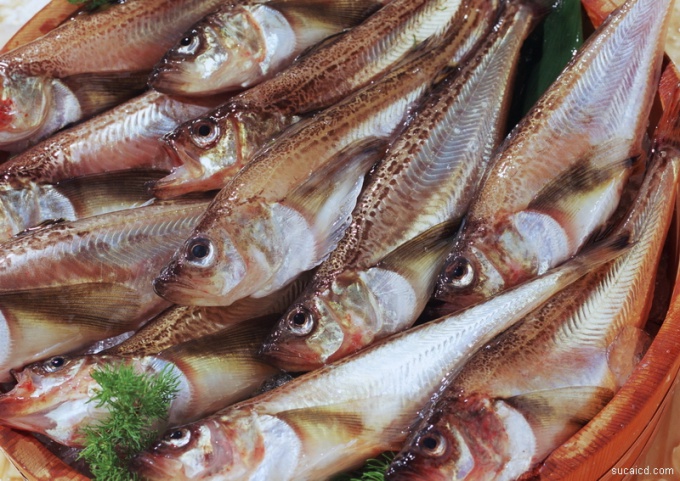 You will need
Bow
Carrots
Sour cream
Tomatoes or tomato paste
Vegetable oil
Salt
Spices
Greens
Instruction
Fish stew with Bosnia. Have to fish into serving pieces. Will rascality vegetable oil and fry the fish on each side for 2-3 minutes.b. RUB on a coarse grater carrots, dice onions. Fry the vegetables in vegetable oil until soft.with. Lay the fried fish and vegetables in layers in a deep pot. Add the boiling water so that water covers the fish. Put the saucepan on a strong fire. After boiling, reduce heat to low, cover the pan and simmer the fish for 10-15 minutes.d. At the end of cooking add in the braised fish , salt and favorite spices.
Fish stew with TomTom. Fry the fish pieces in vegetable oil until Golden brown (2-3 minutes each side).b. Spread a tablespoon of tomato paste in one Cup of boiling water. Put the fish into a deep pot and add the resulting tomato slurry. Diluted tomato paste should cover the fish.with. Instead of tomato paste you can use fried in vegetable oil slices fresh tomatoes (peel tomatoes it is desirable to remove). If you are using tomatoes add in a pot of boiling water to cover the fish.d. After boiling, simmer the fish for 10-15 minutes. For 2-3 minutes until cooked add salt, favorite spices and dill.
Fish stew with metanoia. Fry in vegetable oil chopped half rings onion for 3-4 minutes. Add to the onions small pieces of fish (preferably filets) and cook everything for about another 4-5 minutes.b. Put the fish with onions in a deep saucepan, add low fat sour cream. Instead of sour cream you can use cream. Mix everything well and put the saucepan on the fire.with. Cooking fish stew in sour cream takes about 15-20 minutes. When the dish is almost ready, add salt and pepper.
Advice 3: As a stew meat
There are plenty of ways of cooking meat dishes. Braised beef "in Russian," it turns out very tasty even without prior marinating of meat. Delicate and distinctive taste of this dish will impress your family and friends.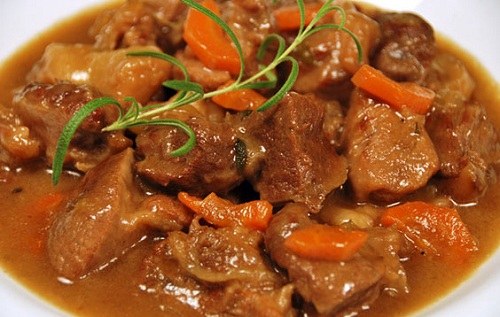 You will need
bacon – 100 g;
onions – 4 PCs.;
rye bread – 100 g;
potatoes for garnish;
flour;
parsley;
celery;
carrots – 1 piece;
sour cream – ½ St;
salt
ground red and black pepper
cumin.
Instruction
Beef wash thoroughly in cold water, a little dry, slice across the grain into thick slices approx 1 — 1.5 cm and repel kitchen mallet.
Optional marinate the pieces of beef. This 3 onions cut into thin half-rings, lightly mash, add salt, meat and stir. From half of a lemon squeeze the juice, add 1 Cup of water and pour into the meat. Add the spices and stir. Leave on for 5-10 hours. If possible marinate the meat there, and cook immediately.
Mix the flour, paprika and salt. In this mixture, roll the meat slices and fry in very hot vegetable oil on both sides until Golden brown.
Carrots cut into strips, brown bread small cubes, onion — thin half-rings, celery and parsley chop.
Cut thin slices of bacon and place in the skillet, completely covering bottom. On top, place a layer of roast beef, then a layer of onions, carrots, bread and greens. Sprinkle with salt, black pepper and cumin. Can add a few leaves of Bay leaf. If the size of the casserole, make several layers.
Next, pour hot water, cover and place on low heat. As soon as the water boils, remove the pot from heat and place in oven heated to 180 degrees. Simmer the meat for 1.5 — 2 hours. For 30 minutes until cooked pour in the dish with sour cream.
While preparing meat , fry the potatoes, which will serve as a side dish.
Arrange the meat and steamed veggies on a wide plate, pour sauce over casserole and sprinkle with finely chopped greens.
Useful advice
For this recipe you can cook any meat, except for chicken, because its preparation requires less time. Well, this is the case, if you are not a fan of beef.