You will need
vinegar (or table grape);

citric acid;
the juice of a lemon;
sugar;
vegetable oil;
water;
broth;
tomato paste or tomatoes;
salt.
Instruction
Grate the beets on a grater and sprinkle well with salt, stir. Leave it until the salt dissolved. Broth salt quite a bit, or do not salt at all. To fix the color, add the vegetable oil. Prepared cook the beets separately from the vegetables. Add the soup simultaneously with the potatoes.
Spray them finely chopped or grated in a coarse grater beets vinegar, diluted with water.
Boil the beets
in a little acidulated water. Clean, finely cut into strips. Add the soup about 10 minutes before the end of cooking.
Saute the beets with the addition of tomato paste. Pasta can be replaced and fresh tomatoes, but the effect is smaller since they lower the concentration of lycopene, which makes tomatoes "blush".
When fighting, you can add a little vinegar (or table grape), lemon juice or citric acid.
Try instead of acid, add sugar. About 1 tsp per 2 liters of water. Just add to boiling water, and it is better to put it in chopped beets prior to cooking. The taste of the soup will be more interesting.
Touch up borscht beet kvass – fermented beet juice. It may be cooked in advance. Wash and peel the beets. Cut it into slices of medium thickness. Cover with cold water and leave in a warm place. After 6 days store in the refrigerator for 2-3 days. The juice should be thick and have bright saturated colorOhm. Strain and add to the finished soup, immediately cover and remove from heat. You can make this brew and in a hurry. To do this, grate the peeled beets, place in a small pan. Add 200 ml of broth and lemon juice or acid. Bring everything to a boil, stirring frequently. Boil 2-3 minutes, cover and remove from heat. After 30 minutes, strain and add to soup.
Note
If you to preserve color, use beet kvass, do not add any other acid.
Useful advice
The best varieties for the heat treatment are those that have slightly flat roots and darker skin.

Beet is better to cut the strips along.
Prepared for the future beet kvass can be stored in the freezer in small plastic containers.
Advice 2: Cold soup of beet recipe
In the hot summer months a great option of the dinner will be a cold soup of beet. This dish, which is also called hodnikom, beetroot okroshka, beetroot soup, has a refreshing effect. In addition, this soup is rich in vitamins and other nutrients.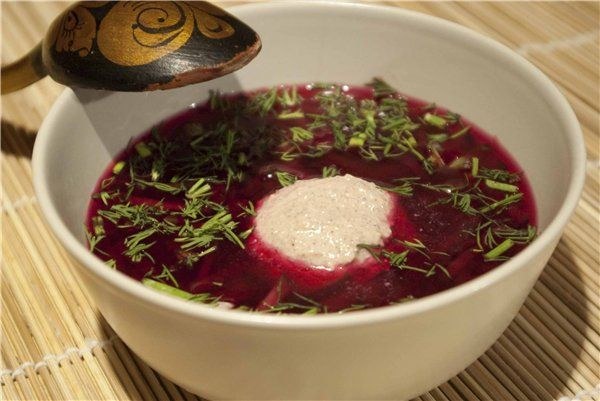 Recipe cold soup


You will need:

- beetroot broth – 1.5 liters;
- beets – 500 g;
- potatoes – 3-5 PCs.;
- carrots – 200 g;
- eggs – 2 PCs.;
green onions – 1 bunch;
- greens – 1 bunch;
- vinegar – 3 tbsp;
- sour cream – ½ Cup;
- sugar – 1 tbsp;
- salt – to taste

To begin with, cook the beet broth. To do this, wash the beet, peel it and cut into thin strips. Put beets in a saucepan, cover with water, add a small amount of vinegar. Put the saucepan on the fire. Bring to the boil and leave to cook for 30-40 minutes on low heat.

When beetroot is cooked, cool the broth and strain it through a sieve. Beets can go in the fridge. Ready beet broth pour into an enamel pan or glass jar and leave in a warm place for ten hours to zachys.

Now you can start cooking the other ingredients. Boil big pieces of carrots. Prepared carrots cut into strips. Thoroughly washed cucumbers also cut into thin strips.

Take a big pot. Put in it chopped the carrots, beets, cucumbers, onions and green onions, add vinegar, sugar and salt. Pour in the pan the cooked beet broth. Mix. Separately, boil the eggs, slice. Prepare finely chopped greens.

Before serving, add in the beetroot greens, eggs and sour cream.


Recipe cold soup based on kefir


This method of cooking this dish is considered to be less common.

You will need:

- low-fat kefir – 1 liter;
- beets – 500 g;
- cucumbers – 30 g;
- eggs – 3 PCs.;
green onions – 1 bunch;
- dill – 1 bunch;
- salt, pepper – to taste

Thoroughly wash the beets, wrap it in foil and bake for an hour in the oven at medium temperature, refrigerate. If desired, the beets are simply boiled. Grind ready beets through a coarse grater.

Boil and cool eggs. Chop them in small cubes. Cucumbers wash and cut into cubes. Prepare in advance with finely chopped greens.

Combine all ingredients in a large bowl or saucepan. Add salt and pepper to taste. Pour the product mixture with yogurt and stir. You can leave the soup to stand for long in the fridge.

Because the dish can turn out very thick, optionally you can mix it with cooled boiled water. However, it is not recommended to add more than one liter of water.

Before serving the soup you can garnish with the chopped half of an egg and greens.