You will need
- whipping cream;
- a pastry bag;
- can of whipped cream;
- fixer for cream.
Instruction
Buy in-store special whipping cream. They should be high enough fat content, from 33% and above. Some use and products, the fat content of which is about 22% , but result is not always sufficient: fall or cream and not whipped.
Carefully whip the cream. Remember that they require care and attention: they need to beat certain times: if the process lasts less they reach the required consistency, will float on the finished cakeif longer, they will start to flake and form flakes. Often the packaging says the approximate time required to reach the optimal structure, however, it is approximate and is for guidance only.
Use the fixer for cream, if you are not confident that they will retain their shape and will not fall off. Calculate the amount, based on the instructions on the package.
Decorate the cake with cap of cream, laying them gently with a spatula. Draw a fork or toothpick intricate patterns that will prompt your imagination. Take a pastry bag if you want not just to create a smooth surface, but to create with the cream composition of different flowers and figurines.
Make a bag yourself, if your kitchen has not yet appeared this culinary accessory. Just find a plastic bag and make the area a small hole. Fill it to half and take with one hand. Second gently squeeze the cream.
Buy a ready-made canister of whipped cream, if you do not want to cook them yourself. However, remember that to decorate the cake just before serving, and don't forget to shake the canister. If you have purchased the cream for whipping, and put them on the cake in advance as they need time to solidify.
Advice 2: How to decorate a cake with cream
There are plenty of recipes decorating cakes. To make a confection masterpiece using chocolate, waffles, marzipan, fondant, meringue, fruit, and different creams. But the most popular product for decorating cakes and pastries remain the whipped cream.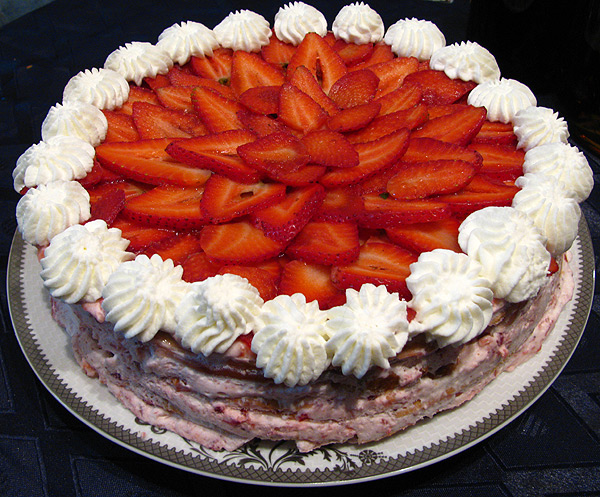 You will need
cream;
mixer;
- plastic bowl;
- confectionery syringe with a nozzle.
Instruction
For starters it should be mentioned that not all cream able to attain alluring sweet cloud, but only those that have a fat content of not less than 25%. Moreover, the cream should have a higher fat content than vegetable. Thus it is useful to know that the cream of non-dairy origin, taken in an amount of 1 liters, 3 liters give resistant that you can even freeze and thaw without compromising taste. In addition, they are low in calories compared to dairy.
The next stage is cooling. Before you whip the cream should be cooled at a temperature 5-10 degrees at least 12 hours. Sugar (water, milk, and other additives) into the cream you need to add before mixing. Not every cookware is suitable for whipping cream. It is best to use a plastic Cup. It is necessary to make sure that the whisk does not scratch its inner surface.Then you need to start whisking, making sure that cream was not "broken". To determine the readiness of the product is easy: it greatly increased in volume, but still a little watery, although the whisk leaves a clear mark on its surface. Theoretically, you can whip the cream and hand whisk, but less labor intensive the cooking process is with a mixer. Using electric mixer, beat the product is better at low speed.
Next, you will need a pastry bag with nozzles. Before you decorate the cake, it is necessary to smear cream, frosting, jam, tighten marzipan and so on. Already on a greased surface, you must start to apply the cream.For the application of cream using a pastry bag with different nozzles. For example, roses will fit the tip with an oblique cut, and the curb – fine tip with teeth. Cake decoration entirely depends on the imagination of the hostess. For example, you can use a thin tip to decorate a chocolate-frosted cake surface similarity fishnet spider web, you can "put" a cake with many roses, in the center of which to put canned or fresh strawberries or cherries.
Useful advice
To avoid trouble with the whipping cream it is possible if to buy a ready-made product, sold in cans with a notched nozzle.