You will need
- gastrula or a device for steam baths;
- a towel
- medicinal plants;
- essential oils;
- headband or barrette;
- timer.
Instruction
Cooking steam vannisalong special cosmetic instrument for making steam baths for the face and inhalation. Pour into a container designed for liquids, water or decoction of herbs, add essential oils, turn on the device and wait for start proudley. Adjust the intensity of steam and start to take a bath. If such cosmetic device is not available, we will remember how in childhood you were forced to breathe over the potatoes and try to reproduce this way. To do this, put on fire a saucepan with water to 1/3. Waiting for the boil, reduce the heat to minimum. Then add water, 1 tablespoon of the collection of medicinal herbs or drip 10 drops of essential oils to 1 liter of water. Turn off the heat completely, wait 2 minutes and proceed with the adoption procedure.
Used herbs and massaglia cooking steam bath use plants and essential oils. So for oily skin is ideal chamomile, lime blossom, birch leaves, oak bark, mint. To enhance the action of the bath will help the essential oils of juniper, tea tree, cypress, lemon, sage. The skin with a variety of defects it is better to offer a bath with calendula and tea tree oil, and for heavily contaminated skin bath flowers of oregano. Dry skin care is cleaned by means of a steam bath with licorice, dandelion, comfrey, rose and orange zest. For normal skin it is better to brew the herb thyme, lavender, chamomile or cuff. To the broth I add 10 drops of essential oils of geranium, lavender, sandalwood or bergamot.
The method of making a steam vanichwathana clean face, clean hair in a ponytail or under a bandage. Prepare a steam bath. Brush the eyelids with a fat cream (for dry skin is better to apply the cream all over the face, then conveniently sit over a vessel of water or a device for steam baths, close your eyes and let a few do the trick.During the procedure, it is best to cover your head with a towel. At its end immediately wash, rinse face with cool water and apply the cream on the skin corresponding to its type.
Time proceduralise the adoption of steam bath varies: 5-7 minutes for dry skin, 10-15 minutes for normal, 20 to 25 minutes for oily skin. The number of procedures per month also depends on skin type. For oily skin shows 3-4 procedures per month, dry is better "stripped" not more than 1 time in 4-5 weeks.
Protivopokazaniya, steam baths there are a number of contraindications. So, this procedure is prohibited for people suffering from heart disease, asthma and with enlarged blood vessels on the face and pink acne.
Advice 2: How to steam a wedding dress
Just bought a wedding dress that is extracted from the package, you need to put in order to smooth out the fabric, get rid of Packed folds, spread your ruffles and ruches. This can be done in a salon where you purchased your outfit. But sometimes this is not possible. What to do? Try to steam your dress by yourself.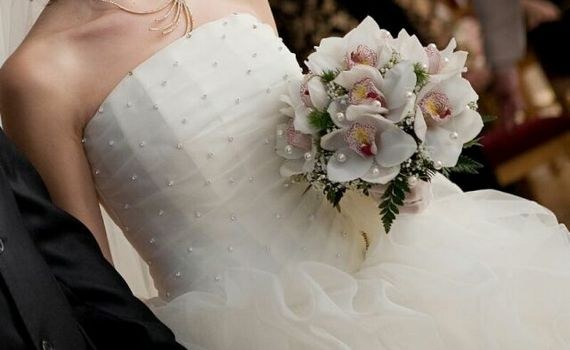 You will need
- steamers;
- iron
- gauze;
an Ironing Board;
- clothes hangers.
Instruction
Read the label dresses – there must be specified the composition of the tissue. Often wedding dresses are made of all sorts of variations of polyester. It does not apply to highly shrinkable materials. However, the dressPacked in a box, probably formed with pressed pleats, and trim jammed.
Try on the outfit. If the corsage doesn't require Ironing, better not touch it. Take the skirt it will almost certainly require treatment.
If you have a household steamer, you can very quickly lead dress in order. Pour water into the device, turn it on and hang the outfit on a hanger. First treat large surface – puffed skirts, rebounds, shuttlecocks. Last amperite sleeves and trim the bodice. Do not forget about the bottom skirts – if they are crushed, the dress will not be fluffy enough.
In the absence of a steamer you can help iron. Well, if it has the function of the vertical steaming. Hang the dress on a hanger and give it a steam iron set to "silk". If the outfit is made from dense fabric that imitates taffeta or satin, try a higher temperature.
If your iron does not work in a vertical position, try carefully ironed dress. You will need an assistant who will hold skirts, a freshly ironed cloth to avoid wrinkling. Lay the Ironing Board fabric and handle from the inside. Be especially careful with decoration – embroidery, rhinestones, sequins or beads. Ironed dress better through 2-3 layers of cheesecloth – so you do not damage or dirty matter.
Dress with a voluminous skirt, embellished rebounds and Boothe is not always possible to smooth. Try a different method. Hang the outfit on a hanger, put them over the bathtub and let the hot water, tightly closed the bathroom door. Hot steam fills the room and straightened the crumpled folds and ruffles.
Processed steam or iron the dress don't put in the closet. Hang it so that the skirt completely finished. Don't wear the outfit immediately after Ironing – it will wrinkle even more. Dress should rest for a few hours, then it will retain its shape until the end of the celebration.