You will need
the bulbs of fennel 2 EA.;
butter 1 tbsp;
lemon 1 PCs.
hard cheese 100 g;
salt.
For the salad:
bulb fennel 1 PC.;
green salad 2 bunches;
orange 1 piece.
plain yogurt/low-fat sour cream 4 tbsp;
olive oil 1 tbsp;
mint 1 bunch;
ground black pepper;
salt.
Instruction
When buying fennel, look for firm, smooth and shiny bulbs. They should be bright white, without dark spots, in any case not yellowed, not shriveled. Despite the fact that in our supermarkets fennel is sold all year round, its season starts in late January – early February. At this time the fennel is the most delicious. Typically, supermarkets sell fennel sweet, you can eat it without cooking. Raw fennel is fresh and clean anise flavor. If you bake it in the oven, it will become very soft and tender, with a pleasant sweet taste. You can fry the fennel in oil, season with lemon juice, baked in broth, stew with cream.
Try to put out the fennel. Cut the onion into four pieces and fry in a pan with butter on all sides. Add to the pan of water to cover the fennel in half. Squeeze lemon juice, add salt, cover and simmer for 20 minutes. Then remove the lid and turn up the heat. When you evaporate nearly all the liquid, you need to turn off the stove and immediately submit the fennel, sprinkled on top grated cheese. In this form it is served as a side dish to chicken, meat or fish. Its taste goes well with many foods.
Prepare the fennel salad with orange. For this fennel cut in half and thinly slice into half rings. Then wash the sliced fennel under running ice water, towel dry or in the dryer for salad. Orange peel, try to free it from coarse membranes, each slice cut or divide into two parts. Mint is finely chopped. For the filling mix the yoghurt with salt, pepper and olive oil, whisk with a fork. Lettuce rinse well and dry. Mix lettuce, fennel and orange, pour on top of dressing and sprinkle with mint. This salad you need to eat immediately, otherwise it will become limp and tasteless!
Note
Recipes with fennel. The fennel is for culinary purposes are used not only herbs and seeds, but also tubers. Herbs fennel has a spicy, sweet aroma, resembling anise. The young shoots make a more delicate taste marinades for salads and willingly used in the canning of vegetables, especially cucumbers and cabbage.
Useful advice
If you really want to have - take the fennel, pogruzit it - and after a couple of minutes you feel full. Substances that are part of this amazing vegetable also helps burn subcutaneous fat, is removed from the body of accumulated toxins, purify the blood from toxins and stimulates the function of the kidneys, it has a weak diuretic action.
Advice 2: How to cook a mullet
The mullet
is found in the warm southern seas of Russia in the Azov, Black and Caspian.
Mullet
of the Caspian sea is less fat, but big. Meat mullet white is quite oily, no small bones. All varieties of this fish is perfect for frying, boiling and grilling. To complement the mullet fennel. Very tasty smoked and dried mullet. But the real taste of this fish can be felt,
prepared
her for a couple.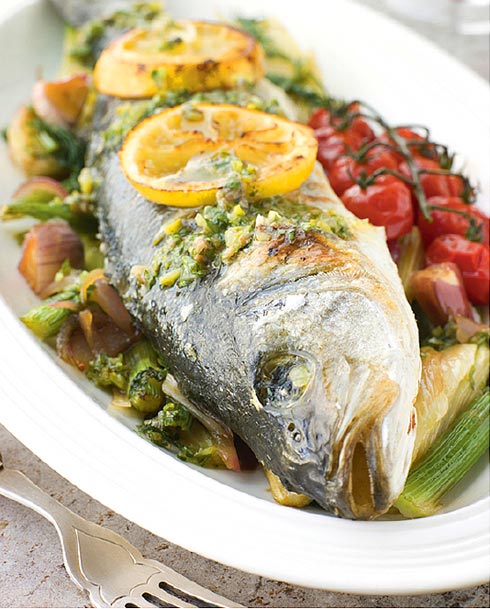 You will need
3 medium onions
3 potatoes
3 medium carrots
leek - 1 piece
olive oil
lemon
mustard
200 gr. cheese
salt
pepper or
mullet - 1 kg.
onions - 2 PCs.
4 garlic cloves
1 glass of wine
herbs fennel
parsley
salt
pepper
milled crackers.
Instruction
Mullet clean, gut and rinse thoroughly, remove the head. Make a deep cut along the spinal bone. Then divide the fish into two fillets, making a small undercut along the edges. Fillet salt, pepper and sprinkled with juice of half a lemon.
Peel the carrots, onions and potatoes. Grate two carrots, and the third cut into cubes. The remaining half of the lemon and leek cut into rounds. Potatoes cut into quarters. Cheese grate on a fine grater. Mix together the olive oil, salt and pepper. Sliced carrots, potatoes and leek and add to a Cup of butter, stir and put in bottom tier of steamer.
In the upper tier of a double boiler, place onion rings on top of them - a piece of mullet fillet. Smear it with mustard, sprinkle with half grated carrots and cheese.
Then lay the second fillet, also sprinkle with cheese and carrots. Top off mugs of lemon.Cover the steamer with a lid, cook for twenty minutes.
If no double boiler, cook this wonderful fish in the oven. Heat the oil in a pan. Slice the onion into thin slices, put it in a heated pan and saute for about ten minutes. Cooked gutted a large carcass mullet RUB both sides with salt and pepper, put the garlic, greens of fennel and parsley. After that, put fried onion into a deep baking tray. Put the fish, pour her wine and sprinkle with breadcrumbs.
Close the baking sheet and bake for 10-15 minutes, then remove the lid and leave for another 10-15 minutes, until the fish is easily removed from the bone. Serve, garnished with sprigs of fennel.
If you are not able to find big fish, prepare a few small.
Useful advice
Sometimes in the abdominal cavity of mullet found in white fat. It needs to be carefully separated.