You will need
• Fillet of red fish – 1 kg;
• Cream 20% - 1 PT;
• Canned mushrooms (sliced) – 1 can (800g);
• Sour cream 20% - 1 PT;
• Lemon – 1 piece;
• Basil – 1 tbsp. l;
• Onions – 2 PCs;
• Cheese varieties – 300 g;
• Vegetable oil – 1 tbsp;
• Butter – 50 g;
• Salt
pepper – to taste.
For the second recipe ( for 6 servings):
• Steaks of red fish (with a width of 1 to 1.5 cm) – 6 PCs;
• Tomatoes (large) – 2 PCs;
• Onion – 1 PC;
• Lemon – 1 piece;
• Basil – 2 tbsp. l;
• Mayonnaise – 150 g;
• Sunflower oil – 100 ml;
• Milk – 120 ml;
• Salt
pepper - to taste;
• Food foil for baking.
Instruction
Recipe 1. "Fish for your favorite".
• Onion peel, wash and cut into half rings.

• Mushrooms dry on a napkin.

• Fry mushrooms with onions in vegetable oil. When the onions become Golden, add the butter, mix well. Cook for 5 minutes.

• Pour mushrooms and sour cream, stir, keep on fire for 15 minutes.

• Fish fillet with salt, pepper, sprinkle of fresh lemon juice. Sprinkle Basil and leave to stand for 5 minutes.

• On a baking tray lay a paper for baking, grease it slightly with oil. Put tightly to each other the layers of fish.

• Fill it with cream and put in a preheated 150 degree oven for 15 minutes. Make sure that the fish is not burnt, but just changed the color and became a pale pink.

• On top of the fish place the mushroom mass and evenly it spread.

• Grate cheese on a large grater and sprinkle liberally over the dish.

• Place in the oven for 15-20 minutes. As soon as you see that the cheese melted and browned, the dish is ready.

• Serve baked fish turns out very juicy and unique taste, with mashed potatoes and any vegetables, e.g. French beans.
Recipe 2. "The fish boats".
• Stacks wash, dry. Add salt, pepper, sprinkle with lemon juice and sprinkle with Basil.

• Each piece is a little fry in a pan until Golden brown.

• Tomatoes and onions cut into rings.

• Foil shape of the boat. The edges make so large that they could hold tightly.

• In each boat put on the steak. Pour the juice that remains after frying.

• Pour 20 ml of milk. Put on 2 rings of tomato, ring of onion and 1 tbsp mayonnaise.

• Gently tap the edges of the foil so that the fish was closed.

• Place the "boats" on a baking sheet. Put in a preheated 180 degree oven for 15-20 minutes.
Bon appetit!
Note
People who have in the diet of regular fish, less prone to cancer, hypertension and memory problems.

Red fish has a unique taste and rich nutritional composition, so it is the most important component of the nutrition of a healthy person.
Advice 2: How to bake whole salmon
Baked fish
, particularly red delicious, as when baking in foil, it retains all its juices. For roasting the whole better to use a small or medium-sized fish. So you will save time on cooking.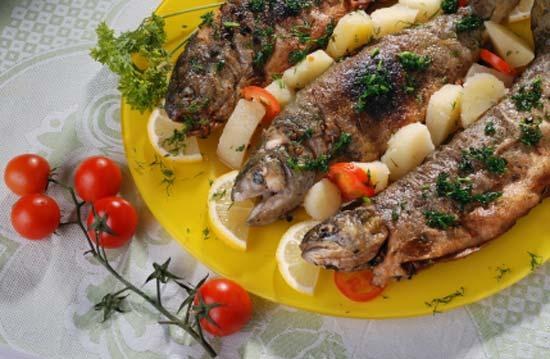 You will need
tomato – 1 piece;
garlic 2-3 cloves;
lemon juice – 2 tbsp;
mayonnaise – 150-200g;
rice-150g;
fresh dill or parsley
salt
ground black pepper.
foil for baking.
Instruction
Defrost the fish, gently her gut. Skins clean with a knife. Cut the dorsal and pectoral fins with scissors. Glowe cut is not necessary. Rinse the fish under cold running water. Remove excess moisture from the carcass, blotting paper, or a simple towel inside and out.


The fish on both sides and RUB inside with salt, drizzle with lemon juice and sprinkle ground black pepper. Can put in the abdomen a few slices of lemon.
Preheat the oven to 200-220 degrees.


Clean the garlic, squeeze through press and mix with mayonnaise. Greens finely chop and add to mayonnaise, mix well. Tomato cut into slices


On a baking tray put a sheet of foil large enough to completely wrap the fish. Foil in the middle, lightly grease mayonnaise with garlic and herbs according to the size of the fish, put the fish. On top put slices of tomato and cover with the other half of the mayonnaise. Wrap foil tightly and bake fish in the oven on low heat for 25-40 minutes depending on the size of the fish.
In a saucepan, pour 2 cups of water, salt and bring to a boil. In boiling water pour the washed rice and cook until tender, 20 minutes. Cooked rice drain in a colander.


The fish is ready remove from the oven and let cool slightly on the baking sheet.


On a large platter put rice, pour over a small amount of melted butter. On the "cushion" of rice carefully put the fish whole or cut into portions. Garnish the dish with fresh herbs, slices of tomatoes, slices of lemon, olives, olives.
Useful advice
If you do not want the crust turned out too thick, mayonnaise can not be used. Sheet foil brush with olive oil, garlic and chopped greens wish to put into the abdomen
Pink salmon can be filled with boiled rice, mixed with roasted onions or carrots. The abdomen can be sewn strong thread or stab toothpicks.