Instruction
The first method

Melt in a small saucepan 200 g butter or margarine, then let it cool. While the butter cools, pour 2 cups of buttermilk in another bowl and immediately pour in the egg, add soda on a knife tip, a pinch of salt, one teaspoon of yeast. If you use dried yeast before cooking soak them in 100 g of warm water for 7 minutes. Into the cooled butter, pour the yogurt, stir everything thoroughly and slowly add 2.5-3 cups pre-sifted flour. The dough in the end should be soft and not stick to hands. Put the dough in a bowl. Close the kitchen foil on top and put in a warm place for one hour to reach.
The second method

Knead unleavened dough. To do this, melt 90 g butter, add 75 g cream, 30 g of sour cream, egg, 15 g sugar, 4 g salt, mix everything thoroughly and then add the mixed 3 g of baking soda 350 g flour. Knead the dough without lumps and incorporate the baking of the pie.
The third way

1.5-2 cups of flour sift and mix with one teaspoon of baking powder. Take two eggs and separate the yolks from the whites (whites not needed). Add in the egg yolks, salt on the tip of a knife, half a teaspoon of sugar and mix well. To the yolks add 200 g of softened margarine, stir. Then in the margarine and add egg yolks 200 g sour cream and again mix everything carefully. Gradually add flour, knead the dough and set for 20 minutes in the refrigerator. Chilled dough divide into two parts in the ratio 1:2.

Of most of it roll the tortilla and place it in a baking dish, making the dough and forming of dough "plate".
Useful advice
Instead of baking powder you can take a soda, but before you repay it with vinegar and add to yolks.
Advice 2 : The recipe for a delicious pastry to kórnik
Among all the famous Russian pies are popular kórnik. This dish from ancient times is a favorite festive treat, so for all time of its existence has been invented many recipes for making this truly the most delicious cake. And best recognized kurnik from the surprisingly soft and crumbly dough.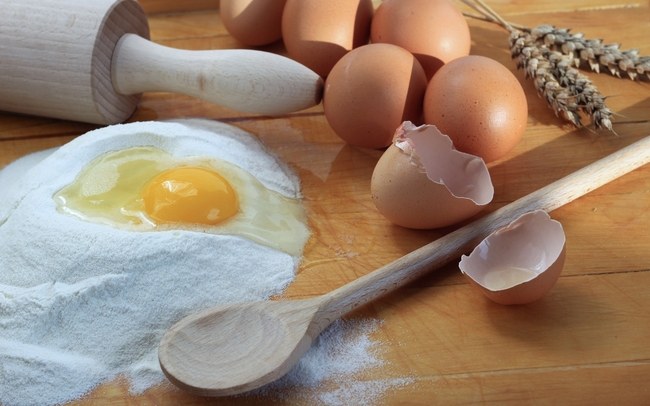 Before kórnik was served only on special occasions, such as weddings to treat the newlyweds and the guests of honor. Today it is baked not only on holidays but also in any spare time to please your family a delicious lunch or dinner.
You need to prepare kurnik
To prepare the kórnik takes a lot of time. As for the food, they also need a lot. But it's worth it, as a result, nobody is left indifferent. Cake is so hearty and delicious that it just can not please. Juicy filling in a tender shortcrust pastry just melts in your mouth, which makes this dish unique.
Satiety of the cake is achieved through the use of at least two kinds of stuffing and a special mushroom sauce. Each filling is made separately, and therefore time to cook kurnik out a lot. But if filled with more and less clear and its preparation, as a rule, does not cause special difficulties Housewives, kneading dough should be treated more seriously, as it depends on him how the taste will have a finished cake.
How to cook a delicious shortbread dough to kórnik
First you need to decide on the ingredients list, which should include:
- egg yolk – 2 pieces;
- baking powder – 1 tsp;
- sour cream – 200 g;
- butter – 200 g;
- sugar – 0.5 CH. l;
salt - of 0.25 tsp;
- flour – 2 tbsp.
Very tasty dough for kórnik not very heavy. Moreover, it does not take much time. Only some products from the list must be prepared in advance, namely, to get the butter out of the fridge and carefully sift the flour. Oil by the time of kneading the dough should be soft, that is why it is kept at room temperature for at least half an hour.
Whisk well the egg yolks with the sugar and salt, then add to the resulting mass sour cream and softened butter. Stir the mass until smooth. This can be done with a fork or mixer on low speed. Now add the sifted flour premixed with baking powder. To fill the flour in small portions, to avoid lumps.
Knead the dough. It should be smooth and uniform. After that, dough for kórnik wrap in cling film and store it in a cold place, about 20 minutes. After this time the dough can be used to make a cake.