You will need
- insecticides (e.g. actellic),
- antihelminthic drugs.
Instruction
To prevent the appearance of pests and diseases in plants, properly care for it. Put in a well lit place but not under direct sunlight. Keep winter away from the batteries - they don't like high temperatures in the winter. Ventilate the room, but avoid drafts. In the summer watering profusely, slightly drying with earthen between waterings. Aprecciate the leaves of the plant. Replant in a container, greater in size, as needed. Remove dust from the leaves.
If you found on the external or internal side of leaves or on the trunk of your plants brown blyambochki size of about 2 millimeters, it is the pest called scale insects. Scale insects suck plant SAP and secrete a sticky substance that covers its leaves and trunk. The larvae of this insect invisible to the naked eye, so put the plant three times (every 10 days) treatment with actellic.
On the trunks of plants in connection with the branches, in the axils of the petioles of leaves or on the soil surface when watering you may find mealybug. Highlight it like cotton wool, inside of which is an insect. It sucks the plant juice.If damage to the plants slightly, remove all affected parts and rinse it under the shower with a soft brush, preferably with soap.If the colony is significant, pour the plant with insecticide. Substance absorbed by the roots of plants, and, having eaten, an insect poison.
Aphids usually attack the young shoots with tender leaves. The plant is affected by aphids, is covered with a sticky substance, the leaves curl and are deformed. Treat ficus soapy water three times during the week, and with heavy infestation, use insecticides.
If the leaves of your ficus sereyut, wither and fall off and the plant appeared spider, this spider mite. Increase the humidity around the plant: pour it, wash, spray, install near a humidifier. Try after spraying for 3-4 days throw on a crown cap from a plastic bag that will retain moisture. If nothing helps or the colony is numerous, in addition treat any insecticide.
If between waterings substrate time to dry out, it can wind up nagahuedi. This little white Bouncing invertebrates. To fight them is simple: put the pot with the plant in a basin of water, and all surfaced springtails rinse. ProSuite ohms and repeat the procedure until you get rid of this scourge.
If the ficus is dying, and external inspection and analysis of the content of plants did not reveal the cause, it is likely that this nematode. This microscopic worms, affecting the plants root system and releasing harmful toxins. If you examine the roots, you can see them knotty growths. To deal with nematodes is very difficult. You can help watering plants with water with the addition of anthelmintic drugs.
Advice 2: How to grow ficus from seeds
Ficus is an attractive house plant that is easy to grow yourself from seed. It is necessary to follow certain rules and recommendations for care.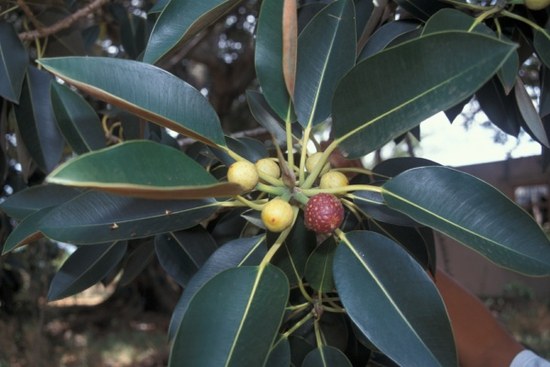 You will need
seeds;
- capacity for planting seeds;
the substrate;
- water.
Instruction
Purchase seed of this plant from a retailer. Treat them with fungicides or growth stimulants. Thus, you will accelerate the process of appearance of your sprouts.
Prepare a container for planting seeds. This will perfectly suit a plastic bottle, cut lengthwise, or a wooden box.
Soil for planting seeds acquire neutral or slightly acidic and mix it with sand in the ratio of 2:1. Also the substrate you can prepare yourself. To do this, mix 1 part sand, 1 part peat and 2 parts ground sheet. This mixture has good permeability that will contribute to the rapid development of the root system.
Plant seeds to a depth of 0.5-1 cm, slightly prisypaya ground. After that, the earth abundantly pour water with a small addition of a solution of potassium permanganate. Thus, you will decontaminate your future the plant from various pests. A container of seeds, cover with glass or cling film, creating a humid microclimate.
When growing sprouts follow thermal mode – 25-30 degrees. Only in this way your seedlings will stretch and get stronger in shorter period of time. Do not forget to ventilate shoots, opening glass (film) for 1-2 hours a day.
As soon as the seedlings appeared the first 2-3 leaf, clear glass (film). Then thin out your seedlings by removing weak shoots.
Shoots of ficus transplant in a separate container with a diameter of 8-10 cm For the perfect plastic cups. The growth of plants capacity pick up with a large diameter.
The plant place in a bright room, avoiding direct sunlight. Remember: they absolutely can not tolerate drafts, even in very hot weather. And the bad illumination of the plant can kill the leaves and shoots.
Don't forget to water your plant. To do this, use well-defended water at room temperature.