Instruction
Tibetan monasteries are not just interesting tourist sites. These are active temples of Buddhism. Tibetans believe that life on earth came from Tibet. And that Tibet is a passage in the famous Shambhala, the place where it all began, a place that brings happiness and power.
In Tibet many monasteries. The main Tibetan monasteries built in Lhasa or nearby. For tourists are open monasteries Ganden, Drepung, Drikung til, Tsurphu, Drak Yerpa, Sera, samye, Tashilhunpo, Pelkhor chod festival. They all have their traditions, each of them is characterized by its architecture.
There are monasteries with a positive geomagnetic energy that positively affects the health and spirit of people. The nature of Tibet is amazing and beautiful. Mountains and lakes with salt and fresh water are healing for many visitors to Tibet.
To get to the Tibetan
monastery
you can tour. First you'll fly by plane to Kathmandu, and then will travel by jeep or bus. However, when you visit Tibet, you must consider that he is at a great height above sea level (about 3.5 thousand m) and the oxygen level here is less than half.
However, there are many people who dream to study in Tibetan monasteries. In this case, to get to the Tibetan monastery by invitation of the Dalai Lama, passed a difficult exam. But preaching Buddhism novices is not stopping. And they are willing to wait for months for their turn, while in the monastery is not a place becomes free.
Training in Tibetan monasteries are children under the age of 8 years. Monastic education is considered the highest. Monasteries usually have a rich library and experienced Tutors. The Tibetan monks life is harsh and complex, it's filled with work and study. The monks believe that by improving themselves, they will be able to help a lot of people on earth.
To become a monk in one of the Tibetan monasteries difficult and expensive. First, you have to find the money to live on for 5 years of training in the monastery. In Buryatia and Tuva give the money to the relatives of the future monks as obedience and training in Tibetan monasteries are considered honorable and noble cause. Everyone else will have to learn and live in a monastery at his own expense.
Ignorant of the Mongolian language or "Nepali" need to be trained in school - sedro and stay there for a year or two. Russian men have the opportunity to get to the monasteries, where there are Russian communities: Goman or Namgyel.
After training in sedre have to go to the students to the Tibetan lamas in monasteries. For this you need to avoid as many monasteries to learn about the availability and willingness of teachers to teach white Russian. However, there are such monks in Tibet.
Before you go to the monastery for training, you must know that the life of a Tibetan monk rather poor and heavy. Monks are not allowed to have personal possessions, only a few sets of clothes and necessary books. The monks daily routine includes long hours of prayers, hard work for the service of the monastery, and constant learning and improving. No entertainment in the monasteries is not allowed. Your training will be monitored by the individual teacher. The order of the day in every monastery its. However, the monks rise with the first rays of the sun go to sleep after midnight. Monastic food is simple and modest. Breakfast, lunch and dinner are accompanied by the obligatory rites and prayers.
Note
From a geographical point of view, Tibet is an area in Central Asia, located on the Tibetan plateau. For a long time Tibet was dependent on the Mongol Empire, then from the Chinese state. Now the Tibet Autonomous region capital Lhasa.
Advice 2 : How to get to Shaolin monastery
To get to the Shaolin monastery as a novice is difficult. First you need to learn Chinese language and become a Buddhist. But as a tourist to visit it will be very interesting.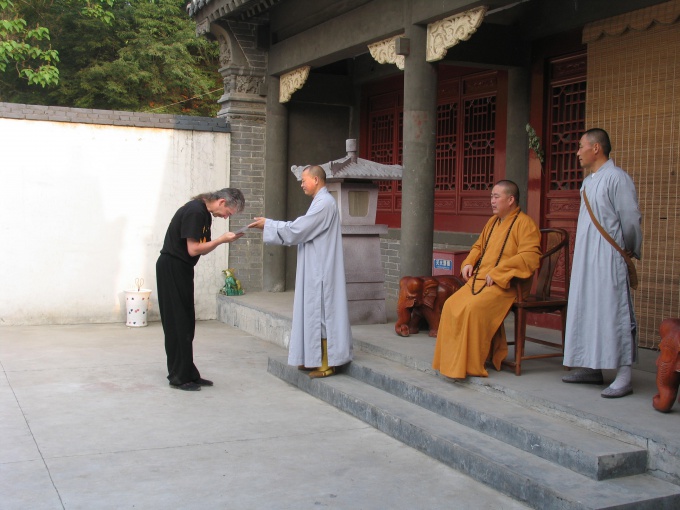 Instruction
To get to the Shaolin temple, go to China. You can do it yourself, book your tickets and hotel, or book a guided tour. To settle better hotels in the town of Dengfeng, Henan province, thirteen kilometers from which the monastery belongs.
Get your visa to China. Go to the Consulate, taking with him the following set of documents:
- passport with validity of at least six months from the date of return from the trip;

- application form (print from the Embassy website or get when submitting the documents);

- one color photograph, three to four;

- a valid invitation issued by authorized travel agencies of China, or a confirmed hotel reservation.
Direct flights Moscow-Dengfeng no. Deciding to get to Shaolin yourself, buy a plane ticket to Beijing. If you pick up the flights of foreign airlines, you can save considerably on the payment. Find any option on the website http://www.finnair.comand on the portals of carriers, Emirates, Etihad Airways, S7. They operate flights with a stopover in various cities, spending a correspondingly longer time. But the cost of tickets is quite low.
From Beijing to Dantana fly on airplanes of local airlines. Book a ticket on the website www.chinahighlights.ru. Specify number of passengers, date of travel, class of service.
Book a hotel in Dentine. The only one that is available for orders places via the Internet - the Shaolin international. This three-star hotel with a standard set of amenities. To call by phone: +86(371)62866188. And online application to keep using the site http://hotels.1001tur.ru/china/dengfeng/shaolin-international/.
To get from Dantana to the Shaolin monastery, go to the bus stop. The town is small, you will find the buses to the monastery, according to the inscription in English. The fare is fifteen yuan. Ticket for entry to the complex is one hundred yuan. Detailed information about Shaolin look at the official site www.shaolin.org.cn.
If you are a fan of independent travel, contact your tour operator. It is better to choose large, well-reputed in the market of tourist services. Tell the Manager that you want to visit the Shaolin temple. The Agency will recommend you a tour that meets the unusual needs. Of course, the cost will be disproportionately higher tour organized independently. But you don't need to worry about anything, all questions will handle the company.