Instruction
The longer the fabric is a stain from
wine
, the harder it will be
to withdraw
. Immediately if the stain is not possible, then at least it needs to be rinsed with sufficient amount of cold water. Substitute dirty place under the faucet with running water or use a sprayer. Thanks to these emergency measures, the wine will not penetrate the fabric structure and will not wither there.
The stain of red wine is capable of dissolving acetic acid. Dissolve it in water. Observe the proportion: one part vinegar to two parts water. Use a sponge dipped in the resulting solution. If this procedure is performed immediately after contamination, the vinegar will completely remove the stain.
Saturate a sponge with dishwashing detergent. Blot it from the stain
of wine
. Then, using
towels
, which you need to pre-soak with hydrogen peroxide, and soapy liquid, remove with a tissue. Flush the area with running water.
There is another very effective method. Mix liquid soap with hydrogen peroxide. Components take in equal parts. Soak in the resulting solution a sponge. Then gently RUB the wine stain. Then this is the place you need to cover with a piece of cloth, liberally soaked in the solution for about 1 minute. Then have a clean sponge RUB the stain. It should be solved forever. When this happens, rinse the thing with cool water.
Useful advice
Remember that it is not necessary to RUB the wine stain too hard. It will only lead to an accelerated penetration of stains into the fabric. When cleaning stains from red wine you should not use hot water. It will also reduce the time of penetration of the stains into the fabric. As a result of spot removal will be impossible. Do not use to remove wine stains turpentine or gasoline. They are able to damage the fabric. Use white paper or fabric towels. Colored fabric can paint.
Advice 2 : How to withdraw stain from wine
If stains are not removed on time, they can get stuck and become fatal. So you need to take action immediately, and not allow the stain to penetrate deeply into the fibers and spread. Then the stain removal will be not so difficult.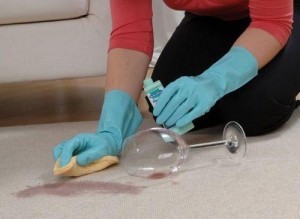 You will need
Sol
- lemon juice
- milk
- denatured alcohol
- glycerin
egg - raw egg yolk
- potassium permanganate
hydrogen peroxide
Instruction
On a fresh
stain
from red
wine
, apply a paste of wetted salt, rinse after 30 minutes with soapy water. Then rinse with warm water.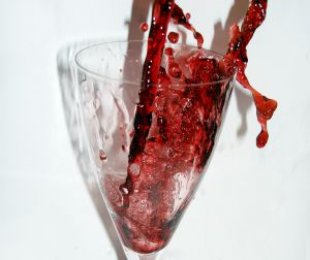 Spot cotton tablecloths can be withdrawn if you RUB it with lemon juice and leave to dry in the sun. Then rinse in water.
Also take a stain from red wine you can use milk. Soak the fabric in boiling milk and leave it for 40-50 minutes. Wash in soapy water, rinse.
If the stain is old, you can get it out with denatured alcohol. Then rinse with water and wash with soap and water.
If colored tissue has formed a stain from wine, there is one simple way that will help him out. Mix equal quantities of raw egg yolk and glycerol. This mixture spread tough stains. Leave for a few hours, then wash with soap and water.
Stains from red wine can be displayed with potassium permanganate. Moisten the stained spot with a weak solution of potassium permanganate, and in a few minutes the stain wipe clean with a hydrogen peroxide solution (dissolve one teaspoon of hydrogen peroxide to one Cup of warm water).
Note
Before you use any recipe for removing stains, especially colored fabrics, you need to test it on any inconspicuous place things – the seam, the wrong side, the ACC. Before you try to bring a red wine stain, it is necessary to enclose under the product paper napkin or a little plate, wrapped in a white cloth. Tips on how to bring a stain of red wine at home.
Useful advice
How to get the beer stain. Use a bit of concentrated glycerin, then treat as for soaking before the wash. Sometimes it is sufficient just to soak in weak vinegar solution. Red wine stains you need to sprinkle regular salt, then with a stiff brush to scrape off the mixture of wine with salt and blot the spot clean with a damp cloth. Or put on the spot with cool water, you should always work from the edges of the stain to its middle, so that it does not spread.
Advice 3 : How to wash red wine
Stains from
red wine
on the carpet, clothes and tablecloths – all consequences of the gala dinner in the circle of friends and relatives. Do not despair and think that the thing is hopelessly flawed. With this, you can easily cope at home with the help of improvised means. Thus, you'll save time and money.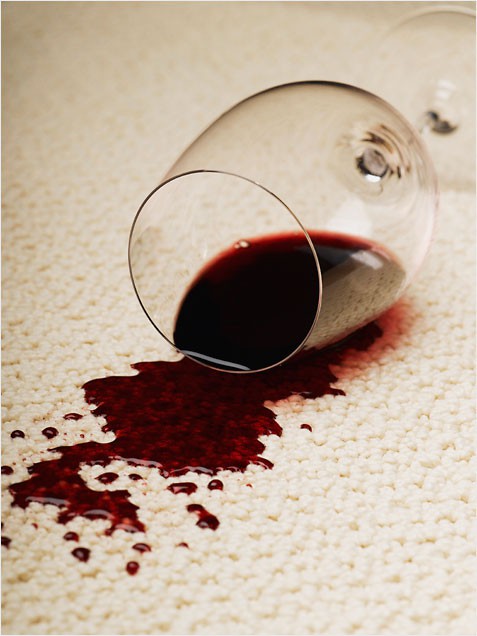 You will need
- milk;
- powder or soap;
- fine salt;
- hydrogen peroxide.
Instruction
The first thing you need to not waste time and immediately blot the stain with a clean napkin, and thus become free from most of the wine. Before you start cleaning the products from red wine, you need to check a particular method on a less visible area (ACC or the back seam).
To withdraw stain it from the inside, after putting under the cloth of white blotting paper or napkins. To clean stains use a soft cloth or cotton swab, which should be wetted in the solution and moving from the edges to the center. In this method of operation, the stain will spread. Begin to clean with a weak solution, gradually increasing the concentration.
If the red wine stain were formed on fabric of silk or other materials (cloth or clothing), it is necessary to moisten with warm milk for some time. After that wash the product in a mild detergent composition, rinse the thing thoroughly first in cold water, then in hot.
If the wine stain is fresh, it will not be difficult to remove. For this make a paste of fine salt and water, put on a fresh stain. After 30-40 minutes wash the thing in warm soapy water and rinse.
A red wine stain on the carpet in no case do not RUB. Lay a clean cloth, folded in several layers on the stain and stand. Thus, you remove part of the residue of wine is soaked into the carpet. Dilute hydrogen peroxide with water in a ratio of 1:3. Saturate the stain from the wine the prepared solution and blot with a clean cloth. If the fabric left red stains – it's good, continue to process until the stain until the stain will not disappear at all. Finally, wipe the contaminated area with a cloth soaked in clear, warm water.
Useful advice
Do not delay removal of stains, then the desired result will be guaranteed.