You will need
For imaging you will need a foam for styling, comb with wide teeth and a flat iron for smoothing hair.
Instruction
To start, wash your hair, be sure to use a conditioner. It will give your hair extra smoothness, softness and Shine, allow you to style the hair exactly as you want.
Pressed on damp hair , apply mousse from the middle to the ends. Use a small amount of styling products, about the size of an egg, to avoid the effect of dirty hair. Try to distribute the mousse evenly.
Dry hair with a Hairdryer on medium heat. To create volume at the roots you can briefly tilt your head down and dry your hair . Constantly use a comb while drying, so that all strands are equally well dry.
Before using a flat iron for smoothing hair, apply a small amount of heat serum all over the hair or use a special spray. They will protect your hair from overheating and the emergence of split ends.
Heat the pad and start to smooth the hair. Try to keep the strands looked exactly the same, pay close attention to the tips of the hair because they will lie, depends on the appeal of the hairstyle. Do not get carried away by the strong smoothing, because it is important for us to keep a light volume and lightness to hair.
After completing the smoothing, shake the hair, so they went in a natural way. If you wear bangs, give her a gentle roundness using the Hairdryer and brush. Voila, you are gorgeous!
Advice 2: How to put caret Hairdryer
Haircut caret was and remains popular among the fair sex. It is easy to care for, it fits almost all types of hair. It is to style such haircut you can own.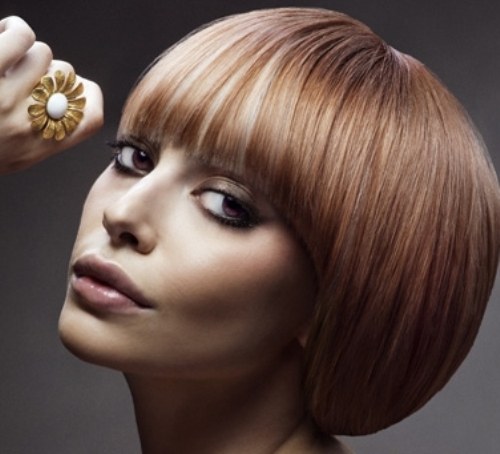 You will need
- Hairdryer
- comb;
- modeling tools.
Instruction
Stacking should be done on freshly washed hair so it will look better and last longer. To begin dry the wet strands with a towel, then comb them, and divide into several parts.
Using the round brush, start pulling the hair strands from the roots. The tips you can tighten or inward or outward — so you can emphasize the dignity of his person.
Once the hair is dried, lay each strand using gel or wax. Fix styling hairspray.
If you have thin hair, then with the right placement you will be able to give them the necessary volume. Apply to damp strands of modeling foam. Safesite
curls
on the right side. With a comb, separate one strand and pull it with a hair dryer stacking the hair on the left side. Once the locks is dry, tilt your head down and dry it
with a Hairdryer
to the roots. Raise your head and give your strands in shape with wax.
Try to put your hair back. Apply to slightly damp curls styling mousse. With the help of comb, pull strands back, directing them blow hot air. Secure the hair lacquer.
The classic Bob you can style into a spectacular hairstyle. Treat strands to start a modeling tool. Make a side parting. Curl the ends of your hair inwards using a round brush.
To create on your head "disorder", just apply to the hair foam, put your head down and dry it thoroughly with a Hairdryer. Raise your head and rock the hair. If some strands are "not in the right place", then correct them using wax or gel. Secure the hair lacquer.
Useful advice
Remember that self-styling requires some experience. Therefore, practice, invent something new, experiment. Over time, styling the caret will take you no more than 20 minutes.